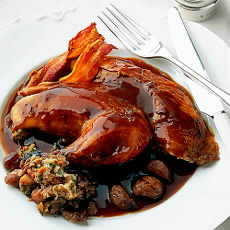 Ingredients:
2 Pheasants Cut Up
1/4 c. Shortening
1/2 c. Hy-Vee Flour
1 Crushed Clove of Garlic
1 t. Salt
1/4 c. Chopped, Ripe Olives
1 t. Paprica
1/2 c. Water
1/8 t. pepper
1/2 t. Worcestershire Sauce
1/8 t. basil
1/2 c.  White Cooking Wine
Instructions:
Combine flour, salt, paprica, pepper, and basil. Coat pheasant with seasoned flour. Heat shortening in a heavy skillet. Brown pheasant on all sides. Add garlic, olives, water, and Worcestershire. cover and simmer another 45 minutes. Turn pheasant and add wine. Cover and simmer another 45 minutes. Add more water to make extra sauce.