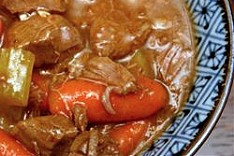 Ingredients:
3-4 lbs. Venison ( Trimmed of fat and cubed)
8 Carrots ( Cut into 1″ chunks
3/4 Stick of Hy-Vee Butter
2 Cans of beer
2 1/2 lbs Onions (Quartered and cut into strips)
2 T. Kitchen Bouquet
1 lg. Rutabaga ( Sliced into 1″ cubes)
1/2 T. Country Garlic and Onion Sauce
Instructions:
Brown and season the meat with your favorite hickory smoke seasoning. Preheat oven to 450 Degrees. In a dutch oven, combine all ingredients. Cover and place in the oven for two hours. Remove from oven and serve in bowls with a dollop of sour cream.