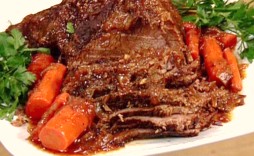 Ingredients:
3-5 lbs. Beef Blade Cut Roast or Venison
1 T. Oregano
5 T. (Cabelas) Blackening Seasoning
1 T. Thyme
2 c. Chopped Onion
1 T. Rosemary
4 Sliced Carrots
2 T. Garlic
2 T. Olive Oil
1 c. Beef Broth
2c. Water
2T. Balsamic Vinegar
Instructions:
In a deep roasting pan add olive oil and brown meat at medium-high temperature for approx. 15 minutes, turning often. Preheat oven to 325 degrees. Add remaining ingredients into the roasting pan and stir until it begins to boil. Cover pan and bake for 2 1/2 hours, or until fork-tender. Option: mushrooms or your favorite vegetable are a nice addition, add them the last half hour of cooking. Note that if you use the wild game, you may want to marinate for 6-8 hours.