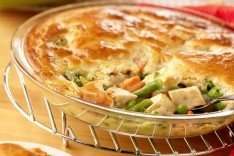 Ingredients:
1 pkg. Refrigerated Pie Crusts
1 Can Cream of Chicken Soup
1 1/2 c. Cooked Pheasant Cubed
1/2 pkg. Frozen Mixed Vegetables
1 Can Hy-Vee Cream of Mushroom Soup
1t. Dried Parsley
1/2 t. Pepper
1/2 t. Thyme
Instructions:
Preheat oven to 350 degrees. Put frozen vegetables into a small pan of water and cook for 3-5 minutes. Save 1/4 cup of water and add the remaining ingredients and heat thoroughly. Pour mixture into 9″ pie crust. Cover the top with the pie crust. Seal the edges. Bake for 20-30 minutes until crust is golden brown.