Quick and Easy Sloppy Joe Venison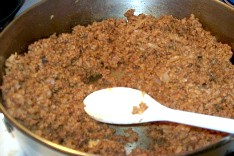 Ingredients:
3/4 lb. Ground Venison
1 Can Refrigerated Dinner Crescent Rolls (6)
Olive Oil
1 Egg Beaten with 1T. of water
1/3 c. Ketchup
Sesame Seeds
1/3 c. BBQ Sauce
1/3 c. Grated Cheddar Cheese
Instructions:
Heat a small amount of the olive oil in a frying pan and brown the ground venison, breaking it up into small pieces. Stir in the ketchup and barbecue sauce and let simmer for a couple of minutes. Set aside to cool. Open the can of rolls and separate the dough two rolls at a time so that you end up with three sections. Place one section of the dough on a flat working surface and press it into a 4×8 rectangle. Make sure the perforations are sealed together. Cut the rectangle in half so that you end up with two squares. Place two tablespoons of meat mixture in the center of each square. Top the meat with a tablespoon of grated cheese. Fold one end over kitty-cornered to the other, creating a triangle. Using a fork, crimp the edges together. Place the triangles on an ungreased cookie sheet. Brush the tops of the triangles with a little egg wash, then sprinkle on some sesame seeds. Repeat these steps until you have six triangles. Bake at 375 degrees for 12-14 minutes or until golden brown. Serve warm.