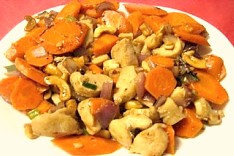 Ingredients:
1c. Buttermilk Baking Mix
1 sm. Onion Thinly Sliced and Seperated Into Rings
1/2 t. pepper
2 T. Water
3/4-1 lb Diced Uncooked Pheasant
3 T. Peanut Oil
2 Eggs Slightly Beaten
3/4 c. Chicken Broth
1 T. Peanut Oil
2 T. Teriyaki Sauce
3 med. Carrots cut diagonally into 1/2 inch pieces
Hot Cooked Rice
1 Green Pepper, Cut Into Strips
Instructions:
In large plastic bag, combine baking mix and pepper. Shake to mix and set aside. Combine pheasant and eggs; stir to coat meat with egg. Put pieces of pheasant into bag and shake to coat. In wok or large skillet, heat 1T. of oil over medium high heat until hot. Add carrots; cook and stir for two minutes. Add green pepper and onion. Cook and stir for one minute longer. Add water; cover. Steam for 3-4 minutes, until vegetables are tender-crisp. Remove vegetables from wok and keep warm. Add 3 T. of oil to wok; heat over medium heat until hot. Add pheasant; cook and stir until golden brown and no longer pink in the center. Combine chicken broth and teriyaki sauce; pour over meat. Return vegetables to wok, cook and stir until heated through. Serve with rice.