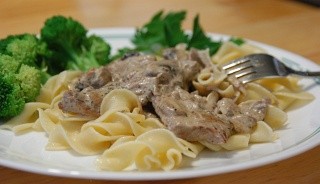 Ingredients:
1/2 c. Vegetable oil
1 pkg. Onion Soup Mix
2 lbs. Cubed Venison
3 c. Water
1/4 c. Flour
5t. Ketchup
1 can Hy-Vee Cream of Mushroom Soup
Instructions:
Heat oil in heavy skillet. Coat meat in flour, then brown in oil.  Add soup mix to the water. Simmer covered an hour or until the meat is tender. add mushroom soup and ketchup and heat thoroughly. Serve over noodles or rice.