Team Outdoorsmen Adventures member and guide Marlyn Wiebelhaus, Wynot, NE. spends hundreds of hour s in the outdoors with his bow in pursuit of deer, turkey, antelope and elk.
When not in the field with his bow, he out bow fishing for rough fish including the high-flying silver, grass carp, bighead carp, gar and paddlefish.
He has taken Pope and Young deer and is the holder of numerous bowfishing records in Nebraska and South Dakota.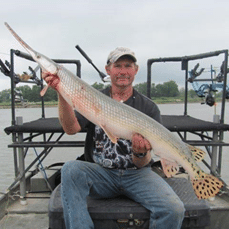 Recently he connected with a huge 52 inch, 19 pound long nose gar while bowfishing on the Missouri River.
If you are interested in bow hunting for deer or turkey, bowfishing on the Missouri in northeast Nebraska and bowfishing on the Jim River in southeastern South Dakota, you can call Marlyn at Wiebelhaus guide Service at www.wiebelhausguiding.com or contact him at 402-357-2389