Reprinted from the Sioux City Journal
HARTINGTON, Neb. | One thing I like about farm pond fishing is that ponds are generally loaded with fish.
And the one Gary Howey and I were fishing just southwest of town was proving that it was no exception.
When it comes to bluegill fishing in ponds, there is no more effective method than using a fly rod. And I was proving that fact today. Seven-inch bluegills were taken on practically every cast.
The tiny black ant that I designed for bluegill fishing more than 40 years ago had not lost its charm. While the 'gills weren't monsters, they were giving a good account of themselves on my light tackle.
Howey, meanwhile, was casting a spinnerbait for bass. He had caught and released three before I decided to tie on a bass fly. I chose a black wooly bugger in size 6. The black marabou tail behind the black chenille body made the fly nearly 2 inches long.
Wouldn't you know it: The first cast produced a nearly 2-pound largemouth. After several airborne leaps I brought the bass to hand and then released it.
We weren't keeping any fish, but if we were, we still would have released the bass. Bluegills, on the other hand, would have been fair game. They are very prolific, and if there are not enough bass in the pond to keep their numbers down, they will overpopulate and become stunted.
If that happens, any largemouth still in the pond will find it difficult to bring off a spawn. The tiny 'gills will attack the nest in an effort to eat the eggs, and the male guarding the nest doesn't stand a chance against hundreds of hungry mouths.
In fact, the old rule of removing 10 pounds of bluegills for every pound of bass from a farm pond is still pretty good advice.
I'm not sure how many farm ponds there are in Nebraska, but the Iowa Department of Natural Resources says there are about 110,000 in Iowa providing about 1.6 million fishing trips annually. The local economic impact is estimated at $7.5 million.
That's pretty good considering farm ponds are on private property and the angler must get permission to fish from the landowner.
Farm ponds also produce big fish.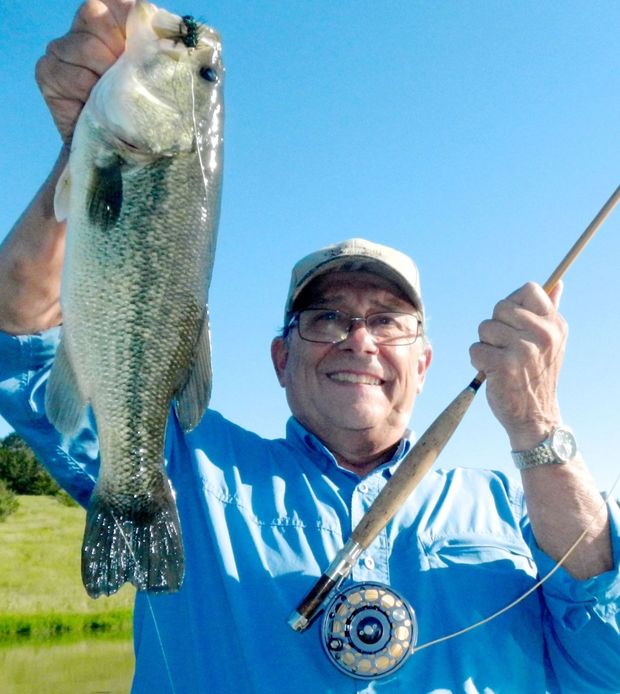 A farm pond produced a former Iowa state record largemouth that weighed more than 10 pounds. Iowa's bluegill record stands at 3 pounds, 2 ounces. The redear sunfish record is 2.40 pounds, and the green sunfish is 2 pounds, 1 ounce. The black bullhead record is 5 pounds, 8 ounces. All came from farm ponds.
Nebraska farm pond records include rock bass at 2 pounds, 4 ounces; black bullhead at 3 pounds, 15 ounces; common carp at 33 pounds, 12 ounces and black crappie at 4 pounds, 8 ounces.
With the morning temperatures rising, we decided to take a break and move to another pond northeast of Hartington.
This time, I chose to cast a Johnson Silver Minnow with my casting outfit. I tipped the weedless spoon with a 4-inch twister tail worm.
There's hardly a better lure to fish over weedbeds. The first cast brought a hit that I missed. That's not unusual in the weeds. Bass often bust up through the weeds, striking at the sound and not even seeing the lure. That was the case with that fish.
Howey was throwing a No. 3 Mepps spinner with a silver blade and white hair around the treble hook. This lure, too, is one of the best farm pond lures you can use. It's definitely not weedless, but you can cast it along weed edges or over the tops of submerged weeds with great success.
After catching half dozen 2-pound bass each, we decided to head for Bow Valley and an early lunch. We have learned, after all these years, that you can, indeed, have too much fun. So we left the ponds for cooler environs.
More information on the outdoors can be found at siouxcityjournal.com/sports/recreation/outdoors/