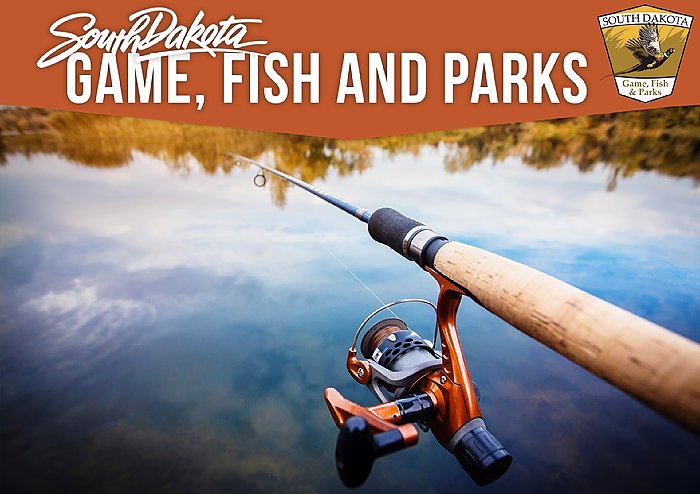 Now that spring has (finally) sprung, maybe it's time to round up your family and friends and hit a local lake for some fishing!
Winter was long for South Dakota's fish too and this time of year they are close to shore and looking to bite!
Shore fishing can be good from sunup to sundown…and even after dark for some species!
Haven't been fishing in a while? Well we have some special days set aside to let you fish for free! GFP will host free fishing and free entrance to all of our state park and recreation areas on the following days:
May 12: Mother's Day Only
May 17-19: Traditional State Park Open House and Free Fishing Weekend
June 16: Father's Day Only
We hope you take advantage of these opportunities, get outside, and go fishing on us! If you get bit by the fishing bug and want to fish more, click the link below to purchase a fishing license.
Purchase a Fishing License
Fishing Gear Available for Checkout at Many State Parks
Did you know several of our state parks have fishing equipment available upon request? There are some regional offices on the list too, so if you want to go "wet a line" and you don't have any, or enough gear, for you and your pals…we have got you covered!

Angosutra Recreation Area
Big Sioux Recreation Area
Farm Island Recreation Area
Hartford Beach State Park
Indian Creek Recreation Area
Lake Cochrane Recreation Area
Lake Herman State Park
Lake Poinsett Recreation Area
Lake Thompson Recreation Area
Lake Vermillion Recreation Area
Lewis and Clark Recreation Area
Mina Lake Recreation Area
Newton Hills State Park
Oahe Downstream Recreation Area
Oakwood Lakes State Park
Palisades State Park
Pelican Lake Recreation Area
Pickerel Lake Recreation Area
Richmond Lake Recreation Area
Roy Lake State Park
Sandy Shore Recreation Area
Sheps Canyon Recreation Area
Snake Creek Recreation Area
West Bend Recreation Area
Regional Offices:
Fort Pierre
Rapid City- Outdoor Campus West
Chamberlain
Huron
Webster
Watertown
HUNT
FISH
CAMP
STATE PARKS
FOLLOW US
Facebook,Twitter,Instagram &YouTube