Reprinted from the Sioux City Journal.
WEBSTER, S.D. | I don't think there is a more fun way to catch walleyes than by casting crankbaits on spinning tackle.
And the best time to do that is right now. The big female walleyes have recovered from the rigors of spawning and are back in the shallows, feeding up big. Find a windy shoreline on the right lake, and you'll have action to dream about. The Webster area is full of lakes and sloughs that fit the description of the "right" lake.
Last week, Gary Howey, of Hartington, Neb., and I met with Cory Ewing, of Waubay Lake Guide Service, to film a segment for Howey's "Outdoorsmen Adventures" television show and to get fodder for our newspaper columns.
We've fished with Ewing a number of times over the years, and that guy is so tuned into the fishing here that every trip has been an exciting fish catching experience. This trip was no different.
Although the lake that gets the most attention right now is Bitter Lake, an overgrown former slough that is currently South Dakota's biggest natural lake, we chose to fish a 200-acre nameless slough with no boat ramp. Ewing met us at Perebooms Cafe in Webster with his 16-foot boat in tow. I knew then we were heading for the boondocks.
As we motored out of town, Ewing told us, "We need that wind to blow. That will bring those big fish into the shoreline."
We dropped the boat trailer over a 3-foot drop to reach the water and before long we were casting the shoreline.
"There's some really nice walleyes in here," Ewing said. "And there are lots of northerns and some perch."
We were using 6- and 6.5-foot long medium action spinning rods with reels spooled with 8t-pound test line. We were throwing shallow diving Shad Raps, and before long we learned the walleyes wanted the brightest colors in the box.
Ewing scored first with a fat 3-pounder, and Howey connected with another. We landed a couple of northerns in the 4r-pound range and then I got bitten off by another. I reached into my tackle kit and drew out a little 6-inch wire leader that I often use while jig fishing in Canadian lakes filled with small northerns. The wire is smaller diameter than 6-pound test line and can save a lot of lures when those toothy northerns abound. I never lost another lure.
We left that shoreline and began drifting down another. More walleyes came to net in that 3- to 5-pound range. All of the fish were released.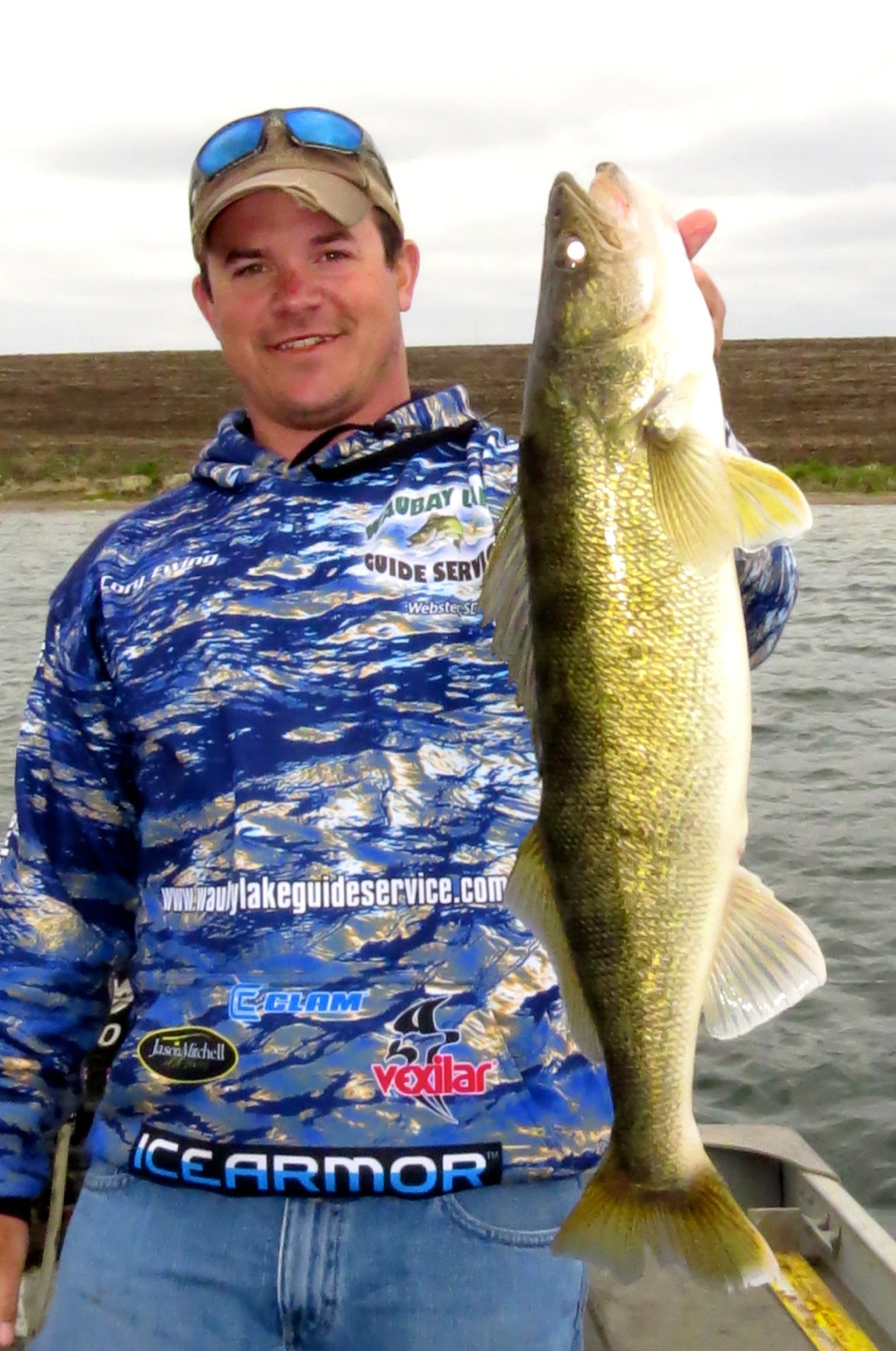 Meanwhile, Ewing called a couple of guides working for him on Bitter Lake. The bite was definitely on there, and both boats had only a fish or two to limit out and had returned many, many walleyes to fight again. To check out Ewing's guide service, visit his website at waubaylakeguideservice.com
The lake had a couple of islands, and as we drifted alongside one, I noticed a farm tractor, some farm implements and an automobile rusting away in the tall grass. Each served as mute testimony to how fast the water had risen on this slough in years past. There was also a large patch of lilac bushes there in full bloom. They were beautiful.
We took several nice fish along that shoreline as well.
Our fishing had totaled only a little more than four and a half hours when we decided we'd had plenty of action and headed in.
Best fish of the day was a 26 7/8-inch walleye.
As we motored back to where we had parked the boat trailer, I admired another island that contained a great egret colony in the grove of trees there. The big white birds are a common sight in this area now as their numbers have rebounded in recent years.
I've often thought this area is a paradise for wildlife photographers, and I've wanted to make the most of that for several years. But I just can't escape the fishing.
More Outdoors information can be found at http://siouxcityjournal.com/sports/recreation/outdoors/