Reprinted from the Sioux City Journal
There's a fish swimming in most of South Dakota's lakes, rivers and reservoirs that has often been described as "the fightingest fish that swims."
Yet, like the late comedian Rodney Dangerfield was fond of saying, "it don't get no respect."
You see, the smallmouth bass is, indeed, the fish most likely to stretch the memory coils out of your monofilament that has sat dormant on your reel's spool all winter. A two-pounder will demand your full attention, and will probably jump at least two feet out of the water, more than once.
However, this bronze rocket has the misfortune of swimming in water where the walleye is king. This is the land of $60,000 boats pulled by $60,000 pickups by guys hoping to land a limit of four walleyes measuring over 15 inches. None, most likely, will measure greater than 18 inches on most days and weigh less than a pound an a half.
They are fishing for sport and food. Sometimes I wonder which holds the most importance.
If they have the misfortune of hooking a smallmouth, a wave of disappointment washes over them. More than likely the smallie will go into the live well to keep the walleyes company, and there's nothing wrong with that.
Smallmouth are darn good eating, too. OK, I've let the cat out of the bag.
Bass fishermen will label me as a heretic. They don't keep bass. They release them to fight again. It is a matter of principle with them. You'll never see limits of smallmouths hanging on steel hooks bolted to two by fours with the proud anglers standing behind them smiling as they display their success.
That's walleye company. It's a prelude to good eating.
And, it was the lure of walleyes that drew Gary Howey of Hartington, Nebraska, and me to Pierre, South Dakota, a couple of weeks ago. But it turned out to be one of those times when you go to a walleye fight and a smallmouth fight breaks out.
"You'll probably catch some smallmouth here," our guide Kent "Hutch" Hutcheson said as he eased the big Ranger up onto a rocky flat projecting off Lake Sharpe's east shoreline just south of the West Bend boat ramp. He should know. He's been guiding here for over 30 years.
Sure enough, Howey's rod tip bounced and the fish tore off line in a frantic run toward shore. I grabbed the camera, flipped on the switch and caught the smallie leaping out of the water some 30 feet away. The red "Record" light was on and through the dim viewfinder I saw the fish leave the water throwing spray six feet across on either side of him.
"I'd rather be lucky than good," I muttered to no one. Getting that jumping fish on tape was pure luck, and I'd be the first to admit it.
With the smallie in the boat and unhooked, we took some quick pictures and released him. There would be bigger ones, we knew.
We were in five feet of water. You could clearly see the big boulders below us. The fish had hit a minnow towed behind a bottom bouncer, but Gary and I quickly switched over to jigging rods and began casting.
Gary was throwing a small swim bait and I stuck with a minnow on a plain jig hook. On the first cast we were both hooked up. A double.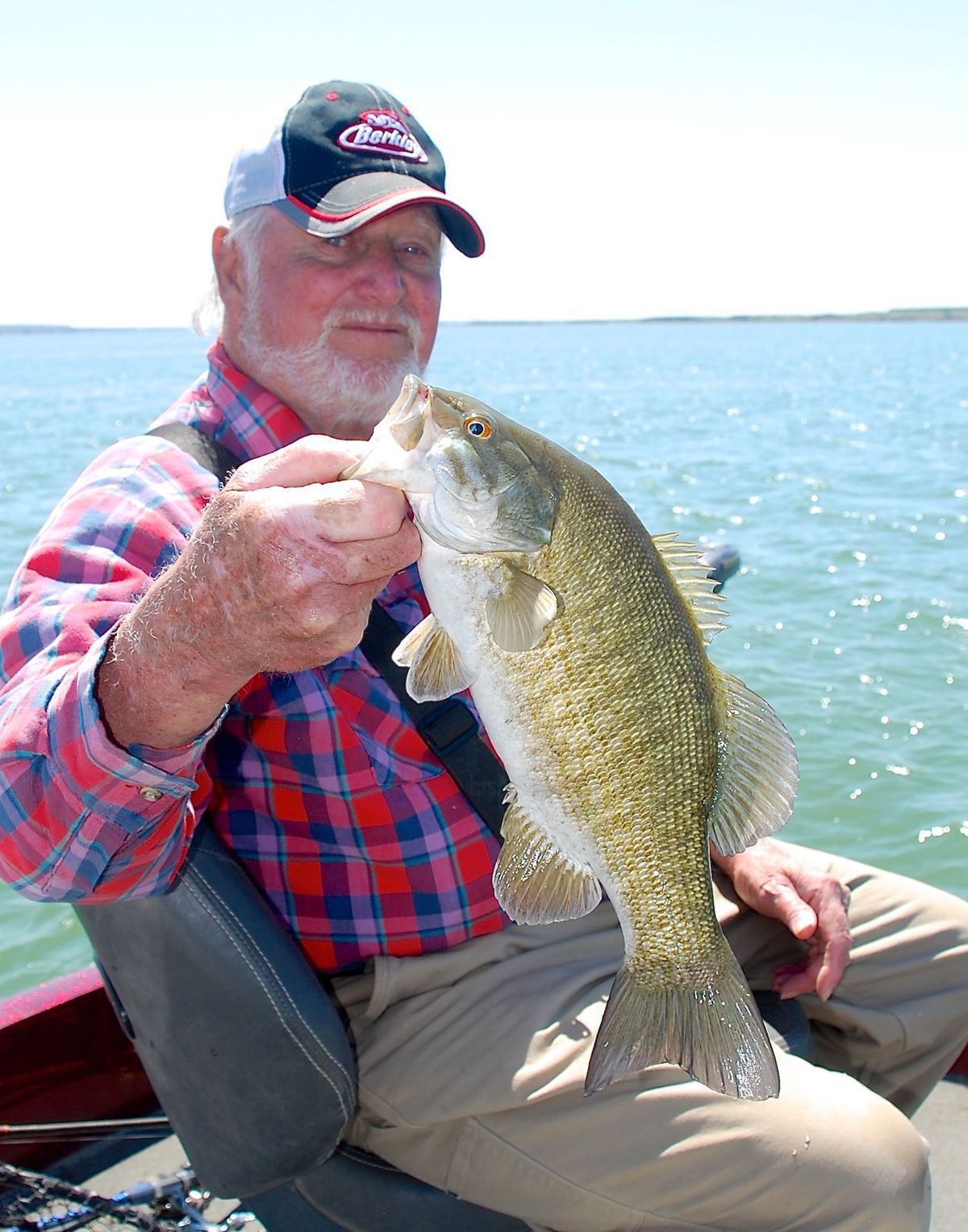 Gary stuck his rod in a rod holder and grabbed the camera, filming my fight and landing of the three-pound fish. I dropped the fish over the side and grabbed the camera from Gary. His fish was still on, and we brought it to the net.
"Action, man," Gary said. "I love it."
And that's smallmouth fishing on light tackle. Hook a four-pound bass on an eighth-ounce jig on six-pound-test line and you are never quite sure who has whom. It's anybody's guess until the fish goes in the net, or doesn't.
We took a couple more bass off that flat before the action died. There were lots of smallmouth there, I'm confident of that, but I think after you hook three or four fish, the rest of them spook away into deeper water.
Our trips to Lake Sharpe in the West Bend area have become an almost annual pilgrimage for Gary and me. Our longtime friend Hutch always puts us on the fish and since he knows we each have a soft spot in our hearts for smallmouth, he often lets his walleye boat drift up into smallie water.
I think he gets a kick out of the circus atmosphere that results with smallmouth action, cameras and us dancing around a boat crowded with our tackle and trying not to break anything.
And, it turned out, we provided a lot of entertainment for the veteran guide on a number of shallow, rocky flats where the smallies were holding.
The walleyes were definitely in a post-spawn attitude. We took our limits but had to work for them. The small males were still "milking" and hanging out on the flats hoping a female would move up, but it was definitely the tail end of the spawn.
Our two-day trip provided lots of excitement on the smallmouth. Gary and I each caught smallies measuring 18 1/2 inches long. That's over four pounds most days and a Proud Angler for those who care to enter.
"Sharpe has a lot of smallmouth," Hutch told us. "But I think Oahe has bigger fish right now."
Hmmm. That sound like another trip this year. We'll be getting ahold of Hutch this fall.
You can reach him at fishinghutch.com or email him at fishinghutch@aol.com. About every three days he posts a fishing report on his website for both Oahe and Sharpe. It's the best and most reliable report out there. Call him on his cell phone at 605-220-2844.
Hutch and his wife, Francie, live at their home on Spring Creek on Lake Oahe during fishing and hunting season, but spend the off season at their home in Ida Grove, Iowa.
Late fall is a great time for big smallmouth. The last time I fished Oahe in the fall was with Hutch and every point we fished held smallmouth. It was nonstop action. For a fish that doesn't get any respect in South Dakota, I'll say this. They definitely have my respect.. And I have respected them since I caught my first one back in the 1960s on West Lake Okoboji.
More outdoors information cab be found at http://siouxcityjournal.com/sports/recreation/outdoors