Reprinted from the Sioux City Journal
As we move into the fall months, walleyes again switch their bait preferences. Where night crawlers and leeches were the preferred baits in the warm waters of summer, once water temperatures begin to drop that changes.
The walleyes will tell you. If you are listening, you will hear them say, "Minnows, big minnows, really big minnows, really, really big minnows, chubs."
Let's take a look at the varieties of minnows you will most likely find in bait shops this fall. Next week we will look at how to keep minnows alive while you are fishing as well as in-between trips.
In a well-stocked bait shop in northern Minnesota where hundreds of lakes exist within a 50-mile radius, you will be amazed at the variety of minnow baits on hand. You will find spot tail shiners, silver shiners, emerald shiners, golden shiners, fathead minnows (often in several sizes), creek chubs, and dace, redtail cubs as well as sucker minnows that range in size from 2 inches to a foot in length.
It's a fact that some minnows are better than others in some lakes. Tell the bait shop owner which lake you intend to fish, and he'll recommend the minnows that are working best. Keeping some of these minnows alive is a difficult task. That's why they'll give your bait bag a shot of oxygen before you go out the door.
Let's look at some of the more common varieties of baitfish you might be using.
FATHEAD MINNOW
Everyone is familiar with fishing with minnows. There are more than 250 different species of minnows in the United States. But there is one that stands out.
When you go to a bait shop and order "a couple dozen minnows" you are going to get a fish called a fathead minnow. It's native to most states and grows 2 to 3 inches long. It is easy to propagate so is popular with fish farms which supply bait shops.
It is a great bait. All minnow-eating fish love them. And, since they are found in most fishing waters, fish are used to feeding on them.
Bait shops commonly sort them into at least two different sizes. Small and Large. Small is what you want for crappies no matter what time of year it is. Large is what you want for walleye.
Fatheads spawn in the springtime when water temperatures hit about 50 degrees. The male at that time turns very dark, almost black and small protuberances or "horns" appear on his head. The female is very fat because of the eggs she is carrying and is much lighter in color. That is why I prefer female minnows to the males in the springtime. The female is much easier for walleyes to see.
In the fall it makes no difference which you use. I just look for the biggest in my pail.
REDBELLIED DACE
Sometimes, when fishing in the northern states you will see a minnow known as a redbellied dace mixed in with your fatheads. It has a dark, silvery back with a black stripe over a red stripe from its gills to tail. The bottom sides and belly is usually yellow. This is a beautiful fish in the spring in spawning colors. Over the years I've fished with a few of them and have found them to be good baits for walleyes.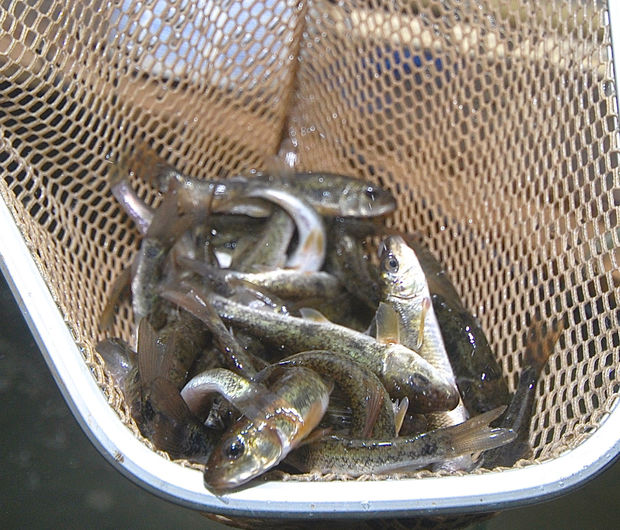 SHINERS
Probably the next most common minnow-like bait would be shiners. Most shiners sold for bait are in the 2 1/2- to 4-inch range for length. You'll find them sold under a bunch of different slang names, but they are all the same species, a common shiner. Emerald shiners and spot-tailed shiners are also commonly sold.
Golden shiners are, as their name implies, golden colored. Which is best? Ask the baitshop after telling them which lake you will fish or let the fish tell you.
The downside of fishing with shiners is that they are very hard to keep. Their oxygen and water temperature requirements are very high. The later in the fall it gets and the colder the water temperature in your bait bucket, the easier they are to keep alive. However, I've found creek chubs or red-tailed chubs to be much better baits in the fall.
CREEK CHUBS
It's really difficult to find a better bait for walleyes in the fall months than the creek chub. And, it seems, the later it gets and the colder the water the better. The best creek chubs are the ones you catch yourself from local streams. These wild chubs are much more active on the hook than are farm-raised chubs.
Most small creeks have creek chubs in them. Simply use a small ice fishing jig and tip it with a piece of worm. Apply a bobber about the size of a quarter above the jig and cast it into a deep spot in the creek. If there are chubs there, the bobber will go down right away. Creek chubs can also be trapped in minnow traps.
Creek chubs can grow very large. It's not unusual to catch chubs over 8 inches long. I prefer chubs from 4-inches to 6-inches long. The rest go back into the creek.
REDTAILS
Redtail chubs, also known as hornyhead chubs, are found in many pasture streams and creeks, but they seem to have need for better-water quality than creek chubs. Some streams in the Iowa Great Lakes region have redtails.
Like creek chubs, redtails can be caught easily with hook and line or can be trapped. As far as catching walleyes, I don't see much difference between the two chubs. Both are good.
SUCKER CHUBS
Most of the sucker chubs sold in local bait shops are white suckers. White suckers are easy to raise and easy to keep alive which is why they are the most common sold in our area.
As a walleye bait, sucker chubs come in a distant third. Sure, you can catch fish on them, but they are not as active on the hook. Young sucker chubs in the 4- to 6-inch size are best for walleyes and large suckers are good for muskies.
These fish can grow to 2 pounds and 20-inches long. The really big ones are mostly used by catfishemen as cut bait.
More outdoor information can be found at http://siouxcityjournal.com/sports/recreation/outdoors/