SPIRIT LAKE, Iowa — It was shaping up to be a picture perfect, bluebird day. The sun glinted off the calm surface of Emersons Bay on Big West Lake Okoboji as fishing guide John Grosvenor put the hammer down on his big Skeeter WX2060.
Aboard were Clay Norris, Team Outdoorsmen Adventures member and longtime product manager for the Berkley Company, and me. Following close behind the Skeeter were Gary Howey, Hartington, Neb., who has the Outdoorsman Adventures Television show, and cameraman Garrett Heikes, Wayne, Neb., in my Alumacraft Tournament Sport which would serve as the camera boat for this trip.
We didn't have far to run.
Grosvenor had caught a lot of fish on a rock bar just outside the mouth of the bay the day before. Bluegills, largemouth bass, smallmouth bass and walleyes had rounded out his catch. He dropped down his Minn Kota Ulterra, bow-mounted electric motor and hit the anchor button. GPS tracking would keep us on one spot in spite of a light breeze which was beginning to kick up.
John handed Clay a rod armed with a slip bobber and a 1/16-ounce jig head tipped with two red wiggler worms. These tiny worms max out at about 4-inches long and are great fish bait because of their wiggling action. After getting Clay rigged up, John handed me a drop shot rod with a Havoc Bottom Hopper Jr., plastic worm, on the short-shanked drop shot hook. A three-eights ounce drop shot sinker was slipped onto the line about 18-inches below the hook.
Both rods were rigged with Berkley Crystal Fireline with Berkley Vanish Fluorocarbon leaders.
Both the slip bobber and drop shot rig are finesse techniques and work well in the clear waters of this spring-fed, 3,847 acre lake.
It didn't take long for Clay to hook up with a nine-inch bluegill. It was a brightly colored male as were most of the big 'gills we caught that day. In this deeper water, the 'gills were still on the beds. Clay took two more fish, a bluegill and a largemouth, before I hooked up with my first largemouth of the day.
We moved a couple times on that bar, but could not find the larger bass John was looking for. Ours topped out at about 15 inches. And the walleyes, it seemed had left except for the small one that Clay brought to the boat. We had caught and released a lot of bluegills and largemouth, but the smallmouth were absent. A cold front had moved through late the day before and we figured the smallies might have gone into deeper water.
John decided to make a move. He started the big motor and pointed the bow north. We were headed for the rock bars above Gull Point.
John has been guiding on the Iowa Great Lakes for the past 16 years. I first met John when he was an Anchor/Reporter for KTIV-TV news and I was working at the Sioux City Journal. John spent 10 years in the news business, both in Sioux City and Des Moines.
As we began working the rock piles on the flats above Gull, it became apparent that the largemouth and bluegills and even a few walleyes were home, but the smallies still evaded us. We also caught three small northerns along here. I caught a silver northern, my first ever. A silver northern is just a color phase and not a separate species. The silver northern has no spots or coloring along its back and sides.
Clay remarked, "It looks like a walleye with a northern pike's head."
That's as good of a description as any.
Another color phase found in these lakes is the striped northern. The DNR estimates only one percent of the northern population is striped, while some 20 percent are silvers. Apparently, the three color phases originated from Spirit Lake, but the DNR has stocked them in both West and East Okoboji.
We made one more move into deeper water on a rock pile to the north.
The smallies were home. I connected first with an 18-incher on the drop shot rig. We caught several smallmouth from this spot running from 17 to 19 inches. I caught at least three bass jigging the drop shot rig right under the boat. It's not unusual for smallmouth to follow your bait to the boat but not hit. Often they'll gather under the boat. It aways pays to fish under the boat for awhile before moving.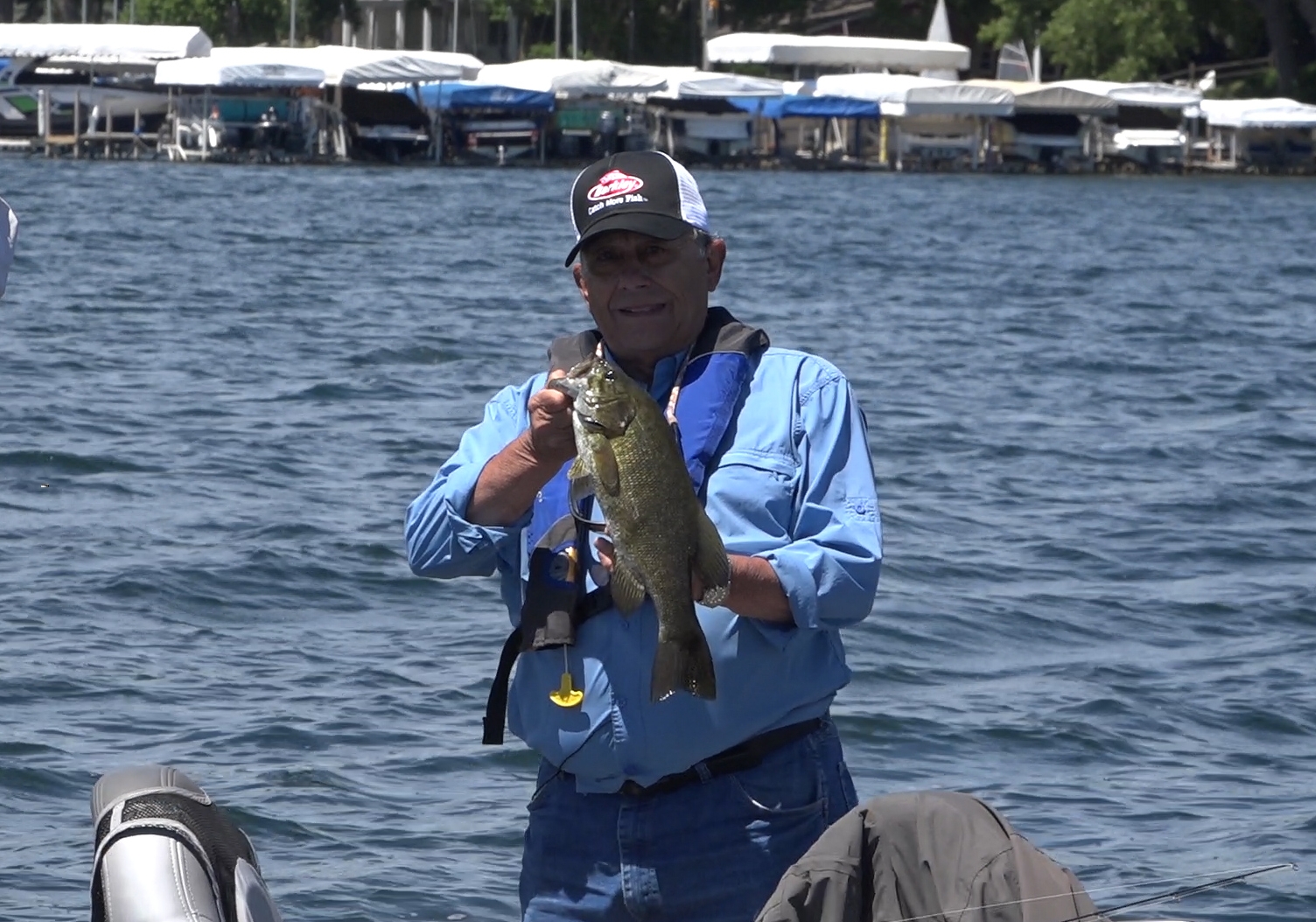 After grabbing lunch at nice waterfront restaurant in Smiths Bay, we slipped into East Lake to attempt to add yellow bass to our list of fish caught that day. We soon did along with another bunch of big bluegills.
With more tape in the can than we needed, we decided to call it a day.
While we didn't catch any perch, it should be noted that perch are making a big comeback in West and East Lake. The population in Big Spirit has always been good. There is also a strong population of yellow bass here. In West Lake, John said they average about 10 inches and are very fat. These fish are fighters just like their cousin the white bass, but they are much better eating.
If you would like to contact John for either an open water or ice fishing guided trip, his phone number is 712 330-5815, or email him at: jtg@fishokoboji.com. or, check out his web page at fishokoboji.com
It had been a long time since I had fished West Lake Okoboji. I fished it a lot in the 1970s, virtually every weekend from Labor Day to Memorial Day for many years. You know what? The fishing is better today than it was then. And it was pretty darn good in the 1970s.
Our Television Crew was Headquartered at Kabele's Lodge, their Great people and they have "Excellent" accommodations, it's a Great place to stay and their Trading Post has "everything" the angler needs while fishing the Okoboji area. Check out their web site at https://kabeles.com/