This is the third in our "Legends in the Outdoors" columns, where we highlight those who have made significant contributions to the outdoors; anglers, hunters, outdoor communicators, others are some of the first guides on many of our lakes and rivers, while others were outdoor communicators as well as fishing and hunting guides.
I first met this individual when he was the sports writer for the Omaha World Herald and was just getting into the outdoors, what I had jokingly referred to as a "Late Bloomer" who did not fish or hunt until he was 35 years old, but when he got into it, it was full speed ahead.
Our good friend Larry Porter, Lincoln, Nebraska is an outdoor communicator, photographer, angler, fishing guide, tournament angler, seminar speaker and hunter that began his career with the World Herald as their sportswriter with his byline appearing in the publication from 1966 to 1990.
During that time, Porter was named as "Nebraska's Sportswriter of the Year" three times and in 1985, one of three Nebraskans honored by the National Sportscasters and Sportswriters Association for excellence in sports journalism.
Porter explained, "I had not gotten into the outdoors as the world Herald kept me busy covering high school and college sports and I had not yet met those who would introduce me to the sport."
When he did finally become interested in the outdoors, it was because of friends he had met through the sporting and outdoor events he covered.
It started when a friend Steve Yentes, Holdrege, NE. brought some white bass to work for them to try, when he discovered, he loved the taste of the fish.
Larry indicated "I was 35 when Yentes and five anglers from the World Herald had a trip planned to Lake Vermillion, if they could come up with a sixth person, so they could get a break on the price."
He asked Larry, who laughed, as he'd never fished, as he didn't even own a fishhook.
At that point, Porter never thought about it again, until later on when Yentes returned and asked again, "I knew nothing about fishing, had no equipment and did not want to look silly trying to fish."
Yentes informed him that was no problem, as he would be in his boat; he had all the equipment and could show him how to fish.
"I decided to ask my wife if it was okay to go, which I am sure she now regrets." "Angling was an immediate passion." "I loved it and until then, I had no idea what I had missed."
On that trip, they caught a good number of 2-pound crappies, 36″ northerns and some smallmouth bass, where I thought this fishing thing was beginning to look like a good deal.
Not long after, another individual Larry knew through his sports writing, Tom Ash asked if he liked to go fish McConaughy. This is where he met and started fishing with guide and tournament angler Bob Propst.
On the water, the three anglers fished Big Mac out of a 16-foot aluminum boat, trolling along the face of the dam during the spawn.
Larry ways continually snagged up where Propst had to stop the boat and get the lure loose and after several times, Bob was not too happy about taking time from his fishing to get Larry's line un-snagged.
It was not long before Larry was hung up again where he said to Propst "this time it is really hung up" he handed the rod to Propst, where Propst handed him back the rod and said, why don't you land this fish." This was the beginning of a lifelong friendship with tournament angler and guide Bob Propst.
Gene Hornbeck, who at the time was the Herald's outdoor writer, asked Porter if he would like to fish on South Dakota's Lake Oahe, once again, he jumped at the chance.
Where instead of spending his 40th birthday with his wife and received numerous gag gifts, he would be on Oahe fishing, where here he caught a 6-pound walleye, and became "hooked even deeper" in the sport of fishing.
Hornbeck and Porter were crossing the dam, Larry asked, "do you fish below the dam", Hornbeck replied, "no, but I know a guy who does, Kent Hutchinson."
There he met angler and guide Kent Hutchinson, (Hutch) Gretna, Nebraska, who would guide on Oahe for over 35 years. Hutch and Larry spent many evenings catching walleyes below the dam, which was the beginning of their friendship.
On several occasions, Porter ran into Hutch while covering Gretna's football games where they spent time together, became close friends, spending time on the water together.
Then, when Gene Hornbeck retired as the World Herald outdoor writer in 1990, Larry thought he might like to try becoming their outdoor writer, switching from writing about athletes and coaches to the hunting, fishing and outdoor recreation beat continuing at that position for 16 years.
Following his own retirement on April 1, 2007, where numerous people were thinking that only a fool would retire from such a sweet job as he had, when Porter went into the guiding business full-time with Hutcheson on Lake Oahe.
He guided with Hutch's Guide service for nine years and then eight years on his own, fishing four years as Hutch's partners in the Manufacturer's & Professional Walleye Tournaments, qualifying for the National Championship in 1983.
His exploration into hunting began in 2000, when another of our "Legends in the Outdoors" outdoorsmen Jim McDonnell, the man instrumental in Porter's introduction to the spot of hunting. McDonnell, who ran several mile trap lines, invited Porter over to Royal, Iowa to see what trapping was all about.
After that trip, he asked Porter if he would like to go to Ontario to Brodhagen's Bear Creek Outfitters fishing camp, which Porter says, "was the best lake he has ever fished as far as fish numbers, where it took them longer to unhook the fish, than it did to catch them."
Later, McDonnell asked if he would like to make a return trip to Bear Creek Outfitters for an archery black bear hunt.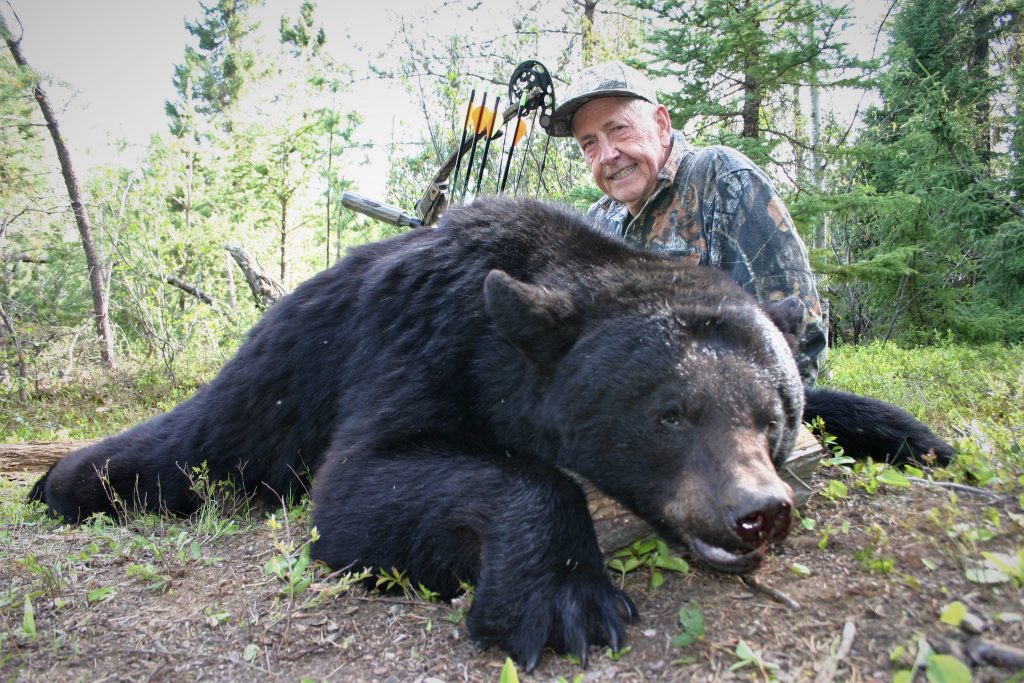 Porter, quickly agreed and since he had never been an archer, had no archery equipment, he better head to the archery shop, buy all of the gear he needed and then, practice, practice, practice until he became proficient with his bow, where on that trip he took his first archery bear.
In early October, 2016, he stepped away from guiding and other activities after diagnosed with idiopathic pulmonary fibrosis (IPF) an irreversible disease characterized by a decline in lung function, with no treatment or drugs and a prognosis of two to three years to live.
Since that time, he has been using a new drug, developed two or three months before his diagnosis, "It's a Germany company's drug, that will not stop the disease, but will slow it down and as far as I'm concerned, every year now is just "gravy."
He still spends time in the outdoors traveling and enjoying the outdoors through the lens of his camera, doing photography.
For 16-years as the outdoor writer for the World Herald, Larry brought the outdoors into the homes of thousands of the World Herald readers.
Since his retirement, his by line is missed, as his style of writing, had you looking forward to next week's column, while making the outdoors something new and interesting as he introduced others to the outdoors.