A buffalo, that blocked off part of the board walk at one of our stops and several breathtaking waterfalls we had the opportunity to view on the WNAX Yellowstone National Parks bus tour in July. (Photos by Gary Howey)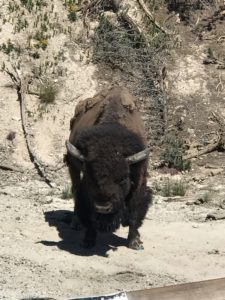 Traveling to Yellowstone Park and beyond has always been on my wife's Cindy's bucket list, and on July 26th, we'd make that become reality. Our adventure, began at the WNAX Radio station in Yankton, South Dakota, where we boarded the Navigator bus for the nine-day four state Yellowstone-Teton National Park tour.
  Our group consisted of twenty-six passengers from South Dakota, Minnesota, Iowa and Nebraska, our excellent tour guide Valerie and our outstanding bus driver Robert.
    We hadn't gone far down the road before we knew that this was going to be a great trip, as It didn't take long for us to become acquainted with our tour group and before many miles, becoming friends.
  With the sun at our backs, we made our way westward, towards Mitchell's Corn Palace, Chamberlain's Scenic Overlook into South Dakota's celebrated Badlands, an experience not easily forgotten. Arriving in the Badlands, the first thing that came into our minds, was what the early settlers must have thought when they came into this area. It had to be a mixture of both dread and fascination.
  Conservation writer, Freeman Tilden described the rough region as "peaks and valleys of delicately banded colors-colors that shift in the sunshine and thousands of tints that color charts do not show."
  Seventy-Five million years ago, this country was covered by a shallow sea with the shifting Continental Plates creating the Rocky Mountains, where the land underneath rose, draining away the water and because of climate changes eventually becoming what we see today.
  As we proceeded throughout the tour, we could only imagine the dread and hopeless thoughts which went through those settlers' minds as they traveled further into the mountainous regions.
   In our group was Tracy "Subdeck" Manning, an educator, who gave us insight on how the numerous different colors of soil and rock had formed in the eroded hills and valleys. Tracy, her two sisters Heather and Kristi, all former Hartington, Nebraska girls were on the bus tour, with their mother Marcia.
  Once through the Badlands, after a stop at Wall Drug, we made our way into the amazing Black Hills of South Dakota.
   The following day, our first stop was a visit to breathtaking Mount Rushmore, where the four great president's faces were carved on the huge granite mountain side, using dynamite, jack and air hammer drills along with back breaking man power to create this wonderful monument.
  Then it was onto crystal clear Sylvan Lake, where anglers were plying the water, angling, trying to catch the numerous fish that call Sylvan Lake home.
  From there, we visited historic Deadwood, South Dakota, where much of the town remains the same as it was years ago and in 1961 the entire town was designated a National Historic Landmark.
   Deadwood is where Jack McCall, the most infamous murderer, in Deadwood, who on August 2, 1876 walked into the Nuttal and Mann's Saloon # 10 and at point blank range shot Wild Bill Hickok in the back of the head while Hickok was playing poker. McCall claimed he killed Hickock to avenge his brother's death and after being captured in Montana, McCall went on trial and was hanged in the territorial capital, Yankton, South Dakota.
While in Deadwood, I had the opportunity to record one of my radio shows with good friend, Lee Harstad, the executive Director for the Deadwood Chamber of Commerce, where we talked about its abundant historical past and great outdoor opportunities.
  Heading west the following morning into Wyoming, we explored Devil's Tower, an unbelievable formation rising 867 feet from its base, 1,267 feet above the river, 5,112 feet above sea level and having a tear-shaped top of 1.5 acres with a base 1,000 feet.
  Then it would be a visit to alluring Little Bighorn Battlefield National Monument, Custer's Last Stand in Montana.
  At dawn of June 25, 1876, the 7th Calvary, which included 700 soldiers located the Indian camp, unfortunately they underestimated the size and the fighting power of the Indians.
  The Army intelligence had estimated Sitting Bull's force at 800 fighting men; in fact, as many as 2,000 Sioux and Cheyenne warriors took part in the battle.
   On June 25 and 26 of 1876, Lt. Col. George A. Custer, his entire command and attached personnel of the US Army, died fighting the Lakota and Cheyenne's warriors.
  Custer foolishly split the command into three smaller troops of 200 t0 300 men, five companies, remaining under Custer's command, with Major Reno and Caption Benteen in charge of the other battalions.
  When Custer made the decision to lead a troop of less than 300 to the Little Bighorn River, he sealed his and his soldier's fate as every member of his command and attached personnel met defeat and death at the hands of Cheyenne's chiefs American Horse and Two Moons, and Lakota Chiefs Crazy Horse, Sitting Bull, and Gall.
  The 7th was outgunned, as they were armed with what was considered by many to be the finest military sidearm revolver in the world — the Colt Single Action Army pistol. This superb six-shooter was accurate and rugged and chambered the.45 Colt cartridge, probably the most powerful handgun round of the time, and the single-shot Springfield 1873 carbines.
  The Indians were armed with Henry and Spencer repeating rifles, which provided a higher rate of fire than those of the 7th, this along with the Indians bows and war clubs decimated the entire 7th.
  We entered scenic Beartooth Pass on the following day, where numerous fly fishing were fishing the crystal-clear streams after the numerous species of trout found there.
  Our driver, Robert handily maneuvered our bus through the numerous switchbacks, with its serpentine curves, making our way upwards through the pass.
  We then were guided through all the beauty and wonder of Yellowstone National Park, where we observed Mother Nature's extradentary handiwork, including Norris Geyser, beautiful Gibbon Falls and the Roosevelt Arch.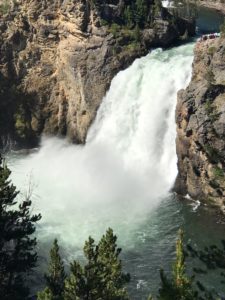 One of our stops was in Jackson Hole, Wyoming were Cindy and I had an opportunity to stop by the Silver Dollar Bar, where you'll find 2032 uncirculated 1921 Morgan Silver Dollar in the bar, along with western artist Paul Clowes 13 original leather murals which adorn the cornice above the bar.
  As we made our way through Yellowstone, we had splendid opportunities to observe the wildlife in the park, and at times up close and personnel, the antelope, buffalo and bears.
  The following day, we were back in Yellowstone, giving us the wonderful opportunity to observe world famous Old Faithful, one of nearly 500 breathtaking geysers in Yellowstone and one of six that park rangers currently predict.
   Its eruption started slowly, with more pressure building each time, but before it really came to life another geyser just off to the left, "Honey Bee", erupted sending water and steam into the air around 80 feet or so.
 As that geyser erupted, "Old Faithful", joined in and between the two, gave us quite an opportunity for photos and video, our journey continued, as we experienced the numerous splendid falls, amazing geysers and mud pots.
  Then we made our way into the Tetons, a beautiful trip with picturesque terrain, including Lodgepoles, trees reaching skyward to unbelievable heights.
  The quick trip home through Nebraska bought us back to our starting point, where we said goodbyes to our new friends, packed and headed for home.
  Thanks to WNAX Radio, Tour Guide Valerie and our Navigator bus driver Robert as they made our 2,400-mile tour so very enjoyable, with information on the area and making stops giving us ample opportunities to view all of the wonder that these areas had to offer.
  If you're into wild scenic, the National Parks and history, We'd recommend this excursion, as it excluded all of our hopes and dreams, giving us the opportunity to enjoy all these wonders of this great land of ours.  God Bless the U.SA.
      Gary Howey, Hartington, Nebraska is an award-winning writer, producer, broadcaster, former tournament angler, fishing and hunting guide and in 2017 inducted into the "National Freshwater Fishing Hall of Fame". He developed and was the Producer-Host for 23 years of his award winning gary Howey's Outdoorsmen Adventures television series. He's the Host of the award-winning Outdoor Adventures radio program carried on Classic Hits 106.3, ESPN Sports Radio 1570 in Southeastern South Dakota, KWYR Country 93 AM and Magic 93 FM in Central South Dakota, As well as on KCHE 92.1 FM in Northwest Iowa.  If you're looking for more outdoor information, check out www.GaryHowey'soutdoors.com , and www.outdoorsmenadventures.com, with more information on these Facebook pages, Gary Howey, Gary E Howey, Outdoor Adventure Radio, Outdoorsmen Productions and Team Outdoorsmen Productions. The Outdoor Adventures television show is available on numerous Independent markets, and the MIDCO Sports Network.