Reprinted from the Sioux City Journal
 
When the month of March rolls around, walleye fishermen's thoughts turn to rivers.
While that is particularly true throughout Siouxland, the river-fishing angler exodus is experienced across the country in early spring.
And there is a good reason for that. Walleyes are moving upstream toward their spawning areas. On many rivers, including the Missouri River, their migrations will be halted by dams. There, walleyes will gather by the thousands awaiting the warming waters which will trigger the spawn.
 
Gavins Point Dam at Yankton, S.D., has long been a magnet for late-winter walleye fishermen. So too have the other dams in South Dakota. Fort Randall Dam at Pickstown, Big Bend Dam at Chamberlain, and Lake Oahe Dam at Pierre, S.D., will all be focal points of walleye fishermen for the next month and a half.
  It's a sure bet that the majority of anglers, by far, will be armed with leadhead jigs tipped with fathead minnows. This has proven to be a very productive presentation for cold-water walleyes over the years.
  Let's look at how anglers can use the jig and minnow proficiently at this time.
  The waters below these Missouri River dams will be crystal clear so it is important to use light line. While I don't necessarily think the line spooks walleyes, I generally side on "why take a chance.
Lines in the 4- to 6-pound test, clear category get my nod. So too, does fluorocarbon. The light line aspect probably comes into play more about how your jig and minnow presentation reacts in the water. Light lines may present a more natural presentation to the fish.
Unquestionably most anglers will be using a technique known as vertical jigging. This means holding your boat in place, bow pointed upstream, in areas of reduced current and dropping your jig straight down beneath the boat. As the jig nudges the bottom, the boat "slips" back with the current so you are offering the jig to the fish below, all of which will be facing upstream and are used to obtaining their food in this manner.
While vertical fishing is easy and productive, there are situations where casting may be a better option. When casting, cast your jig quartering upstream. It should reach the bottom somewhere upstream from you and then simply let the jig swim and roll downstream below you.
A few years back I began experimenting with a 4-inch ringworm on a quarter-ounce jig. This presentation works best on the cast and the key is to simply swim the jig with a slow lift and drop much like slow rolling a spinnerbait for bass.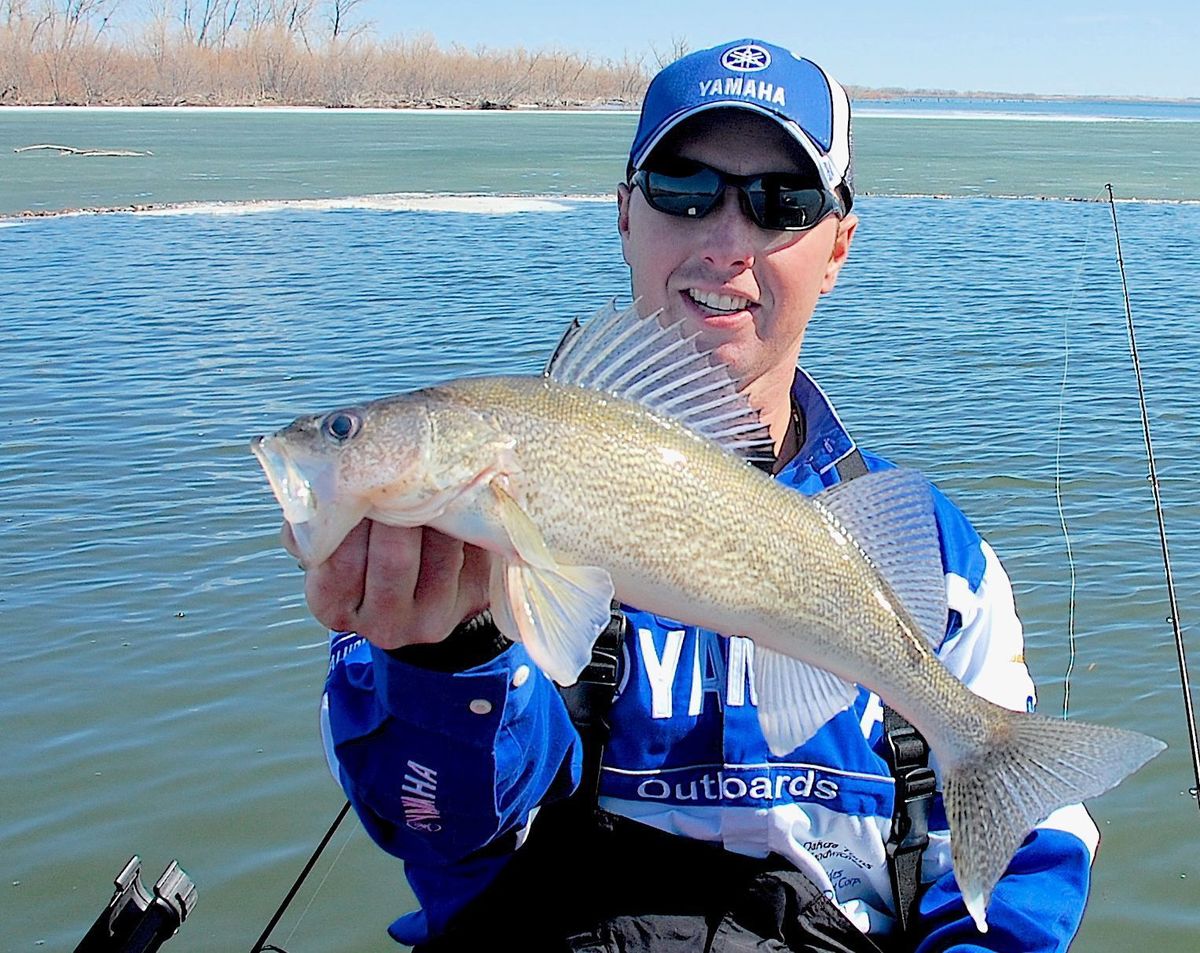 What about colors? Most anglers will be using chartreuse twister tails. Day in and day out this color will produce anywhere in the Missouri River system. For some reason a pink lead head and a white twister body works very well below Gavins Point Dam. I also carry clear, metal flake twisters and smoke, metal flake bodies. These are fished on unpainted lead heads. All of my twisters are in the 3-inches length this time of year. While these are the colors I use consistently, don't be afraid to mix it up with other choices. Sometimes offering walleyes something different will trigger them.
While the jig is the most commonly used presentation for winter and early spring walleyes, there are others that work as well.
The three-way rig is one of them. Tie a dropper line about one foot long onto a three-way swivel and attach a weight, perhaps 3/8-ounce. Tie the swivel onto your line. Tie a drop-back line of about 30 inches and apply a size one hook. Tip with a minnow.
This rig can be trolled slowly across and up current with success.
If I'm fishing areas which have little or no current, such as the boat basin at Fort Randall or the emergency spillway at Oahe, I'll switch to a split shot and minnow. Attach the split shot about 30 inches up your line and troll it very slowly.
Crankbaits also have a role in this early fishing. There are some specialists who fish nothing but crankbaits and they have success all winter. I think cranks work best in the quiet waters below sandbars on the river proper. Shad-type baits are favored.
Let's mention a couple of other points. You will likely encounter ice at this time below some of the dams. Be sure to fish along the ice line. Walleyes seem to hang out there.
Fishing pressure will also affect your success. If you can be first on the water you may catch the biggest walleyes of the day. As more boats show up the bigger fish disappear, and when things get crowded the catching can stop immediately. That's not always the case, but it happens enough that I like to stay away from the crowds.
More outdoors information is available at http://siouxcityjournal.com/sports/recreation/outdoors/