Anglers are reminded that bait and fish may not be transported in water taken from a lake, river or stream. 
Bait can only be transported away from a water body in domestic water (tap water, well water, bottled water, ice). Most domestic water must be treated to remove chlorine prior to putting fish in it.
Boat anglers can wait until they reach an immediately adjacent fish cleaning station to put their bait in domestic water. They can dump out the lake water and fill their bait bucket up with water from the cleaning station or water they brought with them.
A shore angler can do the same if they are able to access the domestic water source at a fish cleaning station that is immediately adjacent or if they bring domestic water with them.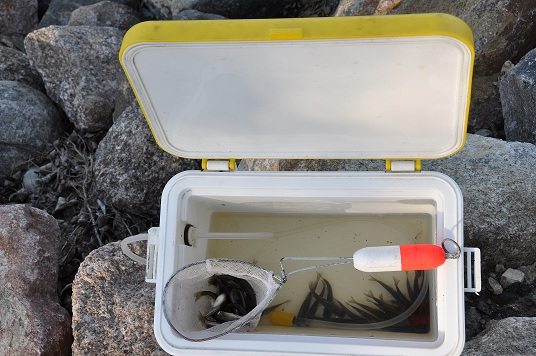 Minnows may be used in multiple lakes as long as they are transported between lakes in domestic water. Lake water must be drained before leaving each lake.
Unused minnows should be poured into the fish grinder at a cleaning station or drained and disposed of in the trash containers at the boat launch or cleaning areas. It is a violation of state statute to dump unused minnows into a water body.