Reprinted from the Sioux City Journal.
Take walleyes, for instance. If your springtime presentation is limited to a quarter-ounce jig tipped with a chartreuse curly tail grub and later in the year you switch to a bottom bouncer in front of a chartreuse spinner and nightcrawler, you should probably widen your thinking to try some other baits.
When it comes to largemouth bass, or smallmouth for that matter, if your presentations are limited to a 6-inch, Texas rigged worm behind a pegged quarter-ounce cone sinker or just tossing a big spinnerbait, you definitely need to expand your horizons.
Panfish are another matter. A jig and bobber just about covers the presentation scene for most anglers for bluegills and crappies. A good choice most of the time, but why not mix it up some.
Want some examples of change-up presentations for walleye, bass and panfish? Here are two for each.bass and panfish? Here are two for each.
For the past several years, I have been experimenting with a jig and 4-inch ringworm in a lot of my walleye fishing, both during the cold water months and in the springtime. The jig and twister is the preferred choice of most anglers at this time, or, perhaps, just a plain jig and minnow.
But throwing a 4-inch ringworm on the right-sized jig head often out fishes either rig. Conditions, however, have to be right. By that I mean you have to slow down. Pitching jigs to the shoreline is often a very productive method on our Missouri River reservoirs and some lakes both in the springtime and the fall. But typically the boat is moving too fast to use the ringworm effectively.
The presentation of the worm is critical. You cannot "jig" it like you do with a curly tail. It has to "swim" along the bottom. It is a lift and drop retrieve with no embellishments on your part. It is really effective in light current where you can cast across and upstream and swim it back with that rolling retrieve on a tight line just over the bottom.
It's a presentation that was perfected on the Mississippi River and parts east, but just hasn't caught on anywhere on the Great Plains.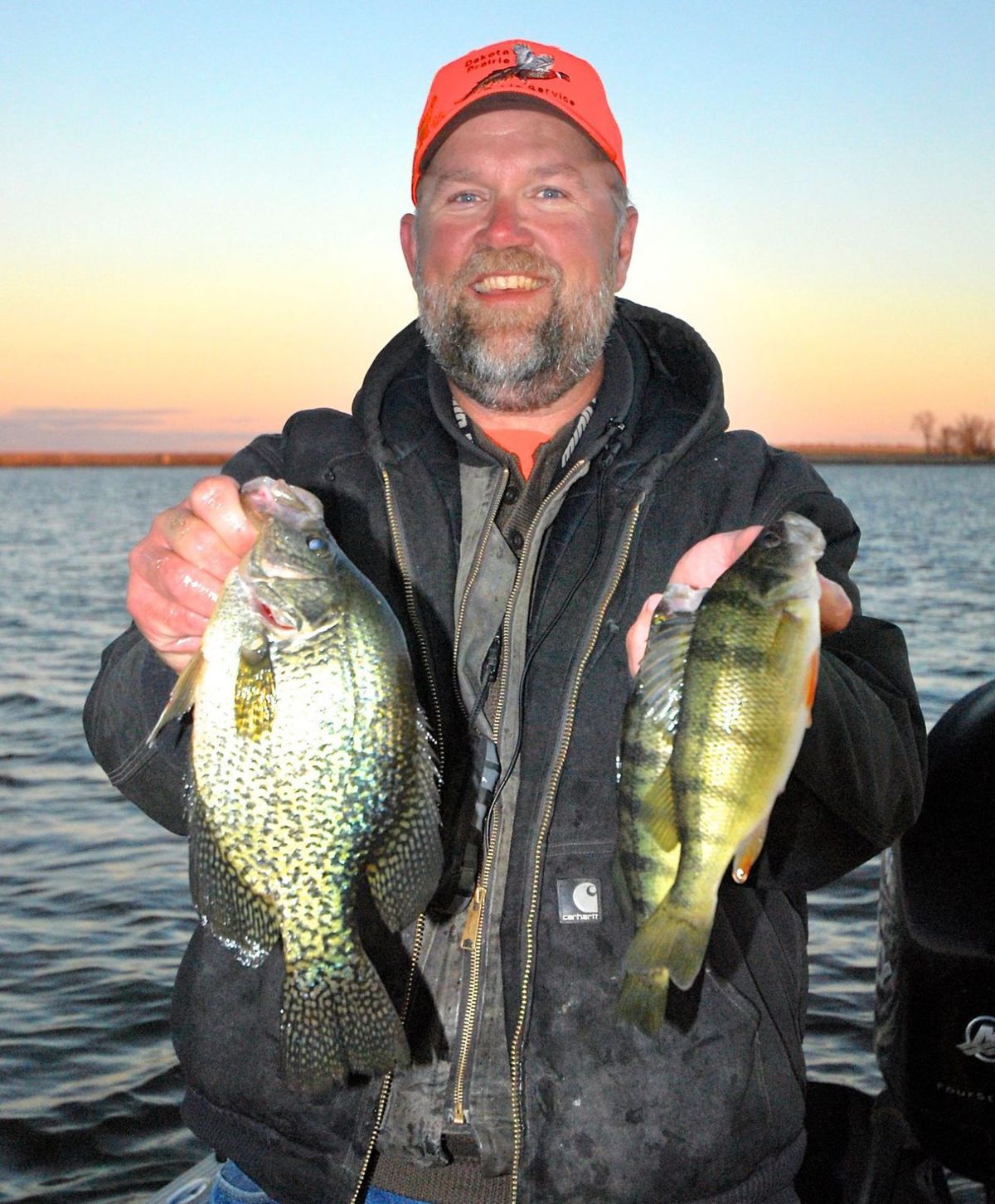 Here's another option. It's becoming more and more well-known now that just a piece of nightcrawler can be more effective for walleyes than the whole bait. This technique had its beginnings on the Missouri River.
Only rarely now, do I ever fish with a whole night crawler. The key, I think, is to put a small bead on your line above the hook. I suspect that color can make a difference most days, but I usually just put a fluorescent red or orange bead on the line and let it go at that. But, I have also tried chartreuse, white and green and caught fish as well. Most days the bead, regardless of color, is important to your success.
I hook the crawler through the nose and then pinch off the tail about four inches below the head. The theory is that the pinched crawler releases more scent into the water and that might be the case. It works, and that is all I really care about.
Some of the lakes where I fish largemouth bass are hammered so hard throughout the open water season that I firmly believe the bass become conditioned to some baits and just won't hit them. Do you know a bass fisherman who doesn't throw spinnerbaits? I don't, either. In fact, I'd say largemouth bass see more spinnerbaits in a season than any other lure.
I love spinnerbait fishing. Cast and retrieve, cast and retrieve. That's about all there is to it. And It catches fish. It covers water fast. It's effective in shallow water where active largemouths spend a great deal of time.
 
 But is there another bait that these fish hardly ever see that is just as effective and just as easy to fish as the spinnerbait? Yes, there is.
It's called a "chatterbait."
This bait is like a spinnerbait without the overhead wire arm. It's a jig with a rubber skirt. The jig is attached to a short wire upon which sits a "flat" piece of metal which causes the jig to jiggle, chatter and just act crazy as you pull it through the water.
It's been very effective on every body of water I have fished. Try it and see what you think
What about panfish. Here's a couple of ideas.
I remember when "Beetle Spins" first came out. I really didn't think much of them. It was simply a "safety pin" type spinner hooked up to a small jig with a plastic grub body that culminated in a split tail. The body had no action
But when I tried it for the first time, I became a firm believer in the effectiveness of this lure. I fished it on both sides of the Highway 71 bridge that separates East and West Okoboji. It is a very popular fishing spot to this day, and for good reason. Lots of fish hang around there.
I caught perch, bluegill, crappie and bass right there on that little jig-spinner fishing from shore. Later, in the fall, I cast it there after dark and caught walleyes. I even hooked something one night that peeled 110 yards of brand new, four-pound-test, monofilament line off of my Mitchell 308 reel and finally broke me off as it continued its way into East Lake.
It's a great crappie bait when fished slowly around crappie cover.
Another panfish bait well worth throwing is the Road Runner jig. It consists of a "horse head" shaped lead head at the bottom of which is attached a small willow leaf spinner. The body is made with either marabou or plastic, your choice.
Like the Bettle Spin, it is a simple, cast and retrieve bait. The best tip I can give you for fishing either bait for crappies is, fish them slowly. Crappies are not chasers so the presentation has to be slow. If fishing over deeper water, you don't have to worry about being on the bottom; crappies will rise up to take a lure but it has to be moving very slowly.
If you haven't already, try out these options for your favorite fish this year. It's tempting to quote a couple of cliches here to make my point. Don't be a "one-method Pete," and "there's more than one way to skin a cat."
Whatever.
More outdoors information is available at http://siouxcityjournal.com/sports/recreation/outdoors