The prayers of we ice angler have been answered, as now there is plenty of ice for us to punch holes through.
Now that we have the ice we have been waiting for, it is time of the year when it can be hard to find concentrations of active fish that are willing to bite.
What this means is that ice anglers are going to have to become more mobile, to start moving around, and locating the fish.
As we get towards the end of January, you will probably be punching twice as many holes through the ice as you did earlier in the season.
There is no one that I know at finding fish this time of the year than Dave Genz, who I feel is one of the finest ice anglers in the Midwest.
I have ice fished with Dave Genz previously on Devils Lake in North Dakota as well as on the Refuge Lakes south of Valentine, NE.
When we fished together has taken some huge fish including numerous bluegills from one to one and a half pound range.
With over 30 years of crisscrossing the northern United States and southern Canada, he has tested and refined his "Winter Fishing System" on big and small water,
He is known for his run and gun system. Seldom will you see him spending much time in one spot, unless the fish are really biting. If they are not biting, he will not just sit there and die on a hole, he will make tracks across the ice with his Clam Fish Trap with his auger and locator trying to locate the fish.
For years, ice anglers have dug just a few holes, set up their ice houses and sat there all day or for even a week waiting for the fish to come to them.
Genz has proven that you can catch more fish by continually moving until you locate the fish. He'll punch holes, drop his transducer into the hole, check for fish, fish the area for a few minutes and if the fish aren't biting he's off, once again trying to locate some active fish.
Genz has helped to develop much of the ice fishing gear that we use today! He developed the Clam Fish Trap portable sled, as well as many ice fishing lures, including his Genz Worm, Fat Boy and Pounder lures.
A high quality locator like a Vexilar is necessary when you are ice fishing, allowing you to see the depth the fish are at and to bring your bait to the exact depth the fish are using.
When we fished with Dave, his Vexilar locator let him know where the fish were located and if they were active.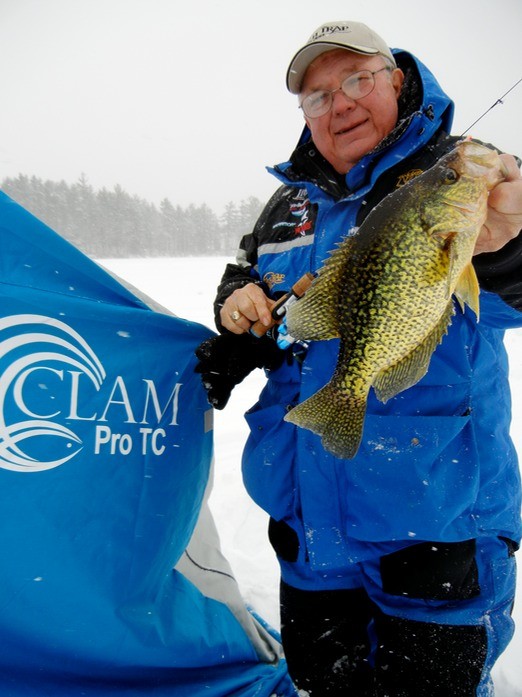 We also fish with the Vexilar FL-18 & 22 locators, which lets us watch our lures descend to the bottom and pin point any fish that might be moving under our holes.
Fish will show up red on the locator while lures and our baits will appear orange. As fish appear on our Vexilar, we bring our lure up or down to that depth, as our baits reached the same depth as the fish, the red line gets wider turning a brighter red.
With our Vexilar's, we now know the depth the fish are at, allowing us to put our lures right in front of the fish.
As many of you know, I am big on multi-colored lures, as you never know what color will attract the fish.
On a trip we did with Genz, not only were we using multi-colored lures, we were also tipping them with several colored spikes.
It was on this trip where I learned a lot about jigging! Where I do much of my ice fishing, we are fishing is shallow water, so with just a few feet of line out, you do not need to move your rod tip much to make the jig dance.
We were jigging out baits in 20 to 30 feet of water, where you have twenty to thirty feet of line out; you are going to have to move the rod tip much more to get that jig in deep water to even move.
.
The more line out or the deeper the water your fishing, the more aggressively you are going to have to move your rod in order to get those small ice jigs to twitch.
On a trip to Devils Lake with Dave, jigging in deep water, we took 1/2 to 1 pound perch using Genz Worms, Fat Boys and other ice fishing baits Dave developed.
One of the anglers other anglers was using a Castmaster and minnow head, fishing deeper water to land some nice walleye including several that weighed from 2 1/2 to 4 pounds.
Using the equipment developed by Genz and the Ice team along with the mobile or run and gun method of ice fishing this time of the year can help you to cover more water and to take the more aggressive active fish.
Do not be one of those ice anglers stuck in the same old rut when it comes to ice fishing, if the fish quit biting, get up and, move as you can always come back and check your old spot later.