Reprinted from the Sioux City Journal
PIERRE, S.D. | The prairie swept away to the west like an endless sea of waving grass. It was shortly after dawn and antelope and deer scampered away from our vehicles as Gary Howey and Steve Nelson guided their trucks down the gravel roadway.
We were on our way to fish one of the hundreds, if not thousands, of stock dams which dot these grasslands. The ponds are built to provide water for cattle, an industry which anchors the incomes of most who live in this region.
Steve Nelson, Pierre, S.D., has been a friend of mine since we attended the University of South Dakota a generation ago. After graduation, our paths went separate ways until we made contact about 10 years later. Pierre, Steve told me, was an outdoorsman's paradise. I needed to come visit. Of course I knew that, but my tunnel vision was fishing. It was hard to drive farther than Lake Frances Case, a Missouri River reservoir a lot closer than Lake Oahe. Oahe had bigger fish, but Case had the numbers. Decisions, decisions.
But, I needed to see an old friend.
And ever since then, Pierre has drawn me like a moth to a flame.
No one has a better handle on stock-dam fishing than my friend, Steve. He's guided me on many memorable trips to these dams for bass, bluegills and perch. And I'm not talking about run-of-the-mill fish. I'm talking about pound-plus 'gills, perch and bass of nearly state record proportions.
So when Steve called and said we should come out and seek big bluegills, we went.
The pond we were intending to fish is on private land. And that's the case of many West River stock dams. You must have permission of the landowner to fish them, but that's not difficult to obtain.
But, there are also a lot of ponds and small reservoirs on public land. More about that later.
Steve had stashed a couple of "Crawdad" boats, small, fiberglass rigs made by the Coleman Company, at the dam. We had electric motors and 12-volt deep-cycle batteries to power them.
Ever the cynic, I had brought paddles, and we needed them to get us out of the weeds which lined the shoreline.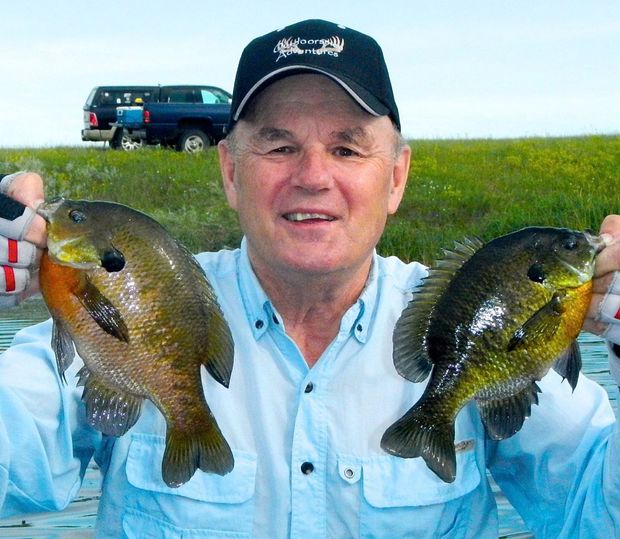 Gary sat in the bow and I ran the electric motor that I soon learned only functioned in reverse. Let's just say, I wasn't surprised.
It was pretty simple fishing, really. We used small jigs, 1/32 to 1/16 ounce and tipped them with a piece of crawler. We soon learned that the big 'gills preferred the brightest colors we had on hand.
Most of the time we were simply vertical jigging over the tops of the weeds. It was not easy fishing. You had to be just on the edge of the weeds, or just over the submerged weeds. If you got too close, the electric motor would become fouled and that spelled trouble.
Ten-inch bluegills, as a rule, weigh about a pound. I don't know if you have ever had one on your line. They are pretty rare. But if you have, you know this. If they weighed 5 pounds, you'd never land one. They would pull you right out of the boat. I was using a 7-foot medium action rod with 4-pound Crystal Fire Line and two 1/16-ounce jigs in tandem. Those 'gills were a handful. If you are fishing pound bluegills, leave the ultralights at home.
We caught a few perch averaging about a pound and several bass up to about 2 pounds. There are a lot bigger bass in that pond, but we didn't try for them.
We were on the water shortly after dawn and by 9:30 the fishing was done. With temperatures pushing into the 90s the bluegills buried themselves into the weeds to avoid the hot sun, and we agreed with them. Summertime on the grasslands is hot, really hot. Experience has proven to us that pond fishing is good early and late, but you should seek cooler environs at mid day.
So, you don't have West River connections. How do you cash in on stock dam fishing?
The answer is the Fort Pierre National Grasslands. It's 116,000 acres of wilderness, or as close as you can get to wilderness in this day and age.
There are numerous ponds with roads leading up to them and are open from Dec. 1 through Aug.31. Others have year-around roads that lead to or pass by other ponds.
There are two undeveloped campgrounds that have large dams for fishing — Sheriff Dam and Richland Dam. There are also secluded dams which you must hike to.
So what are the downsides of fishing West River stock dams? Well, the weather is one. Summertime is beastly hot, usually. Severe weather is always a possibility. The tall grass is perfect habitat for ticks, chiggers and mosquitoes. This is also rattlesnake habitat and encountering one is a real possibility.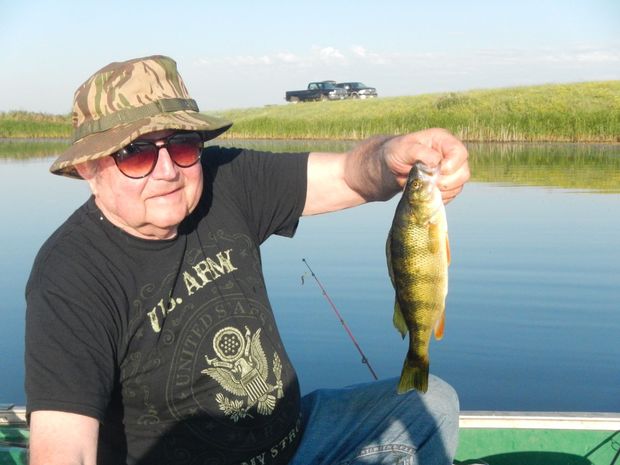 There is an office in Pierre which can provide maps and information about the grasslands. I'd recommend checking with them before venturing out.
Venturing into the Great Plains in the summer is a great experience. Wild flowers are blooming in abundance. At dawn and dusk, wildlife is apparent everywhere. Acres and acres of grass wave in the wind. But it is also unforgiving. Pay attention to the weather. Be prepared for any emergency.
This is great country, but it is remote. And it does not suffer fools.
More outdoors information can be found at http://siouxcityjournal.com/sports/recreation/outdoors/