These are the "Dog Days of Summer" when no matter where you're fishing the fishing can be tough.
I remember those days, where you could set out there most of the day, using several different presentations and all we had to show for it was a bad sunburn and a tackle bag with less tackle than we started with.
We knew where the fish were deep as we located them with our locators, but we had a tough time getting our baits to them. They suspended in the deep water, hanging out at different depths in and amongst the trees left when the reservoir filled.
We tried bottom bouncers and spinners, loosing many of them before switching to another method, which performed about the same as the bottom bouncers.
Years later, we were filming with Guide and Team Outdoorsmen Adventures Member Joel Vasek of Missouri Valley Guide Service on Lake Francis Case when he introduced us to pulling crankbaits on lead core, which helped us to fill our limits while other anglers were coming up short.
Hot weather fishing is different from the rest of the year, requiring different presentations: different baits, different rigs, presented at different speeds.
I've fished many of the hot weather deep-water methods, but by no means am I an expert.
Some of the most successful guides and tournament anglers, those individuals that spend hundreds of hours on the water use need to put fish in the boat, no matter what the season or water temperature may be, have methods they use during the Dog Days of Summer.
To get the best information on this, I contacted some the most successful guides and anglers I know, and quizzed them about deep-water fishing during the "Hot" weather.
Below you'll find their suggestions on the lakes they fish and the methods they'd recommend to catch walleyes when it's "Hot".
Lewis & Clark Lake:
Anglers in a recent tournament held on Lewis and Clark had to deal with water temperatures of 75-77 degrees used lead core line to troll the deeper water of the old river channel were awarded 1st place in the event.
Lead core line and Off Shore snap weights are used to get your bait down deep, along with Off Shore Plainer boards that will spread those lines out seems to be a good bet when water temperatures warm up on Lewis & Clark.
Joel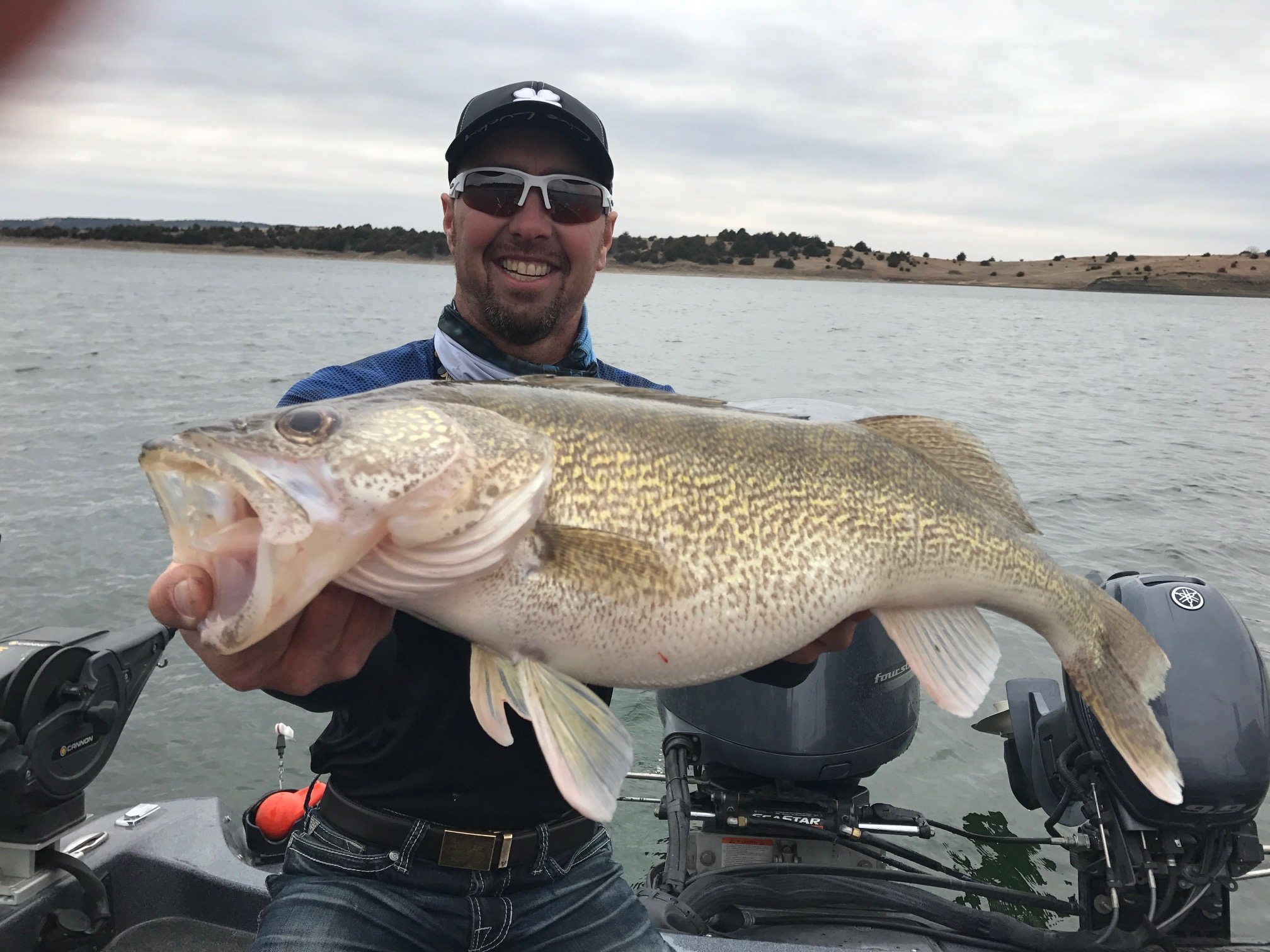 Vasek, Geddes, S.D. Missouri Valley Guide Service, www.walleyetamer.com:
Joel guides on Lake Francis Case on up to Chamberlain. S.D. and feels that deep-water walleyes are easy to pattern as they seem to suspend in 30′ to 50′ of water and as long as the baitfish are there won't they won't move much.
To get deep, where the walleyes are located he uses lead core, snap weights and downriggers. He also uses Off Shore Planer Boards with lead core as when you make a turn with the boats the boards stop and this is when the walleyes seem to like to hit.
Vasek feels that the best deep-water fishing happens when there is the right sun with a little chop on the water and feels that cloudy day's hurt deep-water fishing. As the depth increases, visibility becomes poorer, with the sunlight penetration helping the walleyes to locate your bait.
Walleyes will follow the Gizzard Shad and when they move, some of the walleyes will stay put as larger fish during the heat of the summer don't seem to like chasing bait and this is when the odds are in your favor, when crankbaits work well as there's less baitfish for the fish to feed on.
Vasek and his guides have excellent luck trolling crankbaits over the trees or along 45′ to 55′ break lines.
They troll at low speeds, from 1.8 to 2.1 M.P.H. as if you troll the crankbaits faster than that, the lead core will rise up higher in the water table and may not be at the depth you need them to be.
His reels are spooled up with 18# lead core with an 8′ to 10′ leader, allowing the baits to get down deep.
His choice for deep-water walleyes this time of the year would be something big and intrusive, bigger bait such as the 5″ to 6″ 700 or 800 Reef Runners, these baits have a wider wobble, giving off more vibration, helping deep-water walleyes to locate the bait.
Kent Hutcheson, Pierre, S.D. Hutch's Guide Service, www.fishinghutch.com:
Hutch guides from Pierre, S.D. to Chamberlain S.D. His favorite bait for fishing deep in summer months would be creek chubs' or two big fathead minnows on a hook if chubs aren't available.
Bring fish up from deeper depths requires slow reeling and in many cases keeping fish that are smaller because they are un-releasable.
Leeches fished slowly along with the above are a good choice also.
We try to find fish in shallow depths of 30 feet or less first because of the mortality rate incurred at deeper depths but when guiding I will go deeper if necessary.
Some of the deeper running plugs along with snap weights work for suspended bait chasers and when looking for the deep fish I look for deep bait fish as much as fish.
Chuck Krause, Gettysburg, S.D. Chuck Krause Guide Service chuckkrauseguideservice.com:
Chuck, originally from my hometown Watertown, S.D. guides Lake Oahe. During the hot weather, he likes to look for real deep water nearby seems like there is a Fish movement from very deep too shallow throughout the day baitfish nearby is a plus. Keep it simple with just a 5 to 6 foot leader and try different baits crawlers leeches Minnows.
Cloudy murky water is also a plus as bait fish seem to hang out underneath the shade on these warm hundred degree-days.
I've fished with these guides and many times during the heat of the summer and these methods mentioned in this column, have taken walleyes from deep water. The methods they're mentioning are methods that can be used on any body of water to take fish.
These methods mat take awhile to figure catch on to, but once you do, they will take fish, not only in the heat of the summer, but anytime you're out fishing.