If you spend much time in the outdoors in the Upper Midwest, you know that the wind can kick up quickly and mess up a fishing trip
Walleye anglers know the best fishing can occur when there is a chop on the water, when these ripples on the surface prevent the sun's rays from penetrating to deep.
However, what do you do when the winds blowing twenty-five to thirty miles per hour, some would say, that is easy "Stay Home", which would make a lot of sense to most of us.
Sometimes you have no chose when you are already there and you need to get out no matter what the weather conditions are.
This happens a lot, if you have a fishing tournament you are in or are like my crew when we are there to film a television show, those times when you really do not have an option.
Take for instance, a trip we made to north central Minnesota where we planned to film one of our shows had to face heavy winds on one of Minnesota's 10,000 lakes.
We had driven hundreds of miles, had our accommodations paid for and did not want to give up and drive back home just because of the wind, so with rain gear on and life jackets securely fastened; we headed our twenty-one foot boat out into the large waves.
This was what you call "Rocking & a Rolling" and after twenty minutes of being tossed around, we finally arrived at the area we hoped to fish.
The original plan was to use bottom bouncers with eight to ten foot spinner and livebait rigs, to drift over a twenty-five foot gravel flat where we had caught some nice fish on previous trips.
Because of the strong wind, just allowing the boat to drift in these conditions was not an option, as the wind pushed us along a lot faster than we wanted to go, with our baits riding high in the water and moving too quickly for the fish to zero in on them.
Using the bow-mount trolling motor would not work either because the waves at times were coming over the front of the boat.
Trolling with the 9.9-kicker or our big motor was also not working well as it was hard to control our drift.
We had but one option to use to slow our boat down, to keep it from bouncing up and down and that was to throw out two large boat brakes or drift socks a drift control device that helps to slow the boat's drift enough to allow us to fish without bouncing out of the boat.
Once we had the drift socks deployed, our drift speed was cut about in half and the rocking motion of the boat being a lot less as our boat had settled down into the water, making it easier for us to fish vertically
Using the drift socks, allowed us to fish in heavy wind, somewhat less than what you would call favorable fishing conditions.
Drift socks are nothing new as they have been around for years, with their origin being on the ocean where they refer to them as Sea Anchors.
They may sound complicated, but they are not as they are easy to deploy and retrieve.
They resemble an elongated nylon parachute with two openings, one a larger opening with flotation to bring the brake up along the surface of the water. The water is then forced down through the brake into a smaller hole, where the water exits.
The expanded drift sock drags alongside the boat and as it opens, fills with water where it acts like an anchor, with the drag created by the drift sock settling the boat down into the water making fishing in the wind a lot easier.
If you have a smaller boat, you may not need to use a large drift sock and in most situations; one small drift sock should do the trick, depending on how you want to fish.
With the larger boats, you need larger drift socks and in a heavy winds such as we were in, two were just about right.
By trial and error, I have found the best way to attach a drift sock to my boat is to tie it off to the side, allowing the boat to drift sideways.
In order to do this, I tie off my rope in the middle of the side we plan on fishing from, which allows several anglers to fish off one side, giving the angler the ability to fish their rigs properly with enough room to keep the drift sock from interfering when you land a fish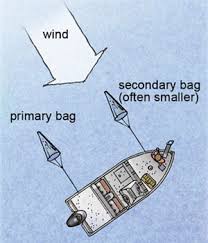 Instead of the shorter ropes, you see on some drift socks, I use a longer one between my drift sock and the boat, this allows me to put the drift sock out farther away from the boat and out of the way.
Without the drift socks/boat brakes on the trip I mentioned above, we would have been at the mercy of the wind and had a tough time completing why we made the trip.
Our drift socks allowed us to fish in some truly rough conditions allowing us to catch our four man limit of nice walleyes in just a couple of hours.