The tiny red and white bobber tipped over on its side. That was the signal to set the hook.
I lifted the rod tip and put tension on the line. I felt the fish struggling and I cranked it in, lifting it out of the water and catching it in my hand.
It was a black crappie, and the first open water fish of the year.
Once the spring melt begins, it's time to get out that crappie rod and start chasing this tasty panfish. They are the first of all gamefish to be available to be caught in numbers at ice-out.
In fact, your best fishing will occur before the ice leaves the lake. Canals, boat basins, incoming creeks, boat ramps off the main lake, all will be ice free while die-hard ice fishermen are still punching holes on main lake.
And you can take this to the bank. The crappies will be there.
Crappies are a universal fish. There are found just about everywhere. Locally you can find them in Browns Lake, Storm Lake, West and East Okoboji, Upper and Lower Gar, and Minnewashta, as well as Big and Little Spirit Lake. Many of the County Conservation Board lakes contain crappies as well.
There are two types of crappies, black and white. Black crappies are most numerous in our area. They prefer clear water. The white crappie, for the most part, will be found in waters with a little more color, but that is not a hard and fast rule.
So how do you go about catching these early-season fish?
I prefer a light action rod from five feet to about six and a half feet long. I use a light spinning reel spooled with four-pound-test line. For a crappie presentation, you just can't beat a 1/16-ounce lead head jig.
Marabou jigs are especially productive. I've taken crappies on just about every color of marabou you can think of, but I have come to settle on white as the best overall.
Having said that, other jigs will work well, too. Any of the wide variety of mini jigs offered by a variety of companies will catch crappies. So too, will tiny tube baits.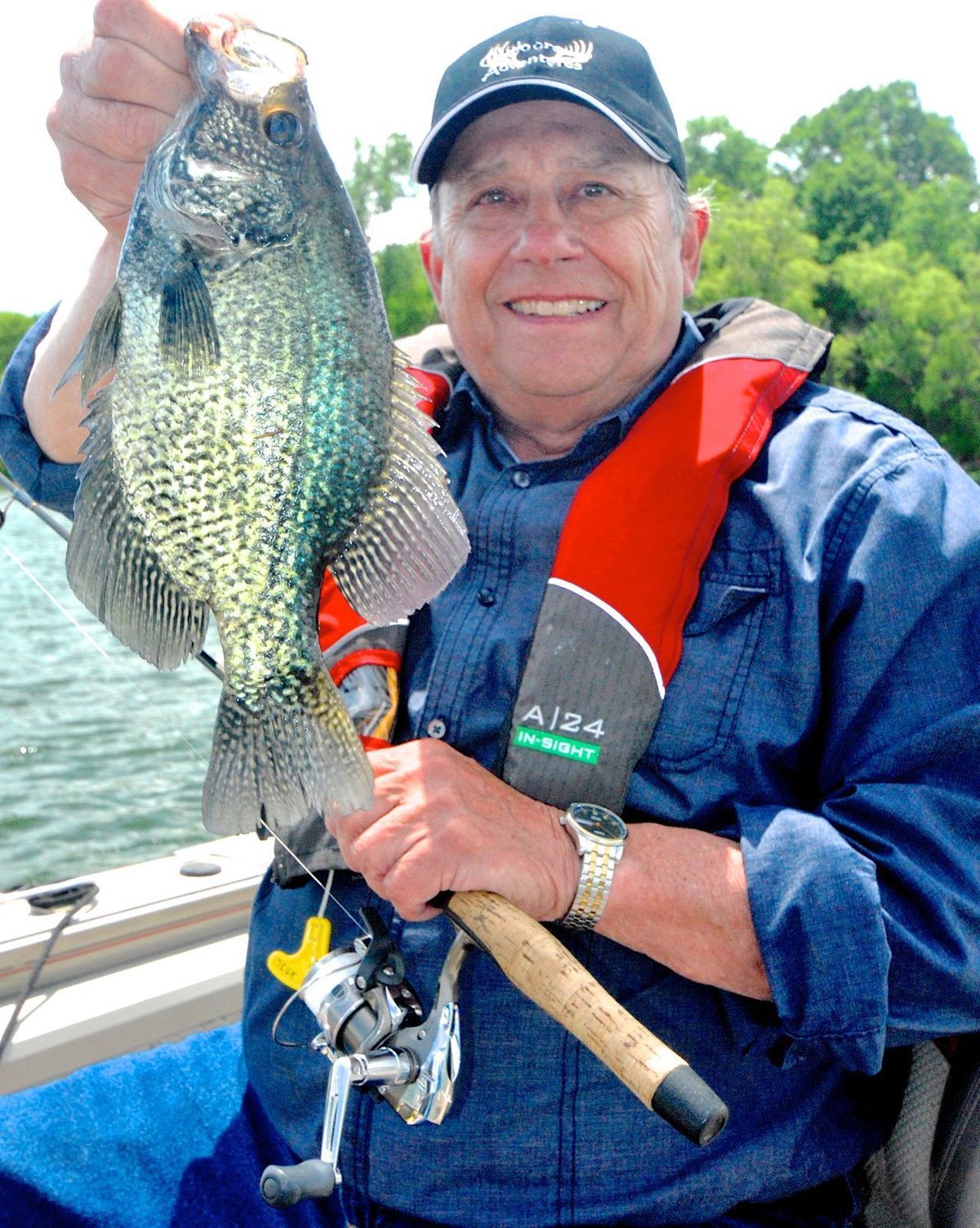 You really do not have to tip your jigs with live bait, but many anglers will do it anyway. If you do, choose a minnow about an inch and a half long. Many bait shops list them as crappie minnows and they are much smaller than the usual run of fatheads.
The jig should be fished under a bobber. A simple red and white, clip-on bobber will work well. Since these fish are shallow, you do not need to use a slip bobber. The key with a bobber is to use one about the same diameter as a quarter. Big bobbers will cost you fish.
One of the things to know about crappies is that they will come up out of deeper water to hit your jig, so you really don't have to be on their level. When they do strike, they often rise up in the water column, causing your bobber to tip over on its side just as described at the beginning of this article.
They are one of the few gamefish that bite this way.
If there is no submerged structure in the area you are fishing, you might find crappies spread out over a large area. However, if there is something to concentrate them, such as a submerged tree limb or flooded wood, they will be there. Rocky areas along the bank or rip rap will also draw them in.
As the season progresses and water temperatures move into the 60s, crappies will begin to think about spawning.
In most natural lakes you will find reed beds along certain shorelines. Reeds grow on sandy, firmer bottoms, and that's where crappies prefer to build their nests. On a good crappie lake, you can cruise along the shoreline and find last year's reeds and see the crappies in there. Just back off a bit and cast your jig and bobber into them. When they are on the beds the fishing can be nonstop.
On man-made lakes, the crappies may spawn along rip-rapped banks. Prospecting for them with the jig and bobber is sure to result in good catches.
One thing that will drive the crappies off their spawning beds is the wind. They don't like waves crashing over them. But they don't disappear.
Look for them in deeper water perhaps as deep as 10 or 12 feet out in front of the spawning areas. You might be able to spot them on your depth finder, but even if you can't, it is worth it to take off the bobber and long-line drift across these flats. They may not be on the spawning areas, but they will still bite.
All these warm weather days we have been having lately have turned my thoughts to crappie fishing. I'll be dusting off my tackle and getting ready. Ice-out is not that far away.