ORTONVILLE, Minn. | Big Stone Lake is a 26-mile long fish factory. Long known for its excellent walleye fishing, and in the past few years an exploding perch population, few anglers are aware of the excellent fishing for other species.
Take panfish, for instance.
When Artie Arndt, owner of Artie's Bait and Tackle, told me that 10-inch bluegills were common here, I admit to being skeptical.
Turns out the first 'gill we caught was taken by his son Tanner and it measured 11 1/2-inches. And that was right in front of the public docks and boat ramp right in town at the south end of the lake.
"Kids fish from the docks here and catch them all the time," Artie said.
We had launched here, too. It was an attempt to get away from the heavy south wind that had plagued our two-day stay. In case you haven't noticed, this spring has been one cold front after another and Mother Nature has really cranked up the wind machine. Gary Howey, Hartington, Neb., and I have battled that on every fishing trip this year.
We had come to Big Stone to sample the great panfishing that Artie had been talking about ever since our first trip here a couple winters ago for perch.
Nothing turns off panfish like high wind and cloudy weather. But, if you can get out of the wind, the fish will bite.
Tanner, a recent high school graduate is now guiding out of the bait shop. He took us between two of the lake's five islands in a boulder-studded bay. We dropped a pair of anchors, one off each end of the boat and began casting small jigs under small bobbers.
I scored right away with a nice black crappie. The fish were lying alongside the big boulders, some of which were only inches below the surface.
Tanner was using an eighth-ounce jig tipped with a small minnow and Gary was using a small hair jig. My jig was a marabou number that I tie myself.
Before long we had added largemouth bass, a big white bass and more crappie. The crappies ran between one and one-and-a-half pounds. We also caught a couple of northern pike which were cruising this shallow area.
For a change of pace we began casting for largemouth while Tanner eased us through the boulders with the trolling motor. Tanner and Gary cast spinnerbaits, I tied on a chatter bait, and we soon began landing bass. We took a couple that probably topped 4 pounds. Others ran from about 12 inches to two-and-a-half pounds.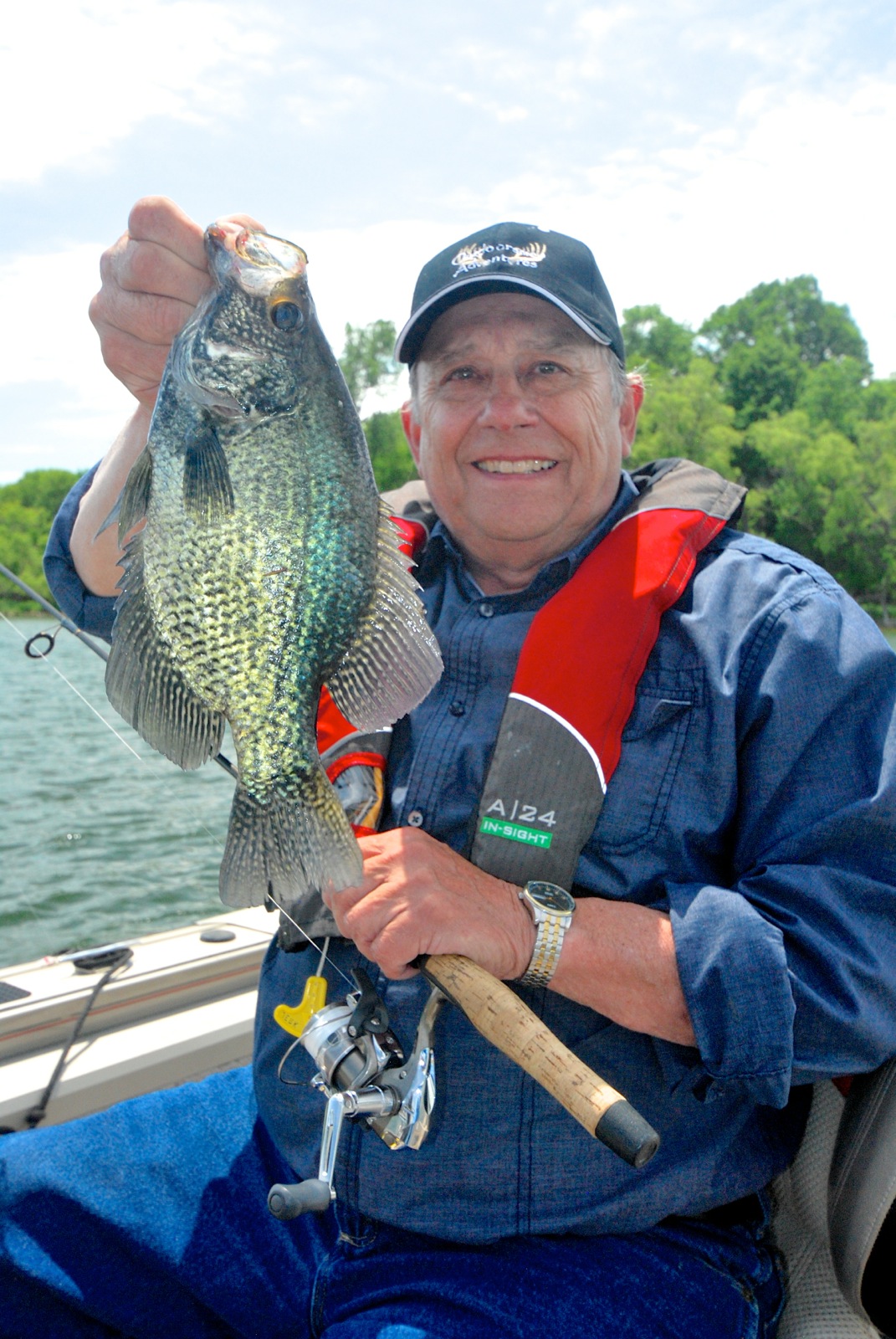 Big Stone is an interesting lake. It averages about three-quarters of a mile wide. It has a maximum depth of about 16 feet and lots of rocks and gravel along the shorelines. You need to be careful motoring in the islands area. There are plenty of shallow rocks.
Ironically, at an elevation of 965 feet, it is the lowest point in South Dakota. It's also the headwaters of the Minnesota River which runs into the Mississippi. At the north end of the lake is the Continental Divide. Another long, narrow lake, Lake Traverse, sends its waters to the north into the Red River.
Artie's Bait and Tackle is at the junction of highways 7 and 12 in Ortonville. For up-to-date fishing information, check out their website at: www.artiesbait.com or phone (320) 839-2480.
Oddly enough we didn't take any bluegills that first day. We learned why the next day.
With that aggravating wind again blowing heavily out of the southwest, we held in the relatively calm waters at the ramp and cast jigs. The big bluegill Tanner caught was taken on a jig tipped with a panfish leech.
Not being entirely brain dead, Gary and I quickly added leeches and that was the secret. Again, behind the islands in the rocks just where we had fished the day before, we found the bluegills. We had a couple of 10s and some nines before pulling up and heading in.
Tanner had caught a big bullhead at one stop, a muddy flat along side one of the islands.
"There are lots of bullheads this size in here," he said. "Not many people fish for them, though."
Turns out the lake hosts all three kinds of bullheads, brown, black and yellow.
We stayed at a cabin Artie purchased just this year on the lake. It's a two bedroom cabin a mile north of Ortonville. It sleeps up to nine people. The cabin sits only a few feet from the lake and features a nice deck on two sides and a dock and boat hoist.
There's a full kitchen, one and a half baths and double garage. It also has a 50-inch flat screen, cable TV and WiFi. A public boat ramp is only about 40 yards away.
Perch fishing begins to get good in July and lasts through ice-up. Walleyes go into the weeds but can be caught if you go in after them.
But when I'm on a lake with huge bluegills, nice crappies and largemouth bass, my thoughts aren't on walleyes. And, I'll admit it, it's hard not to think about those bullheads, either.