Ortonville, MN. It was not long ago, when I made the remark, "bobber fishing is not one of my favorite ways to catch fish", but that all changed last week. On that day, Team Outdoorsmen Adventures Member, Larry Myhre, Sioux City, IA. and I would meet Tanner Arndt, a guide from Artie's Bait Shop, Ortonville, Minnesota to do some bobber fishing.
We were on Big Stone Lake; a twenty-six mile body of water located in northeastern South Dakota along the border with Minnesota is an excellent lake for walleye fishing and for its perch bite.
On this trip, it would not be the walleye or the perch we were after, as we were looking for panfish, crappies and bluegill.
The first afternoon, we launched from the public access near the rearing ponds where many of the bluegill we were after had started out as fingerlings.
With the wind picking up, we made our way across the lake, heading for some of the more protected bays behind the many islands on Big Stone.
As we approached one of the calmer bays, a pair of Canada geese greeted us, let us know we were trespassing on their territory, while several white pelicans perching on the rocks, paid little or no attention to our boat.
Both anchors were deployed as we begin to probe the shallow waters of the bay. We were anchored off one of the numerous islands in the lake, where the panfish, the crappies and bluegill had recently moved into in preparation of the spawn. As I was taking it all in, all that was around me, I gazed across the bay at the islands, its rock-strewn shoreline and the clear water. Glancing back at my bobber, it darted off to the right disappearing into the wave; taking up the slack line, I reared back on the rod, expecting to see a small panfish come flying out of the shallow water.
To my amazement, this fish headed for deep water, putting pressure on my ultra light rod. The fish was bigger than I had expected and as it peeled line off my reel. I quickly tightened up my drag, as it was set, light, as I had set it for the larger bass we had fished we had found hidden amongst the rocks.
After a short battle, Tanner slid the net under a "Big" crappie, eleven inches long weighing in at over a pound.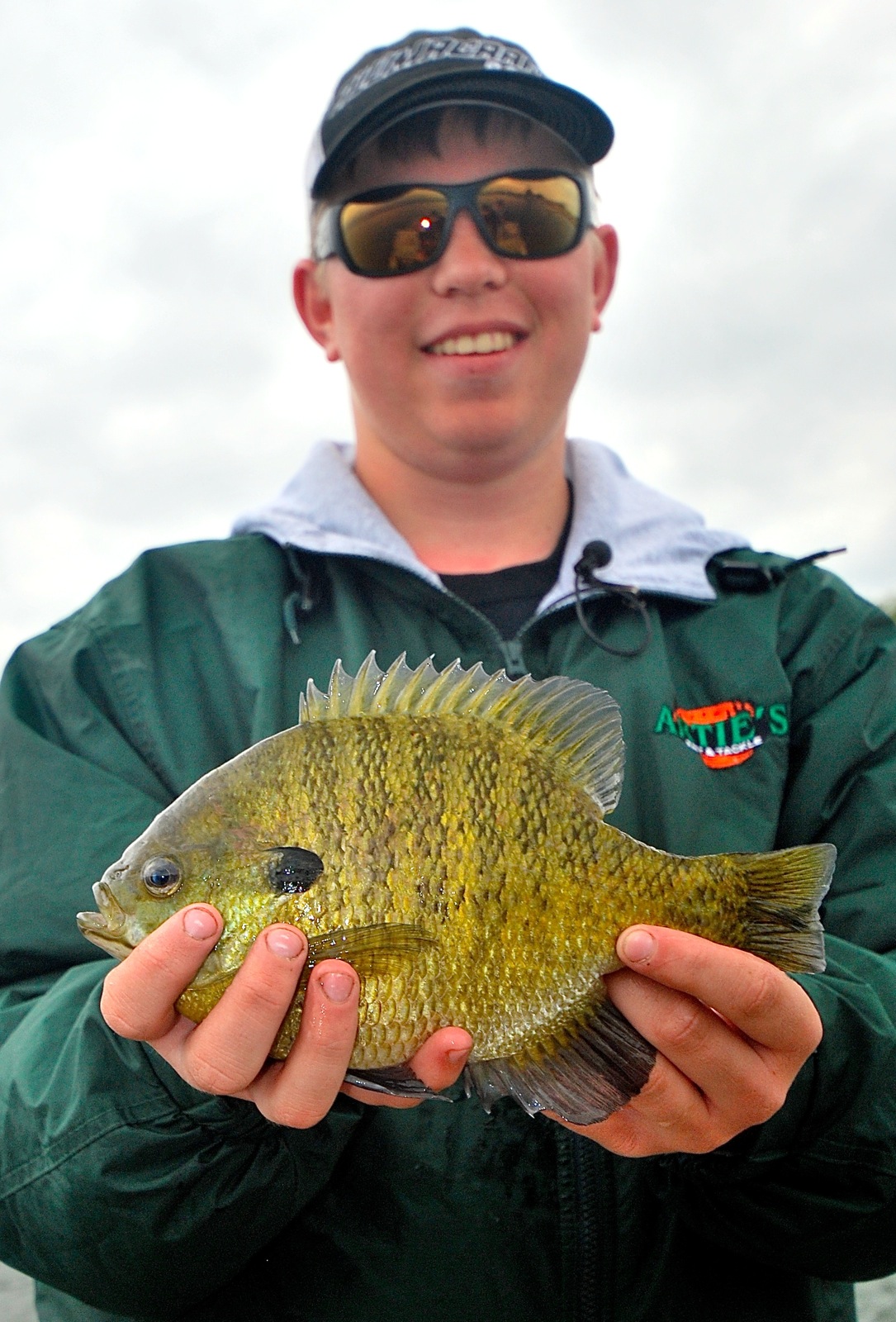 This was the beginning of a "multi-species" fishing trip on Big Stone, as on this trip, we would slide our net under not just crappie, but also bluegill, bass, white bass and even a bullhead.
The wind was blowing up a storm, forcing us to put down two anchors in order to hold in the wind. It also caused some problems at times for our light line and baits, causing our micro-bobbers to disappear into the waves.
Tanner was up front on the bow -mount-trolling motor, would pitch his spinnerbait into the rocks along the shoreline while moving the boat and was rewarded when several good bass inhaled his bait.
We were using the slip anchor method using the wind to our advantage, anchoring on a spot, pitching out our bobber rigs, allowing them to float out in the wind, covering the entire area in front of the boat. A few fish would take our offerings and as the bite slowed, we would lift our anchors off the bottom, allowing the wind to move us along the shoreline, when we came to a "fishy" looking spot, the anchors would be lowered, allowing us to fish another shoreline area without spooking those fish holding in the shallow water. On each move, it only took a few casts before one or more of our bobbers would take a dive, indicating a bite.
On the next three moves, shortly after our anchors settled into the bottom, all three of our crew had fish on, big crappies, bluegill and nice bass up to four pounds. Our bobbers just came upright, when they would disappear, and another fish would come to the boat.
Then, Larry's bobber evaporated into a big wave. The fight was on as the big fish dove into the weeds in and around the rocks. It was fighting hard, as my bluegill had, but as it came up alongside the boat, it was a "Slab" crappie, one fourteen inches long, a fish weighing in at over a pound.
We decided to fish into the evening, as the weather forecast for the following day indicated stronger winds and we were not sure if those winds would allow us back on the water.
The wind howled through the night, but upon arising, it looked like as if the wind would lay down for a couple of hours, giving us a small window of opportunity.
Our boated launched from the south boat ramp, where we quickly made our way across the lake to the shallows, which had been so productive for us the day before.
Once again as Tanner used the trolling motor to move us into position, with all three of our crew casting spinnerbaits into the rocks protruding from the water, the first couple of bass were small, then both Tanner and I connected with big bass in the four class.
When we were in position, our anchors deployed, our bobber rigs put out, with the bite seeming to be slower than the previous day, so Tanner and I dug out small leeches, rigged them on micro-jigs and set them out. The float hit the water, bobbed in the waves a couple of times and went under. I set the hook and felt a heavy fish on my line, the fish charged into the weeds, becoming snagged. I put just enough pressure on the fish, hoping to force it out of the weeds and when it did, it made a run for deeper water. I turned the fish and forced it to the top, it was one of those trophy bluegill we were looking for, as it was a twelve-inch fish that would weigh one and a quarter pound.
The key to catching fish on day two would be those small leeches as Tanner, Larry and I landed big crappies, bluegills, bass and even bullheads on the small, micro, ice fishing size jigs tipped with tiny leeches.
In less than a day and a half, we would have the opportunity to catch and film some of the largest bluegill and crappies we have seen in the twenty years Outdoorsmen Adventures has been on the air.
If you are looking for excellent fish, especially those big panfish and other species, check out the great fishing on Big Stone in Ortonville, Minnesota. More information on the Big Stone area can be found at bigstonelake.com
Information on the fishing and guide service is available by calling Artie's Bait Shop at (320) 839-2480 and can be found on line at www.artiesbait.com