Reprinted from the Sioux City Journal.
It was the lure of native cutthroat trout swimming in a tiny, unreachable stream at the bottom of a rugged limestone canyon that brought us to this point.
We were hiking down a side canyon, my cousin Denny Myhre and I, and things were beginning to look serious. The side canyon walls were narrowing and we soon found ourselves forced into wading the small stream, fighting the vegetation. We could almost touch the limestone on either side, and it wasn't getting any wider.
"Should have brought a machete," I mumbled.
Denny, who was sloshing ahead of me, suddenly stopped.
"Whoa. Look at this," he exclaimed.
I peeked over his shoulder and felt a shiver run down my back.
We were standing at the edge of a cliff. The water pouring over made no sound when it hit below. It was that far down.
"Well, this is the wrong side canyon," Denny deadpanned.
The year was 1975. We were in the Pryor Mountains, a virtual island of limestone mountains and canyons belched into existence millions of years ago by an unsettled, earthquake-prone earth. The Pryors top out at 8,800 feet and are deeply cut by numerous rugged canyons. Juniper, some up to 500 years old, dot the landscape. These mountains are just 40 miles south of Billings, Mont., where Denny and his wife, Audrey were living at the time.
Denny was in love with the Pryors. I was in love with trout. Over the phone he had painted wonderful word pictures of the Pryors, and that stream which lay at the bottom of Crooked Creek Canyon. In places the canyon is 700 feet deep.
"There's got to be a way to get down there," I said.
Turns out, there was. Denny met a rancher who lived on the west side of the Pryors. The Pryors were his home, and he had spent over 40 years guiding hunters to mule deer, bighorn sheep, black bear and mountain lions in those mountains.
"There's a side canyon which will take you right down to the creek," he said. "It's about a two-mile hike."
Denny didn't have his topo maps with him when they talked and try as we might, we could not figure out which side canyon he was referring to. And there were a bunch of them, sheer cliffs dropping hundreds of feet, until the mountains fell away into the high plains to the south.
Back at his Toyota Land Cruiser we got out the maps and studied them once more. We tried a couple more canyons but soon ran into impassable cliffs. On the other side of Crooked Creek Canyon we could see numerous caves. It was no secret that many of these caves were occupied by people in early times.
We had come into these mountains from the north on Pryor Mountain Road. We were in thick timber here and soon came upon an old, abandoned log cabin. We knew from our research that the name "Kid Curry" had been carved into one of the logs but had been cut away by some souvenir hunter. Kid Curry, real name Harvey Logan, rode with Butch Cassidy and the Sundance Kid. He is often referred to as the "wildest of the Wild Bunch gang. He is reported to have killed at least nine law enforcement officers and two other men. Interestingly enough, he was born in Tama County, Iowa. In his last gunfight with the law, a wounded Curry fatally shot himself to avoid capture.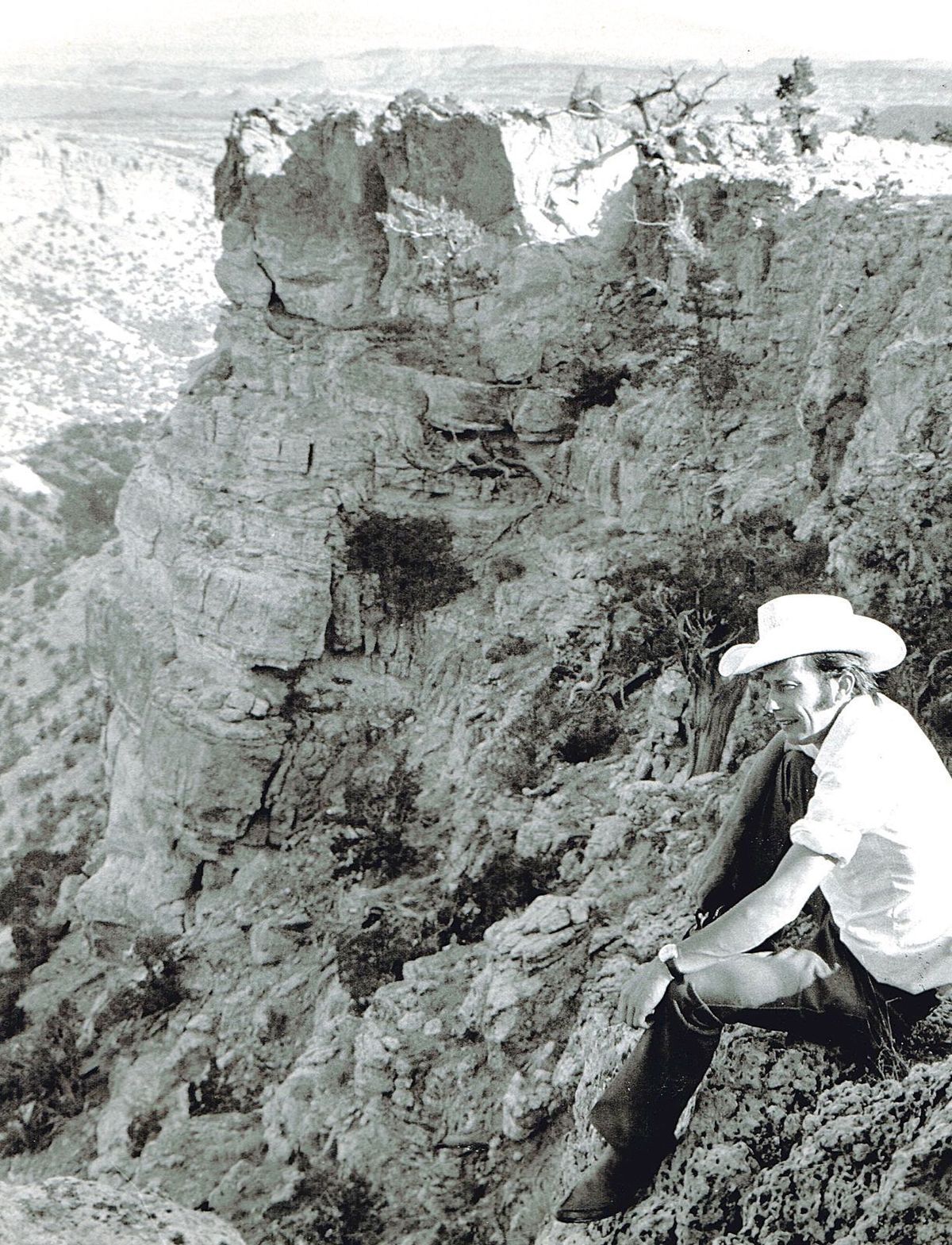 We also made a stop at a couple of ice caves along the way. We ventured into one, ice completely surrounding us and soon felt drops of water on our heads. Our body temperature was causing the ice to melt above us.
It was along Crooked Creek Canyon road that we were trying to find the right side canyon, but that never happened. When the creek finally snaked out of the mountains and into high prairie we hiked on down to it and fished.
Never caught a thing. Never even saw a fish. The stream was just a shallow torrent here, no pools, no runs, just racing its way downhill toward the Big Horn River several miles to the south. The cutthroats, apparently, were back in the canyon.
I have learned that a fish barrier was built in 2007 to protect this genetically pure strain of Yellowstone cutthroat trout.
Interestingly, the barrier was located in an inaccessible spot in the canyon. It was originally thought the men and equipment would go in by helicopter but that plan was abandoned and a cable tram system was installed.
So the cutthroat are safe, swimming in this small creek at the base of an impenetrable canyon, just as they were when we tried to get at them back in 1975. Their genetics will remain pure, and only fishermen willing to defy death and rappel in will be able to sample them.
The walk-in side canyon? Well, I don't think it ever existed.
More Outdoors information can be found at http://siouxcityjournal.com/sports/recreation/outdoors