Reprinted from the Sioux City Journal
BOW VALLEY, Neb. | I could see the gate was open to the pasture that held the little farm pond that Gary Howey and I planned to fish. His pickup was parked near the top of the hill that overlooked the little gem, which we knew was filled with fish.
My Jeep plowed through the snow at the gate and climbed through it to higher ground where I parked alongside Gary's rig.
My companion already had all of his gear, which is usually substantial, already on the ice and he was busy drilling holes. With bibs and parka on and zipped, I grabbed my bucket and began waddling down to the pond.
"There's all kinds of fish down here," Gary, of Hartington, Nebraska, yelled. His sonar was lit up like a Christmas tree.
He jerked back on the rod. Swing and a miss.
I baited up and sent my tear drop down, a waxie hanging off the hook.
Then Gary connected.
"Big fish," he exclaimed.
His rod tip was bent down to the waterline and he was desperately trying to pull his transducer out of the hole. Just as he got it free, his line went slack.
Moments later, I set the hook into something just as substantial. I didn't have to clear my hole because Gary hadn't brought the Vexilar that I usually use when we fish together. Nice guy.
This was definitely a bass, and he was stripping out the two-pound-test line like a barracuda on the run.
"Thank god for a good drag," I muttered to myself just as the fish turned and began running in the other direction.
It was back and forth for a couple of minutes, but I was winning. Soon the bass popped up in the hole, and Gary slid him onto the ice.
 "Not as big as I expected but a nice fish just the same," I said.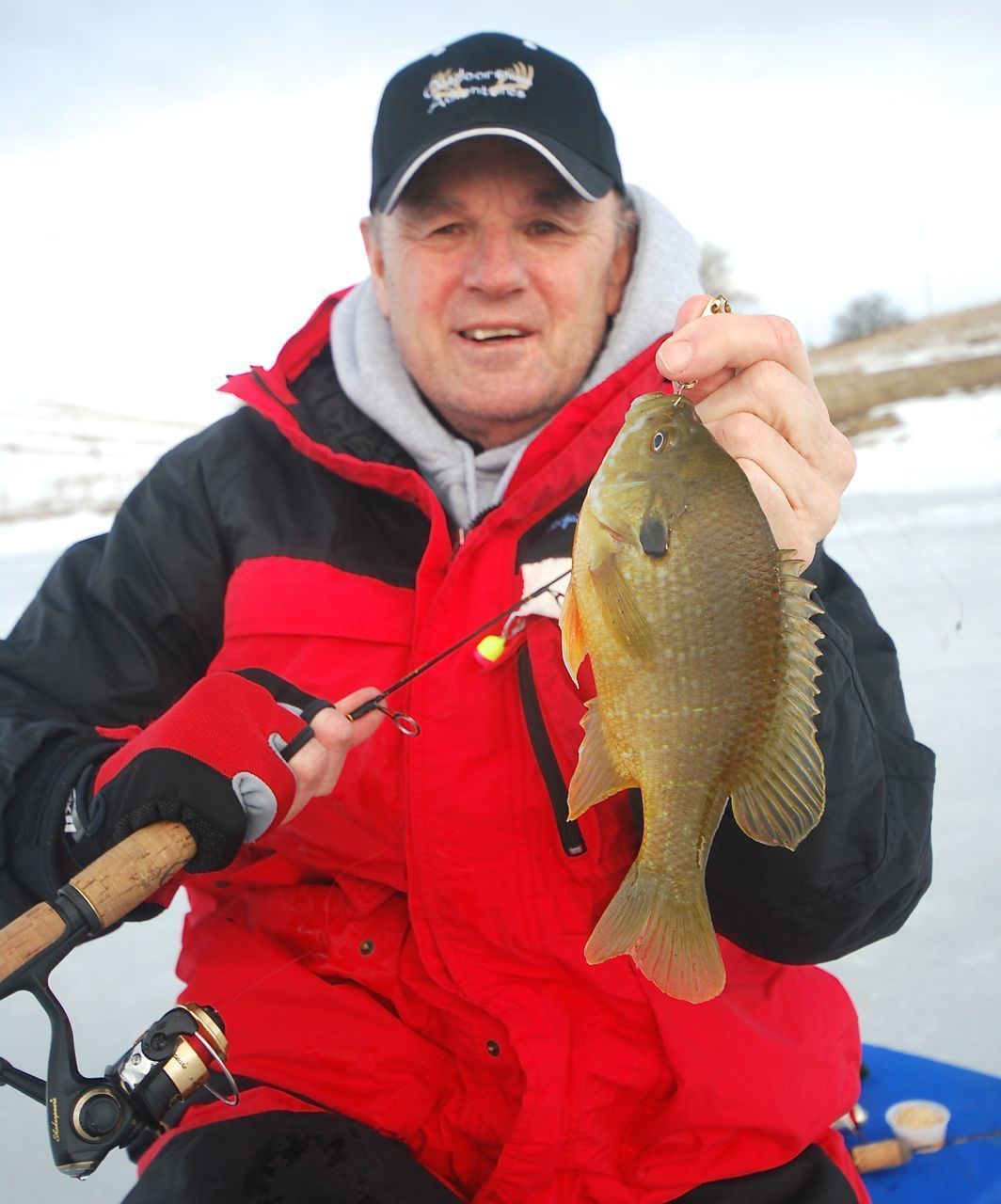 We spent the next couple of hours pulling nice bluegills and a couple more bass out of the pond before heading in to Bow Valley for a burger.
We didn't keep any fish. We never do out of this pond. There's a good mix of bass and bluegills in here and that's how we want to keep it. There may also be a big flathead or two because the farmer has dumped a few in. Gary had a hold of one last summer and got broke off.
We were using tear drop ice flies tipped with waxworms, mostly. But we also had minnows along. Gary fished a dead rod with a minnow and spoon and hooked into a couple of bass. He also tried a minnow head on a spoon and caught a few bluegills that way.
Mostly, I just stick with the waxies on local ponds. I usually hook them in the middle and squeeze out the juice, leaving the skin to flap about as I jig the lure. Other times I hook them through the head and let them dangle down.
One of my favorite bluegill lures is a simple gold spoon. I have probably put more bluegills on the ice with that than any other lure. In recent years I've also become fond of those jigging spoons with an inch or so of chain hanging under them with the plain hook. The weight gives you better feel and the size of the spoon helps attract fish. They are primarily used by perch fishermen, but bluegills and crappies like them as well.
When fishing for panfish, I always use a bite indicator. The best ones are a simple spring steel wire held onto the tip of your rod. If that wire dips, you have a bite and should set the hook. Panfish bites are so light they are very difficult to detect without an indicator. Without one, you are probably missing about half of your bites.
February is notorious for being a slow time for ice fishermen. However, I don't think that is necessarily true. The fish activity, however, does seem to be less. The bites are very light and your holes have to be well placed. I don't think the fish move about as much.
Light line is very important during this period. Two-pound test (some anglers even go to one-pound test) for panfish and four-pound test for walleyes is about right.
With heavy snow on the ice, be sure to try some phosphorescent lures. Hit them with an LED flashlight and send them down into the dark depths. Sometimes that can make a big difference.
There was 12 inches of ice on the pond we fished. Ice in our area should be safe, but don't take any chances. Snow on ice often prevents the ice from thickening. If you are not familiar with the water, drill test holes as you move about. Farm ponds usually contain a lot of springs, and they can keep the water open or the ice very thin.
Just be careful out there and on ponds remember to put the bass back but take all the bluegills you want.
More outdoors information can be found at http://siouxcityjournal.com/sports/recreation/outdoors/