Reprinted from the Sioux City Journal
I once caught the South Dakota state record black bullhead.
Problem was, I didn't realize it at the time. In fact, I wasn't even aware that such records were being kept by the South Dakota Game, Fish and Parks.
To get to the bottom of this story, we have to flash back over 50 years.
There was a small lake not too many miles from our farm. Lake Alvin is a small impoundment of about 100 acres just east of the town of Harrisburg. If memory serves me right there was a smaller lake built there during the Works Projects Administration (WPA) days. Sometime in the '40s the dam washed out and the current Lake Alvin dam was completed in 1954 and filled to the brim in 1957.
The lake was stocked with bass, bluegills and crappies and closed to fishing. I don't remember the exact year fishing opened there, but it must have been about 1957. I would have been 14 years old.
It was one of my life's great disappointments that I was not allowed to fish it with my Grandpa Myhre on the opening day. I don't remember why but I am still bitter about it to this day.
When Grandpa returned in the late afternoon with a large stringer of bass, bluegills and crappies, it only made the wound worse. I determined I would fish this lake hard some day.
Probably a couple years later, my cousin, Denny, who lived only two miles from the lake, and I got the great idea that we would camp out there and spend three or four days fishing, all day, every day.
What a great idea. And our folks bought into it.
They hauled us to the southeast access and we unloaded our gear. My 5-by-7 wall tent would provide our shelter. It had no floor, but few tents in those days did. A Coleman camp stove would help us cook our meals. We packed our stuff into two gunny sacks, tied them up in Duluth pack style, hoisted them on our small backs, and began the climb of the first hill on our way to a small, wooded ravine about a half mile away on the south side of the lake.
We made many campouts there over the next couple of years and experienced some real adventures, including a cattle stampede which almost swept us away along with our tent.
Fishing, for me, was pretty simple in those days. I had a 7-foot fiberglass spinning rod with a Zebco 202 reel. My favorite lure was a Johnson Two-Way Spinner. It had a small, silver Colorado spinner blade on a short, 8-inch snell above an Eagle Claw bait-holder hook. The spinner rode above a half dozen small, red, plastic beads. A few pieces of split shot clamped on about 15-inches above the snell completed the outfit. A nightcrawler was my bait of choice.
It is still manufactured today by Eagle Claw.
It would catch anything. One summer a friend of mine and I caught over 90 walleyes from Lake Alvin on that lure, but that is another story. This was the lure that caught the big bullhead.
But that wasn't my favorite bullhead rig. It was about that time that I got my first boat, a 12-foot wooden boat powered by a 7 1/2-horse Scott-Atwater motor. Dad helped me build a trailer to haul it around to area lakes.
It was on Swan Lake, a 200-acre little lake over by Viborg, S.D., in Turner County where I perfected my bullhead fishing technique.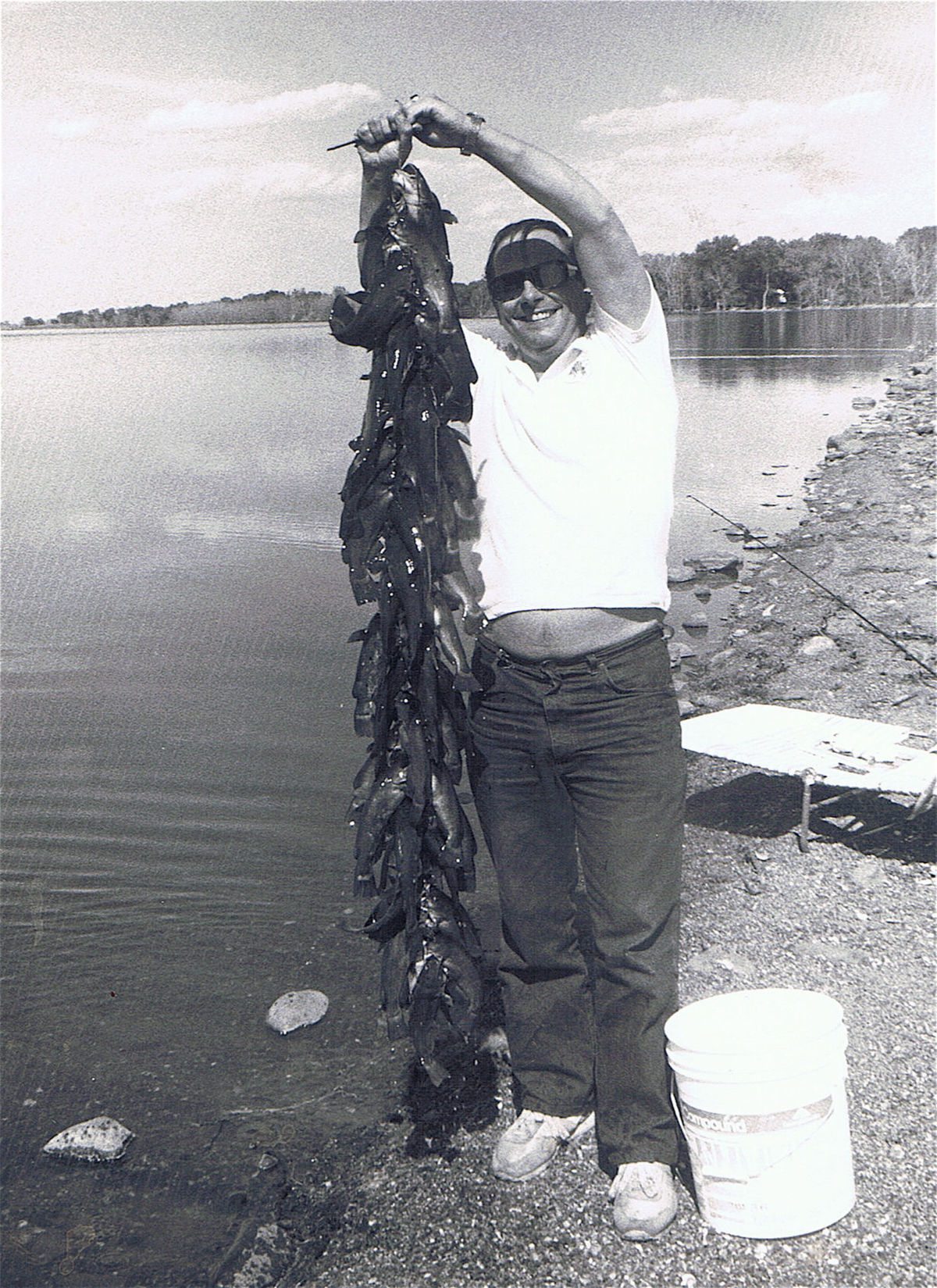 I caught hundreds, if not thousands, of bullheads from that lake on many trips right up through my college years. Mostly I anchored somewhere off the big island on the east side of the lake, depending on the wind and reeled in huge stringers of bullheads each time.
A couple days ago I was talking to a friend who remarked, "Aw, they're just bullhead fishermen," in a condescending, dismissive tone.
Bullhead fishermen. Hell, I was a bullhead fisherman. At one time probably among the best in South Dakota. Where I grew up you fished for what was available, and bullheads were available, in a creek near our farm, in a river near our farm, in a dugout near our farm and in several small lakes.
And I am not alone in my affinity for bullhead fishing. I once wrote a column about catching bullheads in Lake Andes near the town of the same name in South Dakota. It was an unbelievable bullhead fishery at the time. When my column appeared, most of the population of Northwestern Iowa descended upon the lake. They caught so many bullheads that day, the water level dropped a full foot.
Well, that might be somewhat of an exaggeration, but you get the drift. People like to catch bullheads.
So, at one time I could have been described as an expert bullhead fisherman. But as luck would have it, when I caught the state record no skill was involved at all.
I was simply walking along Lake Alvin's south shoreline on my way to our tent, dragging the spinner at the water's edge off the tip of the seven-foot rod when the big fish hit. It was a short fight because I derricked him out onto the shoreline, marveled at his size and put him on a stringer.
The next day we packed up and went back to the farm. I weighed the biggest bullhead I had ever caught on our milk scale and it pulled the needle down to 4-and-a-half pounds. I laid the fish in the grass next to my fish cleaning table on the west side of the garage, and went into the farmhouse to get my knife.
When I returned, the fish was gone. Frantically I searched high and low and eventually noticed a bunch of farm cats fighting over something. It was my bullhead, and he was already about half eaten.
So I left him for the cats. Robbed of the enjoyment of eating a bullhead which I would later learn was certainly a state record by better than a pound.
More outdoors information can be found at http://siouxcityjournal.com/sports/recreation/outdoors