Reprinted from the Sioux City Journal
MANKATO, Minn. | It was a perfect day for pheasant hunting. The bright Minnesota sun swept over the native grasses that made up this piece of CRP field. A swath of corn stood at the eastern edge of the field, its stalks dying as the corn ripened.
A cool wind made the morning chilly. Later it would freshen to a strong gale which would make the canvas tent under which we ate the noon lunch, flap wildly.
I watched the hunters advance, a thin line of fluorescent orange from this distance. I clutched my 20-gauge semi-auto and waited. This was the opening walk for our team participating in the Minnesota Governor's Pheasant Hunting Opener.
We had heard Gov. Mark Dayton at the banquet the night before and at the breakfast at the City Center Hotel in Mankato. He wasn't able to hunt because of complications with his hip.
For Gary Howey, Hartington, Neb., and me, the event had started with the social hour and banquet at the Verizon Wireless Center in downtown Mankato. For those who were able to arrive early, an afternoon of activities awaited them.
There was a tour of Minneopa State Park and a view of the bison herd. Trap shooting opportunities followed, and then a tour of Swam Lake, one of the largest prairie potholes in the contiguous United States.
Our first walk yielded no pheasants. Undaunted we walked to another field filled with native grasses and began hunting. Our three dogs crisscrossed in front of us, noses at the ground and in the air, anxious to catch the scent of a bird.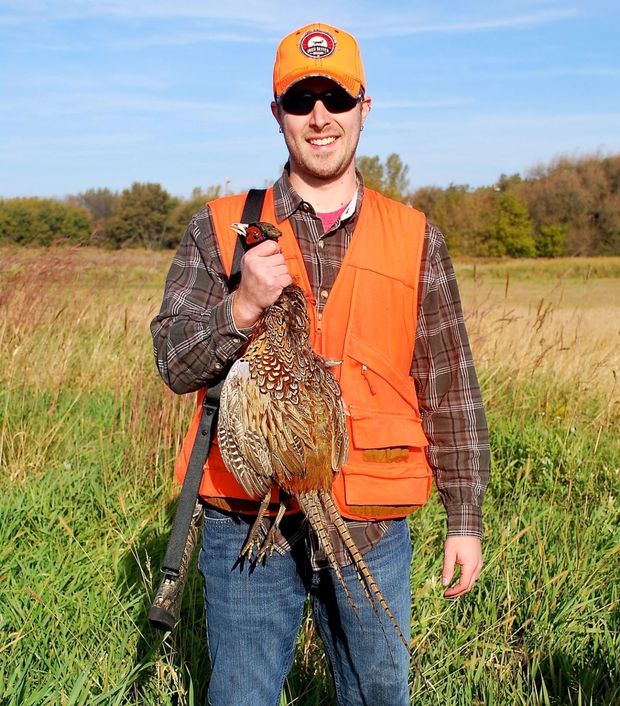 We were hunting land owned by Jordan Sands just outside the city limits of Mankato. Hunter hosts were Jason Davis and Scott Siegfried. Hunters included Brett Skilbred, Coughlan, Minn.; Jeff Kletschka, Mankato; John Herrenstein, North Mankato; Deb Beyer, Minnesota DNR; and me.
It was tough walking through this field of mostly tall prairie dropseed. Dropseed has the annoying habit of wrapping itself around your boots and letting you carry it along. Pretty soon your feet seem unusually heavy and you look down and see a small bale of grass hitchhiking around your boot.
But here is where we had success. Scott's dog, Buffalo spooked out a hen right alongside of me. A good omen. Before long a rooster got up at the far end of our line. Kletschka swung on the bird which was escaping behind us and dropped him with one shot into very heavy cover, mostly big bluestem.
It took a while but Buffalo soon sniffed him out.
There were several other places where the dogs got "birdy" but could find nothing. There had been several birds here not too long ago, but they had already left the tall grass. Early morning dew had soaked the grass and when that happens pheasants like to get out in the open and dry off.
We made another walk and then it was time to regroup and head for the noon dedication of the O.A. Vee Memorial Wildlife Management Area (WMA).
O.A. Vee and his son Scott worked to turn the land into a wildlife area. They headed an effort to acquire land from farmers. A year later O.A. Vee died and the WMA was named after him.
The area is 208 acres and sits on Rush Lake, a large, shallow-water wetland. Initially acquired in 1981, the Blue Earth County chapter of Minnesota Pheasants Inc, acquired a 45-acre addition. Restoration work in 2011 and 2014 resulted in tree removal and prairie seeding.
There were more than 40 hunters making up 14 teams. The evening banquet drew more than 300 people.
Minnesota's pheasant season runs through Jan. 3. Hunting hours are 9 a.m. to sunset.
Minnesota has a long-standing record of establishing wildlife management areas throughout the state.
This was the fifth Governor's Opener Pheasant hunt. It was announced that next year's hunt would take place at Montevideo, which was also the site of the first hunt. Others have been at Marshal, Madelia and Worthington.
More outdoors information cn be found at siouxcityjournal.com/sports/recreation/outdoors/