Reprinted from the Sioux City Journal
The story I'm about to tell you is true
.
It's springtime. The year is 1968.
I'm kneeling on the bank of Nebraska's Verdigre Creek. I'm staring at an earth worm wriggling free of the detritus that had broken from the bank as I had climbed from the stream's waters.
It was my first time on this little trout stream just 90 miles west of Sioux City, north of the small community of Royal. I had never caught a trout. And I desperately wanted to add a rainbow and a brown trout (both were found in this stream) to my life's list. Problem was, I wanted to take them on a fly.
I had fished all day and failed to raise one of these miserable fish. Now, I was staring at the worm much as Eve must have stared at the apple in the Garden of Eden.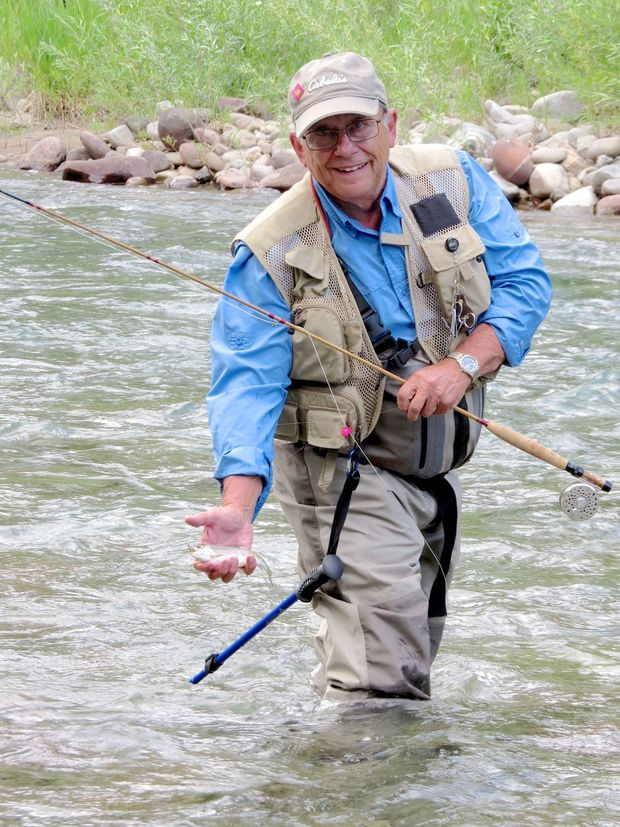 My two companions, worm drowners of the finest order, had their limit of five fish each and had retired to our campsite.
I was alone. If I fished with that worm, no one would know. My buddies could care less how my trout were caught, anyway. I knelt there, wrestling with my conscience.
The day had started badly.
My companions grabbed their spinning rods and cans of worms from the back of my station wagon and rushed to the stream. My fly rod was taken down into its two sections, but it was rigged with line and leader through the guides and a fly in the hook keeper. That fly's hook soon became lodged in my finger as I attempted to withdraw the rod. A snake guide hooked on something and my hand slid down the shaft.
Hence, the fly was buried below the barb in my finger. Even worse, the hook was still in the hook keeper so instead of just a hook in my finger I had the butt section of the rod permanently attached as well.
I have since made close to 100 split bamboo fly rods and not one of them sports a hook keeper.
There are certain words appropriate for such a situation, and I expressed them. I'll refrain from an exact quote because those words are certainly inappropriate for an august periodical such as the Sioux City Journal, although I'm not certain about the online edition.
I began pulling on the hook, but it was clear it was not coming out voluntarily. I pulled harder. To say it hurt is simply an understatement.
To make a long story short, I ended up lying on my back with my feet elevated on the side of my vehicle. It's hard to pass out if your feet are above your head. To remove the hook it would have to be pushed through, the barb clipped with a side cutters and then eased back out.
I could see the point tenting the skin of my finger, but it wouldn't come through. It's amazing how tough your skin is. With a Herculean effort I forced the hook through and uttered a few more words appropriate for the situation.
I can tell you this. There are few situations which can give you the feeling of relief like finally getting a hook out of your anatomy. I've since experienced several such giddy episodes.
I would like to tell you that my fly fishing nobility won out. But it didn't. I'm pretty good at resisting temptation. I've had a lot of practice. But I confess when it comes to fishing my nobility sometimes falters.
So, I used the worm, and soon had caught a brown and a rainbow. I laid them on a log with my fly rod and took a photograph. The worm was long gone. A fly stood once again in the hook keeper.
As I stood there looking at the fish, remorse began to set in.
I had not lived up to my lofty expectations of catching a trout on a fly. I was a fly fisherman. I had tied hundreds of flies. I had caught bass, bluegills and crappies on the fly. But not trout. Trout fishing was different. I must learn it. And, eventually, I did. Success did not come easily.
I once wrote:
On this stream I lost my faith in a benevolent God. I came close to madness: not a quiet madness but the raging, shrieking, ranting and raving madness of straitjackets and shock treatments borne of frustration at the trout, at the stream, at the wind, at the heat, at the ticks, at the bees, at the ill-mannered worm brigade.
But I learned.
I took what I'd learned to more hallowed trout waters.
I've never taken a trout on anything but a fly ever since. You see, I made a promise that day. I promised the fishing gods that I would never catch another trout using bait. And I haven't. Breaking a promise to the fishing gods is something you never want to do.
And my faith in a benevolent God has since been restored.
More outdoors information can be found at siouxcityjournal.com/sports/recreation/outdoors