Reprinted from the Sioux City Journal
Of all the places you have fished, which is your favorite?"
That's a question, or something similar to it, that I have been asked many times over the years.
And, I must confess, it is a very difficult question for me to answer.
I have been fortunate enough to have been able to fish throughout the upper Midwest, Canada, the West and elsewhere. I've fished in some pretty exotic and famous waters over the last 40 years.
My favorite? I can't point to just one.
The first column I ever wrote for this newspaper was about farm pond fishing for bluegills. And nothing I've experienced since those days has changed my mind that some of the best fishing anywhere is possible on well-managed farm ponds for bass, bluegills, and in a few rare instances, crappies and even jumbo perch.
The Missouri River? Well, I've spent a vast majority of the hours of my fishing life on the Missouri River from way below Sioux City to the North Dakota border. I love the river. It's the reason I have spent my whole adult life in Sioux City. Sure, Pierre, South Dakota, would be a better place to live, but Fran let me know early on that we would NEVER live in Pierre. It's not because Pierre is not a good place to live. She knows that if we lived there, I would be on the river from dusk till dawn, hunting and fishing.
Most likely the most exotic place I have fished would be Nejalini Lake in northeast Manitoba, just a few miles below Nunavut and a few miles west of Hudson Bay. This far north, trees do not grow higher than a man's head. There's a big caribou herd that migrates through every year and a visit by a polar bear is not out of the question.
The lake is loaded with lake trout, northern pike and grayling. When we arrived in early July, the lake was still 90 percent ice covered. But you could break through the ice with a boat. We caught many northerns over 20 pounds and lots of lake trout up to 20 pounds.
The pike were still in the bays and you could see them in the shallow water. Johnson weedless spoons tipped with plastics was what we used most because at times we'd be casting into heavy brush.
One afternoon, the pike got lockjaw. They would follow, but not hit our spoons. One rule of fishing I've adopted over the years is this. When the fishing gets tough, throw something small. In those days, all 1/16-ounce jigs were poured on size 6 hooks. That's fine for crappies, but not for walleyes or bass. I poured my own on size 1 hooks. So, I attached one to the 6-inch, steel leader and slid on a 3-inch chartreuse twister tail.
I could see a big northern and cast the jig beyond him and began the retrieve past his nose. He turned, followed the bait for a time, opened his mouth and took it in. I lifted the rod tip, setting the hook and handed the rod to the resort owner's wife who was fishing with me. She landed the fish, which measured 41 inches. It was her first Master Angler pike.
If there is a lake I would like to move to and spend the rest of my life fishing, it would be Lake Vermilion in northeast Minnesota. This is a big lake, 1,250 miles of shoreline with 365 islands and is located on the Canadian Shield. I first fished it with my family in the mid '70s. For many years we vacationed there fishing walleye, smallmouth bass and crappie. We picked blueberries for our breakfast pancakes and photographed the local wildlife.
I don't think we ever failed to take crappies over 2 pounds or smallmouth under 4 pounds any year we fished there.
When our youngest daughter joined the Army I told her we could vacation anywhere she chose in the United States or Canada. She picked Lake Vermilion. We spent a week there and then I rented a houseboat at Crane Lake and we ventured up into Voyageurs National Park just west of the Boundary Waters Canoe Area. Most evenings we went to sleep listening to wolves howling and massaging muscles sore from fighting smallmouth bass.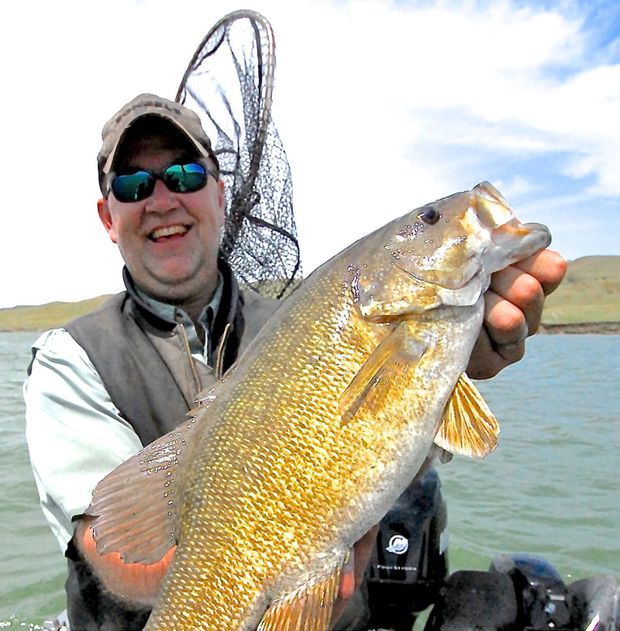 Today, things have changed on Lake Vermilion. It is probably Minnesota's third-best muskie lake. There were no muskies in the 1970s. Bluegills have exploded in the lake and they are nice ones. Who can argue with good bluegills. The smallmouth and walleye are in good shape and get fat quickly on the invasive rusty crawfish. All things considered, it might be a better fishery than it was 45 years ago.
I fished the Columbia River once in Washington state in the area around McNary Dam. We caught walleyes up to 11 pounds, many smallmouth over four, Chinook salmon up to 35 pounds and even a couple steelhead on an airboat trip up the Deschutes River.
On other trips west I've fly fished for trout in the Madison, Yellowstone and Fire Hole rivers in Wyoming and Montana and the Crystal, Frying Pan and Roaring Fork in Colorado, just to name a few. In Nebraska my favorite trout creek is Verdigre Creek about 90 miles west of here, but the largest rainbows I've caught in this state have come from the North Platte River just below Lake Ogallala.
Of course South Dakota's Rapid Creek and Spearfish Creek offer great trout fishing as do the northeast Iowa streams and the southeast Minnesota streams.
Right now I think some of the best fishing anywhere is in the northeast South Dakota lakes. Whether it's walleyes, smallmouth, crappies, bluegills or northerns there are lakes there that are as good as any, anywhere.
Locally, the Big Sioux River is as good as it gets for catfish and it's real hard to beat an April morning on Brown's Lake for bass or crappie.
So, I guess I don't really have a favorite place to fish. I do, however, have a favorite fish. That would be smallmouth bass. But, truth be known, I have fun fishing for anything that swims.
More outdoors information can be found at http://siouxcityjournal.com/sports/recreation/outdoors/