Off to our right, several does made their way through the cedars along the creek bottom and moved into the far end of the field. In the distance, I caught the glint of a buck's antler. It was a small buck trailing a doe and small fawn. The buck was in no hurry, cautiously making his way in the general direction of our ground blind. As he drew nearer, I felt the deer's keen senses would give away our location. I was doing my best to limit the movement of my hand-held nine-pound camera. Oh how I wished I had brought along one of our tripods. I did my best to steady it as my arms informed me the camera seemed to be closer to twenty-pounds than nine. If the deer would turn its back or move behind some brush, I could re-position the camera and get the blood flowing back into my arms. The buck, would occasionally glance in our direction, but had not noticed the shaggy looking blind nestled among the cedar trees. The buck stood there, just a mere twenty yards from us, browsing on acorns scattered on the ground.
We were hunting northwest of Crofton, Neb. The owner of the blind had put a lot of thought into where he positioned the blind. It was strategically placed along the ridgeline where several trails came from the creek bottom and merged in front of the blind. My hunting partner was Whitetails Unlimited (W.T.U.) member, ten-year Army infantryman and a 2005-2006 Iraqi War veteran, Adam Wiesse.
Adam, Mike Donavan and W.T.U. National President Jeff Schintken, all from Wisconsin, came to northeast Nebraska at the invitation of Chris Carlson, Wausa, Neb., a Northeast Nebraska W.T.U. board member, to take part in our Nebraska muzzleloader season.
W.T.U. is one of the national conservation groups doing their part honoring our veterans, which to me, a Viet Nam veteran, is very cool. They recognize veterans at their banquets, presenting them with special edition veterans pins and helping veterans get back into the field to spend quality time with other hunters.
That small buck spent a great deal of time in front of the blind, presenting Adam with numerous shooting opportunities. As I filmed, it was obvious Adam would let the young deer pass, hoping a bigger deer might appear before legal shooting time ended.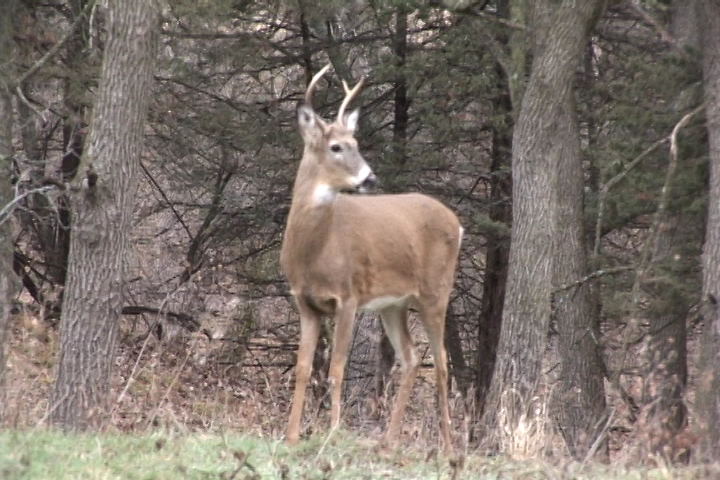 With daylight, disappearing quickly, our last hour of legal shooting time was fading fast.   A half hour before our hunt would end; more deer filtered out into the field. Over ten does and fawns paraded past the blind, at times within just a few feet from us.
With just a few minutes of legal shooting time left, we stared intently into the fading light, hoping that bigger buck would appear. As the darkness drew in around us, the remaining does and fawns made their way out of the field. Our hopes of that big buck faded away.
All three of the Wisconsin W.T.U. members' had the opportunity to fill their muzzleloader tags, but elected to allow the smaller bucks to pass. To some, this may not seem like a successful hunt. It was to me. Even though Adam was unable to fill his muzzleloader tag, I had an opportunity to spend time with one of my brothers, who had spent time in the service of our country.
There are numerous conservation groups, doing an excellent job, but there is none better than W.T.U., one I am proud to say I support and would recommend you look into. W.T.U. is a great organization, not simply because they honor our veterans, but because of all the great things, they have accomplished and are doing, including promoting the great outdoors as well as bringing non-hunters and kids into the outdoors. The organization, founded in 1982 is a national non-profit conservation organization remaining true to its mission. It has made great strides in the field of conservation. They have gained the reputation of being the nation's premier organization dedicating their resources to the betterment of the white-tailed deer and its environment.
If you would like to learn more about W.T.U., their many accomplishments and their commitment to caring for our priceless renewable natural resources, please consider joining the W.T.U. Team "Working for an American Tradition." For more information, check out their web site www.whitetailsunlimited.com
On the trip, we did not have a deer hanging from our deer pole, but we created memories with some great people while having the opportunity to do and observe so many things. The sunrise, the wildlife, the sunsets are things some of our brothers will never see again, as they paid the ultimate sacrifice. Please keep them and those who are now serving in the military in your thoughts and prayers.