I've been an outdoorsman, since I was a young kid growing up in Watertown, S.D. and as each birthday or holiday approached, I have purchased, received as a gift an used some truly great items that not only made my outdoor experiences easier, but also much more enjoyable.
  Check out this Holiday gift column with many great gift ideas for that Hunter or Fisherman in your life.
HOWARD LEIGHT IMPACT SPORT IN-EAR
 When hunting, you need to have the ability to hear all that's around you, the natural sounds which need to be amplified, protecting your hearing, the SPORT-IN EAR 2X Omni direction in-ear microphones with eight different levels of noise reduction, helps you to eliminate those high decibel sounds when you're hunting, amplifying the sounds around you, optimizing's your hearing in the field by providing sound enhancement, a huge plus allowing you to pick up the natural sounds of approaching wild game, it's what a hunter needs, especially if you're hard of hearing as I am.
  The SPORT-IN EAR with its 8 different volume increments of enhancement, to optimize your hearing ability in the field or on the range,
  The noise reduction, protects your hearing from loud external sounds, on the shooting range and while hunting during the deer and turkey season.
  Its 2X omni-direction in-ear and amplifies the sound, allowing you to hear all the natural sound around you, featuring flexible moldable ear hooks, with three different size ear tips to fit all sizes ear canals. 
  All SPORT-IN EAR options, USBC charging port, its power button, volume control up/down and Bluetooth volume up/down are activated by simply pushing the buttons on the in-line control device below the left ear plug.
  Its 2000mAh Lithium rechargeable battery runs up to ten hours before needing to be recharged, and will fully recharge up to full power after two hours of charging.
   The HOWARD LEIGHT SPORT-IN EAR will make a huge difference in what you want to hear and what you don't want to hear.
Available on line, at mass merchandiser and in sporting goods stores throughout the U.S.
  More information on the HOWARD LEIGHT'S SPORT-IN EAR and their other fine products check out https://www.howardleightshootingsports.com/products/impact-sport-in-ear-passive-hear-through-technology
ANGLERS BEST LAZY JOE
    As an angler, nothings worse when the bite is on, or you're running the trolling motor, when you break off and need to get up from your boat seat and dig through your tackle bag to find a certain lure or tool.
   The ANGLERS BEST, ANGLERS BEST LAZY JOE tackle box and accessory holder that mounts on the bottom of your boat seat pedestal, that rotates around the seat and because of its angled body, keeps everything out of the angler's way, giving you easy asses to your tackle and fishing tools.
  The LAZY JOE has slots for three ANGLERS BEST bait boxes, with room for a cup holder and three slots for your fishing tools, allowing you to stay in the seat, not having to get up, move around in the boat to locate what you need, as it allows you to be seated, to continue fishing on the spot where the bite was, allowing you run the trolling motor and rebait without leaving your seat.
  This and other ANGLERS BEST products can be found at sporting goods retailers throughout the U.S. and on their web site, for more information on this and other ANGLERS BEST products, check out their web site at   www.anglersbest.com.
NORTHLANDS PUPPET MINNOW
   The Northland's Puppet Minnow has been my go-to bait no matter which of the four-seasons I'm fishing, no matter where I'm fishing, a lake or river, and on open water as well as on the ice.
  On one filming trip to Lake Francis Case and Lake Oahe, we vertical jigged with our ¼ ounce Northlands Puppet Minnow, taking both walleyes and smallmouth bass.
  We also went with the 1/8th PUPPET MINNOW when fishing on ice-covered Lake Oahe while filming one of our ice fishing shows. On that trip we jigged and iced walleyes, smallmouth as well as channel catfish.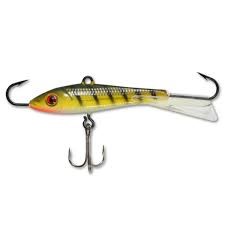 As they're available in 5 weights, 1/8th, 1/4th, 5/16th, 9/16th or 1 ounce, there's really no depth you can't use this bait for.
  Because of its 12 fish catching colors, there's a color to match the bait fish of the body of water you're fishing.
  Some of my favorite colors that I carry in my tackle bags are: GLOW WHITE, SILVER SHINER, HOT BLUE CHUB, GLOW PERCH, RUSTY CRAWFISH AND WONDERBREAD.
  These and other Northland products can be found at local bait shops, mass merchandiser and sporting goods store as well as on their web site; www.northlandtackle.com

LARRY MYHRE'S CUSOM BUILT BAMBOO RODS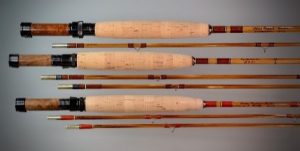 Two of my most prized position in my office/man cave are my custom-made bamboo rods made by one of our Team Members, Larry Myhre, Sioux City, IA.
   Many dedicated fly rod fishermen are discovering the joy of fishing a modern classic bamboo fly rod. These rods pictured are an example of what today's makers can produce.
  There's just something special about fishing with a bamboo fly rod. I can't tell you exactly what it is, but I know that if you fish one, you will reach that conclusion as well.
  Larry doesn't have a workshop filled with tools and other equipment. He's a basement rod builder, but I have what is necessary to put together a quality bamboo fly rod, casting or spinning rod for that matter. He uses the finest planes money can buy, a metal lathe and a roughing beveller. Each strip of the six strips in each rod section is painstakingly hand-hand-planned to exacting tolerances. For more information on Larry Myhre's Custom Made Bamboo Rods go to https://www.facebook.com/Larry-Myhres-Hand-Crafted-Bamboo-Rods-150100931716710/ and http://custombamboorods.com/
 Gary Howey, Hartington, Nebraska is a former tournament angler, fishing & hunting guide, an award- winning writer, producer, photographer and broadcaster and in 2017 was inducted into the "National Freshwater Fishing Hall of Fame."  Howey is also an award-winning writer, producer, broadcaster, former tournament angler, fishing and hunting guide and in 2017 inducted into the "National Freshwater Fishing Hall of Fame".   He developed and was the Producer-Host for 23 years of his award winning gary Howey's Outdoorsmen Adventures television series. He's the Host of the award-winning Outdoor Adventures radio program carried on Classic Hits 106.3, ESPN Sports Radio 1570 in Southeastern South Dakota, KWYR Country 93 AM and Magic 93 FM in Central South Dakota, As well as on KCHE 92.1 FM in Northwest Iowa.  If you're looking for more outdoor information, check out www.GaryHowey'soutdoors.com , and www.outdoorsmenadventures.com, with more information on these Facebook pages, Gary Howey, Gary E Howey, Outdoor Adventure Radio, Team Outdoorsmen Productions.