Reprinted from the Sioux City Journal
It seems like it's taking winter forever to get here. There is no safe ice in our area right now. But it is coming. You can take that to the bank.
Thing is, when winters start out like this you have to be super careful whenever you venture out on the ice. The words "safe ice" are used quite a bit. But most ice fishing experts agree that there really is no such thing. You always have to be careful.
The ice is never the same thickness everywhere on the lake. The last part of a lake to freeze is the middle, so you may have good, solid ice near shore but not out in the lake. And, there are a whole host of other things that can cause thin ice but we won't get into them here. Just be careful.
Last year on an unnamed lake in northeast South Dakota, a bunch of us were cashing in on the evening walleye bite in a tiny area. Several portable ice houses had been set up earlier and probably eight pickups descended on the area and parked. There were about 15 inches of ice. Problem was, everybody parked in the same area.
When the ice houses began flooding, it was obvious what was happening. Everyone ran out and moved their pickups. The combined weight of the trucks was making the ice sag, forcing water up through the holes.
It's no secret that the best ice fishing occurs early in the season. As December fades into January and January into February, fish activity slows.
For walleyes, the best lures to use early in the season would be spoons and the Rapala Jiggin' Rap or similar lures and the "darter" style crank baits such as the Salmo Cubby Darter.
Early ice walleyes are aggressive, so an aggressive approach is often the best. You will find that aggression both early and late in the day. During the daytime, not so much. For the best walleye fishing, I like to be on the ice about a half hour before daylight and fish for about an hour after sunrise, using tactics that are more aggressive.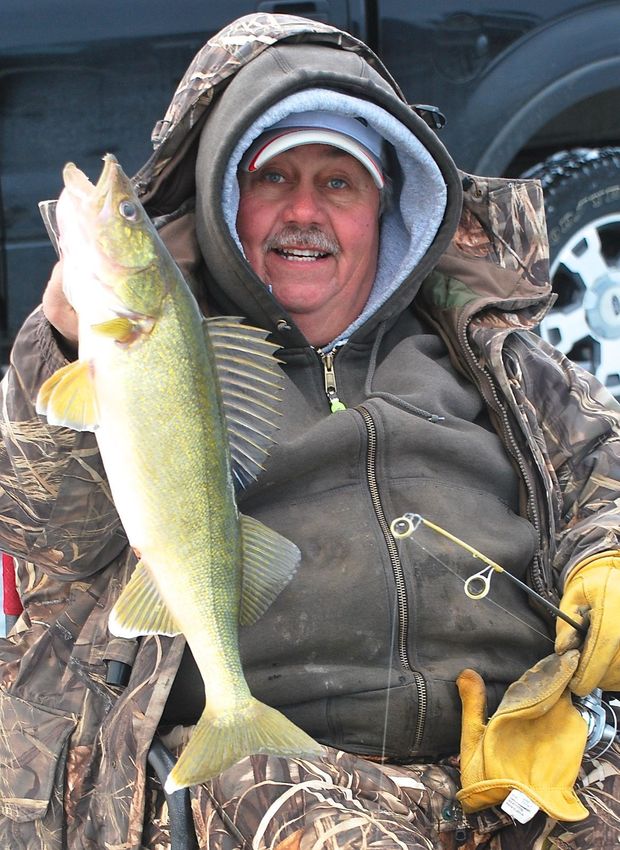 I call the evening bite the "Happy Hour." The fish are happily biting and the fishermen are just happy because of it. The "happy hour" begins about an hour before sunset and lasts until about a half hour after.
A few years ago we were fishing a slough/lake north of Webster, South Dakota. Just as the sun was dropping over the horizon, I dropped down a Chubby Darter and made only a few jigging motions when a walleye latched on. That fish weighed 9 3/4-pounds and I released it after a photo. I was, indeed, happy. Our group took several walleyes at that time but none approached the size of my fish, perhaps because everyone else was using subtle presentations.
I use several different kinds of ice fishing spoons each season. Here are some guidelines. If the water is not clear for some reason, pick a spoon with rattles such as the Northand Buckshot Rattle Spoon. The extra noise will help draw attention to your bait. In clear water use a quieter spoon such as a Swedish Pimple, Kastmaster spoon or similar spoons.
What about colors? I prefer brighter colors in dirty water and more subtle colors in clear water. But, here's the thing. Let the fish tell you what to prefer. Change up often. When you catch fish use that color or similar colors to it. Sometimes rattle spoons are very effective in clear water.
What about "glow" lures. I say, don't leave home without them. They can be dynamite, just not all the time. It definitely pays to experiment with them. Flash 'em and send them down. The glow lasts quite a while on the new glow lures.
I'm often asked if walleyes and other game fish get "conditioned" to certain lures or presentations. It's my belief that they can. Ask anyone who fishes with me. Sometimes I tie on the most outlandish lures. Maybe they are from the past or maybe something I've made myself. Often I catch a lot of fish on them. I believe in offering fish something they haven't seen before.
We, as fishermen, like to have rules, or maybe I should call them guidelines. For instance, clear water dull lures; dark water bright lures.
But maybe successful fishing is really just all about changing things up. We should not get stuck on one presentation, one lure, one color.
I've said this a lot over the years. Let the fish tell you what they want. And making changes is the only way to find out what that is.
More outdoor information is found at http://siouxcityjournal.com/sports/recreation/outdoors/