Reprinted from the Sioux City Journal
If you combine two top lures for walleye fishing, you should have created that magic, never-miss lure.
Right?
Well, not exactly. But you will have a pretty good lure that will catch a lot of fish.
Combining a jig with a spinner isn't exactly new, but such lures have been getting a lot of favorable press lately.
To my knowledge the first lure to be manufactured which combined the jig and spinner theory was Blakemore's Road Runner. It was in 1959 when this lure came on the market. It was manufactured in Branson, Mo., which is in the heart of crappie and bass country. It initially was created as a crappie lure but anglers soon learned that it would catch anything that fed on minnows.
Bass Buster lures came out with the Beetle Spin at about the same time. This was a jig attached to a "safety pin" type wire and spinner blade. It was another dynamite lure, but not really in the family of lures we are talking about.
In the late 1960s, I remember reading an article in a now, long-defunct tabloid newspaper which focused on fishing the Missouri River in South and North Dakota.
It featured an angler from Yankton, S.D., who was catching a lot of saugers and walleyes below the Gavin's Point Dam. His secret was trolling a jig with a Hildebrandt Flicker Spinner attached to the hook. If you are not familiar with this old favorite, I'll try to describe it.
Imagine a small swivel to which a split ring is added to one eye. On that split ring is a small Indiana spinner in either nickel or gold. Also on the split ring is attached a small long-shanked hook to which two very tiny willow leaf spinners are threaded onto the hook bend.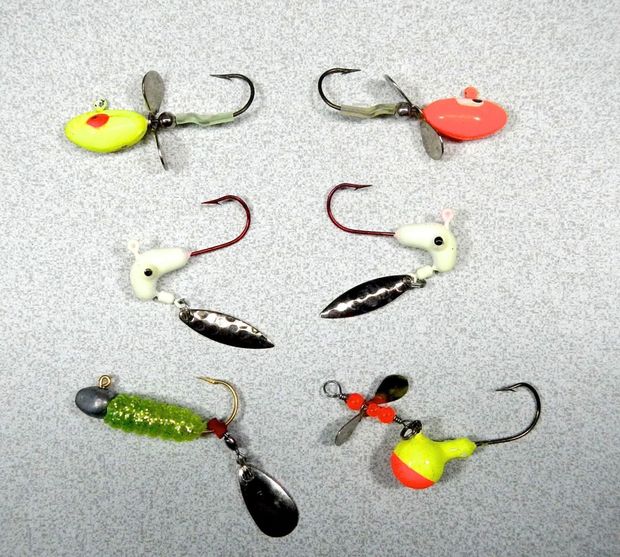 It was intended to be a panfish or trout bait, but this guy attached it to a jig, trolled it alongside and behind sandbars, and it caught fish.
In the late 1970s I discovered I could catch a lot of big saugers and walleyes in the river right here in Sioux City in the late fall. I was using quarter-ounce jigs in tandem tipped with minnows. I felt there might be a better way. A jig which created some sound might do better in the darker waters of our local river.
I remembered the Flicker Spinner article, but the spinners offered locally seemed too small to be of much benefit. So, I created my own.
I actually created two jigs with spinners. One was a simple swivel with a split ring attached to which I added a fairly large Indiana spinner. I slipped a small plastic tube over the other eye of the swivel and clipped it close. This would keep the spinner from coming off the hook when I ran it through the point and barb and began casting. The body of the jig was a plastic twister tail grub with the twister cut off so it would not interfere with the spinner.
I caught fish on this arrangement locally, but where it really shined was on flowage lakes in Canada. It was simply dynamite on those aggressive walleye up there. Not so much around here.
So, back to the drawing board.
I came up with a prop spinner on a small wire about an inch long. One red bead above the spinner and two red beads below it added extra color and assured the spinner would spin. I turned an eye on each end of the wire and attached a split ring to attach it to the eye of the jig.
This arrangement really worked, especially on the more aggressive saugers. I still use it to this day.
About this same time the Northland Tackle Company came out with its Whistler Jig. It immediately became a favorite jig among walleye fisherman. It features a prop spinner attached to the shank of the hook. The vibration created by the spinner draws walleyes to it like a magnet.
Today the company has come out with a number of jig styles featuring an under the head swivel, blade arrangement.
Another entry in the field of spinner/jigs is the Reel Bait Flasher. It's a standup head design with a swivel molded into the head to which a willow leaf blade is attached.
It's manufactured by Patterson's Reel-Bait Tackle Company in Seward, Neb., and is rapidly becoming another favorite with walleye anglers.
There are probably other companies offering their own version of these lures, but these are all I'm familiar with.
As time goes on you can be assured that these "under spins" will be finding their way into more and more tackle boxes of walleye fishermen around the country. And, I can attest, they do catch fish.
More outdoors information is available at http://siouxcityjournal.com/sports/recreation/outdoor