Terry Redlin's artwork and the Redlin Art Center are amazing! They attract collectors and visitors from throughout the world. There has been no one with the talent to capture the outdoors on canvas as Terry Redlin has done.
I was very fortunate to have filmed two of our Outdoorsmen Adventures television shows with Redlin and spent numerous hours going through his Redlin Art Center in Watertown, S.D.
Each time I make my way through the Art Center, I am amazed at the how beautiful it is and Terry's paintings hold me in awe.
For those of you that haven't heard of Terry Redlin, he's a Master Artist, one of the country's most popular and widely collected wildlife and Americana artists. For eight years in a row 1991-1998 Redlin, voted, America's Most Popular Artist by U.S. Art magazine and in 1992 inducted into the U.S. Arts Hall of Fame.
Terry stormed onto the wildlife artist scene with his 1977 release of "Winter Snows." Terry Redlin enthusiasts have collected 2 million art prints and an even greater number of collectibles and home décor products were sold — all inspired by his unique artistic talent.
This beautiful structure, the Art Center, designed by Terry's son Charles Redlin is the home of Terry Redlin's collection of original paintings. It opened its doors in June 1997 and is located on the east side of Watertown just off I- 29 (Exit 177) on U.S. Highway 212.
The structure is a 52,000 square foot brick building with white granite columns reaching 38 feet skyward. The design was inspired by the Egyptian Revival period and its huge granite columns resemble those you would see on some of the large southern mansions.
The grand entrance, welcomes you to more than 10,000 square feet of black Galaxy granite, which came from India, Once inside, it changes to polished granite, with the main floor of the gallery covered with more than 9,000 square feet of white granite tile.
Throughout the building, you will see over 24,900 square feet of granite, which came from countries throughout the world that include India and Africa, with the same black granite displayed behind the railings in the Gallery. The walls of the Gallery are beautiful, lined with another 5,900 square feet of white Impala granite from Africa.
As you stroll through the Gallery of the Redlin Art Center, you'll find 160 of Terry's original oil paintings on display. At the time the center opened in 1997, every painting Terry had completed beginning in 1985 is displayed in the gallery.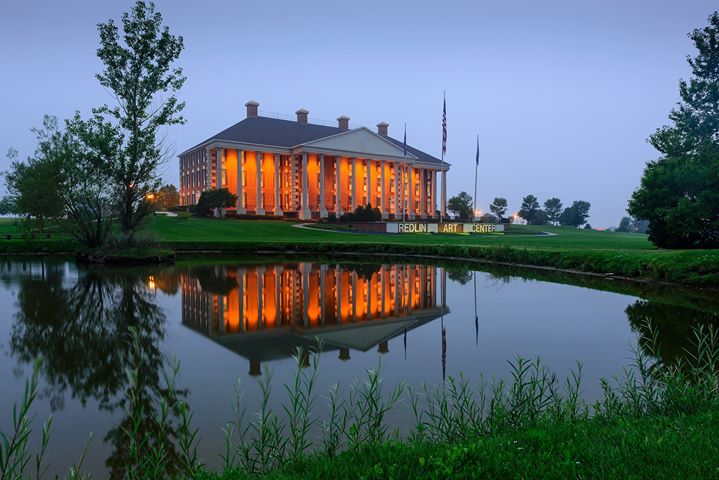 A huge supporter of wildlife and the organizations, which are work hard to preserve them, Terry's artwork has raised over $40 million dollars for numerous wildlife conservation groups including Ducks Unlimited, Pheasants Forever and the National Wild Turkey Federation.
In 1999, the Art Center heard about an estate auction being held in Minnesota where 15 of Terry's older originals would be sold. Charles Redlin, Terry's son and President of the Art Center Foundation, felt they should purchase these originals and display them at the Art Center. Since his father had sold most of his paintings between 1977 and 1984, the center was unable to have an original work from each year of Terry's career. After purchasing these originals the gallery now has original paintings by Terry from 1978-1985.
Since 2007 when Terry stopped painting and retired, thousands of viewers have traveled to the Center to view, his artwork, depicting some of nature's most beautiful scenes, reminding us of those glorious days gone by. The center, gallery & museum offer wildlife & Americana art lovers the opportunity to spend time with Terry's finest works. The Art Center not only displays Terry's original works but also has a gift shop and their Comforts of Home Cabin where Redlin's prints and other items can be purchased.
Because the Redlin Art Center is Terry's gift to the State of South Dakota and all its visitors, there is no admission charge to the gallery! The Center is open year round with its Hours of Operation being Monday – Friday: 8 A.M. – 5 P.M. Saturday: 10 A.M. – 4 P.M. Sunday: 12 P.M. – 4 P.M.
As a native of Watertown, SD, I travel into the area to film and visit on a regular basis. Every time I do, I stop by the Redlin Art Center, there's always something new at the center where I have the opportunity to enjoy the beauty of Terry's artwork again.
If you haven't had the chance to stop by to visit the Redlin Art Center, you're missing the opportunity to see a splendid building and the outstanding work of one of America's finest wildlife and Americana artist.
For more information on the Redlin Art Center go to www.redlinart.com
Photo Credit: Chad Coppess S.D. Tourism