Walleyes are currently in their summer patterns, and the No. 1 lure being trolled by most walleye anglers right now is the spinner rig.
Whether you are fishing with night crawlers, leeches or minnows, the versatile spinner rig is sure to catch fish.
While there are several companies selling spinner rigs, there's no reason why you can't tie your own. I've been doing that for years. In fact, if I've ever purchased a spinner rig, it was so long ago that I don't remember it.
There is a vast array of spinner components available today, making it easy to customize a spinner for your own fishing.
Probably the most difficult aspect of making your rigs is learning to snell a hook. While I suppose you could just tie on a single hook with an improved clinch knot or Palomar knot, a snelled hook is much superior. A snell offers 100 percent knot strength, and it holds the hook in line with the rest of your presentation, and that is important.
I use a method of snelling that is accomplished by slipping the line through an upturned eye and making a loop over the hook shank. I insert two fingers into that loop and wrap the left side of the loop upon itself for five to eight turns and then I snug it up. It's the same knot I use for finishing the heads of flies and jigs.
Once you learn it, you will never have to buy even plain walleye snells ever again. You can make them in your boat. Tying a two-hook rig is a little more difficult, but it can be done.
So, learn that snelling technique.
Once that is done, it's time to begin putting together components.
Let's start with the line. It's hard to beat 14-pound-test fluorocarbon monofilament. It's strong enough to take a beating. One hundred yard spool will tie up a lot of spinner rigs.
What about hooks? I like Octopus hooks, these are short shanked turned up eye hooks. However, other hooks may be used as well, with either upturned or downturned eyes. Both Eagle Claw and Mustad make hooks that will work.
Crawler rigs generally have two hooks snelled in tandem with about three inches between them. While I certainly use two-hook rigs, I often use a one-hook rig and pinch off about one-third of the crawler's length. Often it works much better than a whole crawler. For crawler fishing, I prefer a size 6 hook.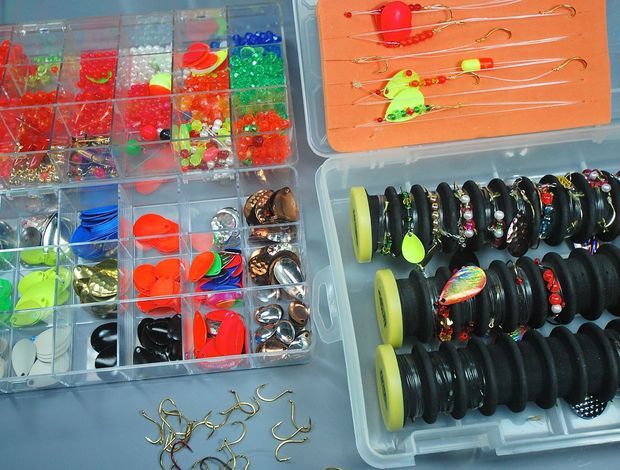 For minnows or leeches, I prefer a larger hook. Size 2 is what I use most.
Years ago spinner rigs sported only one color of bead. That was fluorescent red/orange. Today, the sky is the limit. In fact, some of my prettiest beads have been purchased in hobby shops.
While there is no hard and fast rule about bead size, 6 mm is used the most. But there is no reason you can't vary the size of each bead on your rig. Sometimes I go with beads that provide a contrast to the color of the spinner.
Which brings us to spinners. First, size. Spinners come in sizes ranging from 00 (smallest) to 8 (largest). For walleye fishing, I recommend size 3 or 4 or 5. Larger sizes make more noise.
There are many styles of spinners available, but the two most commonly used on walleye rigs are the Colorado and the Indiana. Colorado's are more round and make more noise. Indiana's are great in very clear water. There are other styles, including the Dakota and the Smile.
The spinner must be attached to the snell by using a clevis. There are two types that will work best. The folded clevis is the most traditional and common. The quick-change clevis is another type, which allows you to change spinner blades easily. Either works well. Stay away from stirrup clevises. These are designed for wire and will quickly cut through monofilament.
Length of snell is personal preference. Generally, I use one 3.5 to 4 feet in length. Mille Lacs Lake anglers often use snells up to 72 inches. The snells are attached to your bottom bouncer by using a perfection loop knot or a size 10 crane swivel.
Your local sporting goods store or tackle shop will probably will have all the components you need.
There's a lot of satisfaction to be gotten from catching fish on tackle you have made yourself. I won't say you will save money, because if you are like me you will buy more components than you will ever need. It will also add to your knowledge of fishing, and that is also a good thing.