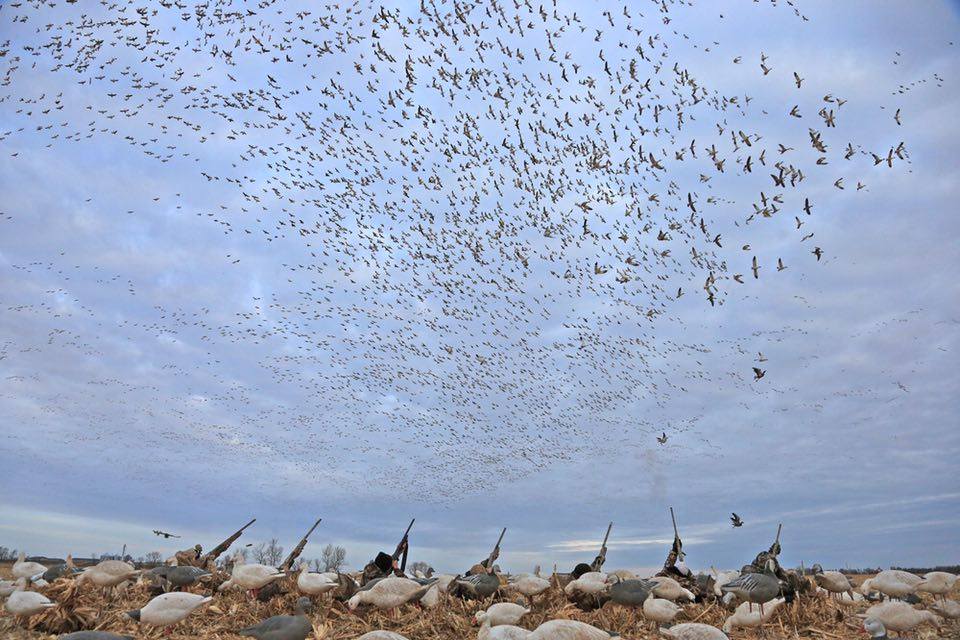 During the early goose hunting season, hunters had excellent luck on the local geese, and as the regular waterfowl hunting season opens, hunters using larger decoy spreads, like these hunters, should have excellent hunting throughout our Central Flyway. (Photo courtesy of Outdoorsmen Productions.
Those of us, living in the Upper Midwest, are located in the Central Flyway where waterfowl from the Canadian provinces of Alberta, Saskatchewan and the Northwest Territories migrate south through North Dakota, South Dakota, Nebraska, Kansas, potions of Montana, Wyoming, Colorado, Oklahoma, Texas and part of New Mexico.
These birds, as well as those raised in the Prairie Pothole Region of North and South Dakota, that had good waterfowl production this year, has waterfowlers in our Central Flyway excited about the upcoming waterfowl seasons.
With the early harvest we're experiencing, the waterfowl moving through the area should have an ample food supply to make them lay over in our area until the weather changes or their food source is covered up by an early snow.
On our Outdoorsmen Production team, we have several avid waterfowl hunters, including Bill Christensen, Hartington, Nebraska who hunts waterfowl 45-days a year between Nebraska and South Dakota.
Bill indicated that on day this column was written, he and another hunter had just returned from an early goose season hunt near Lesterville, South Dakota, hunting one of the many pot hole ponds in Southern South Dakota.
I knew Bill, he, his boys, grandkids and friends had hunted waterfowl there for several years and there always seems to be a lot of ducks and geese around that area, because of the numerous wetlands there.
On a one-day hunt there, during the duck season they were able to bag eleven different species of ducks.
I asked about the decoy spread they used during the early goose season near Lesterville
And how was it compared to the spread they put out when hunting from his blind near Gayville.
"During the early season, the geese are still in their smaller family groups, we put out just a few decoys, but once the migration start where we are hunting around our blind and pond near Gayville, South Dakota, we'll resort to hundreds of decoys"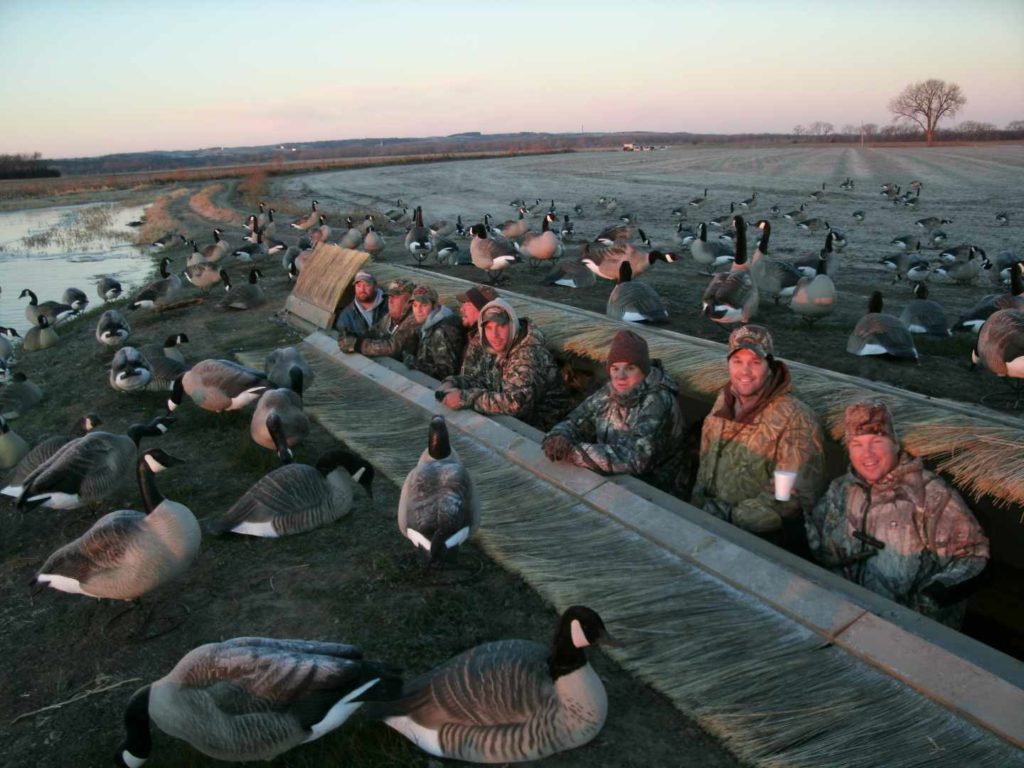 He indicated, "On this hunt, we had some luck, but the birds were on the move, jumping from field to field, as the farmers in that area were combing, getting their crops out.
Team Outdoorsmen Productions member Chuck Doom, Brandon, S.D. and some friends in the past, had always hunted in Canada, but because of Covid, and the border being closed, they went to North Dakota this year.
According to Chuck, "When we went up it was mid-September, towards the end of the early season, and the birds had definitely been educated, hunted hard, but because the temperatures in that area predicted to be in the 30's, we thought we'd give it a go."
"But once we got there, it warmed up with the lowest temperature being around 41 degrees, so the birds didn't need to move around much to feed."
Like Christensen, they used a dozen to eighteen goose decoys to attract the smaller family groups.
"There were plenty of local birds, but the birds up north in Canada hadn't come down, so we had to work for the birds we took, in order to get near North Dakota's fifteen birds a day limit," which Chuck felt was over kill.
In both South Dakota and Nebraska, the waterfowl hunters are ready in anticipation of the upcoming waterfowl season.
Just how good will the Central Flyway waterfowl hunting be, in a recent Ducks Unlimited magazine article, John Pollmann, wrote a piece "Central Flyway Preview."
In the column, he indicated after talking with the state's waterfowl biologists, migratory game management personnel and guides" that waterfowl predictions looked good in the Central Flyway."
According to his report," there was good waterfowl production in the Prairie Pothole Region of North Dakota and South Dakota that is fueling optimism for the duck and goose seasons across the Central Flyway."
North Dakota
The collective eyes of the waterfowl hunting world were on North Dakota this summer, as the state's breeding duck and habitat surveys provided some of the only official indications of what the fall flight might look like from the Prairie Pothole Region. "It wasn't a record-breaking year for duck production, but certainly a very good year, explains Mike Szymanski, Migratory Game Bird Management supervisor with the North Dakota Game and Fish Department."
"Blue-winged teal, in particular, enjoyed really good production this summer, but we did lose a lot of those ducks around Labor Day with a cold front and a pretty good drop in temperatures." Szymanski adds that other duck species are on the move prior to the waterfowl opener, driven in part by an extended period of dry weather that is hastening the crop harvest and providing new food resources for staging waterfowl. "
"The dry conditions are impacting our wetlands, which is also causing ducks to move around a bit," Szymanski says. "The south-central, southeast and northeast areas of the state generally have the best water conditions. The bigger, semipermanent wetlands are all still doing pretty well, though you may find exposed mudflats in places."
Given the closure of the Canadian border due to COVID-19 travel restrictions, "Szymanski expects to see a bump in hunting activity in the state this fall, but he notes this is a good year for it."
"We have the wetland conditions to allow the birds to spread out in response to pressure, and our crop harvests are rolling along, so there is plenty of food available. This also means that the conditions should allow hunters to spread out to.,"
Szymanski adds. "The number of local Canada geese in the state is pretty impressive, and those birds will provide some good opportunities for hunters as well."
"Still, hunters need to be realistic about their expectations," he cautions, "waterfowl are going to concentrate in areas with the best food and water conditions, and that is true every year.
South Dakota
The outlook is also bright for waterfowl hunters in South Dakota, indicating they had strong waterfowl production this year.
"Although we didn't do an official survey this spring, it sure looks like one of the better hatches that we have seen in a while," says state Waterfowl Biologist Rocco Murano. "The amount of water out there this spring attracted a lot of ducks, and then the conditions allowed those birds to have a successful nesting season. "
"There seemed to be duck broods everywhere, including mallards and an absolute truckload of blue-winged teal."
"The migration of ducks from South Dakota has already begun, Murano says, courtesy of a late-summer cold front that was accompanied by clear skies, cooler temperatures, a northwest wind and a full moon. "
"This spurred blue-winged teal to begin moving south, as well as other early migrating species like pintails and shovelers.
"But the state will still have plenty of ducks and geese to keep hunters busy when the season opens on September 26th."
According to South Dakota hunter and guide Ben Fujan. "Many wetlands are starting to dry up, which is forcing birds to move to bigger water bodies, so you're not likely to find those shallow-water hunting opportunities like we have had in recent years, at least not at this point in the season. "
"But Mother Nature can change things in a hurry," Fujan says. "There should be good field hunting opportunities as the farmers are really getting a move on the harvest. The small grains are out, there has been a lot of corn chopped for silage, and there are more and more soybeans coming out every day."
Nebraska
"The rains that flooded much of eastern Nebraska last fall and created shallow-water feeding and loafing areas for waterfowl in the Missouri River floodplain are a distant memory heading into the 2020−21 waterfowl season. "
"Border to border, the Cornhusker State is relatively dry, which isn't necessarily all bad for waterfowl hunters. The conditions should help concentrate birds. We won't complain about getting some rain to help fill our wetlands, but overall, we're hopeful for a good season," says Jacob Bushaw, a Waterfowl Biologist with the Nebraska Game and Parks Commission."
"There was enough water in the Sandhills of north-central Nebraska this spring and summer to support a strong breeding effort among mallards, gadwalls and blue-winged teal, Bushaw says, and wetland conditions in this area remain better than in other parts of the state. "
"The Sandhills should provide good early-season opportunities for hunters," he says. "The key everywhere across the state will be finding water, such as on the Platte and other river systems, which should be very good for both ducks and geese. Find water and you're probably going to find birds."
Even though some waterfowl numbers may be lower, while others have pretty healthy increases, there still should be excellent waterfowl hunting in our flyway, with the local geese and those coming down from the north during their migration."
Gary Howey is an award-winning writer, producer, and broadcaster and inducted into the "National Freshwater Fishing Hall of Fame" in 2017. He developed and was the Producer- Host of the Outdoorsmen Adventures television series for 23 years and is the Host of the award-winning Outdoor Adventures radio show. If you're looking for more outdoor information, check out garyhoweysoutdoors.com, and outdoorsmenadventures.com, with more information on these pages, Gary Howey's Facebook page, Outdoor Adventure Radio and Team Outdoorsmen Productions Facebook page. The Outdoor Adventures television show is available on the MIDCO Sports Network and News Channel Nebraska.