It was still October when our first snow appeared, since I'm not a big fan of the cold, my first thought were "Oh No" winter weather is here already, Man it's going to be a long winter.
When we had kids at home, we did a lot of things outdoors when it was cold, my son iced fished, my son trapped and hunted with me, while daughters went ice fishing with me a few times, then there was the sled rides, the ice skating and just enjoying the snow.
Now, there're numerous things I like to do in the winter and believe it or not they're done outside.
I spent a lot of time, going up and down banks, doing some depredation trapping in northeastern Nebraska, which wasn't bad when prices were high, now days, unless you catch a very light-colored coyote, you can't even pay for your gas to get to where you set your traps.
Predator calling is another thing I like, in November and early December, as you want to make sure that the coyote has his winter coat, as if it doesn't, you're just wasting your time setting out there.
Another thing that I truly enjoy, unless it's "Super" cold and windy is to get out on the ice as long as I can be inside my Clam Sled or in one of our friends Ice Castles.
Where I live, in Northeast Nebraska, ice is starting to form, so it will be awhile before we get on it.
As most of you know, that I grew up in Watertown, South Dakota, where my brother AJ and I tried ice fishing and it wasn't pretty as all we had was a neighbors "spud" bar with Ice on Lake Pelican a good foot thick, we started chipping away , with our original hole around twelve inches and as we chipped away, our hole became smaller and smaller.
As we were about to get through the ice, our hole was considerably smaller than when we started, in fact, it was about as the same size as our spud bar, as the water came up into the hole, we decided that there's no way we're going get those Big fish we were going to be pulling up through the hole, so we decided to try and enlarge it.
With every thrust we made, water would come flying out of the hole, drenching us, we were Wet and literally exhausted, with our hole so mall a minnow couldn't get through it, so I gave it one "really" hard thrust and because my gloves and hands were wet, the bar came out of my hands as it went through the new bottom hole, making its way to the depths of Lake Pelican.
There we sat, with goofy looks on our faces blaming each other for losing the bar, well we must have looked pretty sorry as a guy with an ice boat, pulled up asking what happened. And as wee tried to explain whose fault it was, he offered to give us a ride on his ice sled, saved our day and gave us time to as we walked back home to come up with an excuse for losing sing the bar.
Now days, I still head for Home, to the "Watertown" area to ice fish, but now I have my Jiffy E6 Lightning battery-operated drill to dig my holes.
One thing I'm always sure of as I head Home, because of all the Glacial Lakes in northeastern South Dakota, there's always some fish biting on one of the many lakes in that area.
Around my Hometown, Watertown, the best lakes during this early season so far have been Goose Lake southwest of town with Lake Kampeska also being good.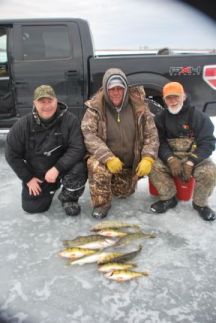 There's several places in Watertown to get fishing information, at one of the three Cowboy Bait & Ammo stores, where they have everything for both fishing and hunting, call can the store on Hwy 81 and 20 for the latest report at 605-882-9000.
There's also the Proud Angler Bait shop on Hwy 20 for information on fishing and fishing gear you can contact them at 605-882-1335.
Information on the World Famous Redlin Art Center, in Watertown the Home of hundreds of Terry Redlin's Art Work can be found at redlinart.com.
Team Outdoors Productions member Don Fjerstad whose now in his 45 year as the host of the KWAT 95 Outdoors radio show which has all the fishing reports for the area, airing every Thursday at 10:15 am and then again on KDLO 96.9 radio Saturdays at 6:00 am.
His fishing report is also available on-line at GoWatertown.net, click on the outdoor report and you'll get the latest northeastern South Dakota fishing reports.
Another one of my crew's favorite lakes up north is Big Stone which lies on the South Dakota and Minnesota border between Ortonville, MN. and Big Stone City South Dakota, is the headwaters of the Minnesota River, which runs south to the Mississippi River.
The northern end of Big Stone Lake is at the Continental Divide, which borders Lake Traverse, with its water flowing north to the Red River, with its headwaters providing a rich history of this beautiful area formed by glaciers 20,000 years ago.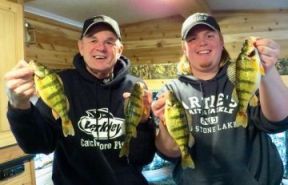 We've fished it both during the open and hard water season and were amazed at the different species of fish caught there.
This time of the year, during the hard ice season, it's the perch and walleye bite that most anglers are after and Big Stone has s huge number of these fish.
If you're looking for fishing information, a guide or an Ice Castle to rent or where to stay, you'll want to give Artie's Bait Shop in Ortonville a call at 320-839-2488 as he has everything an angler could want, no matter what the season.
We also have spent a lot of time further west fishing in the Webster area, when our Team member and guide Cory Ewing, Waubay Lakes Guide Service fishing both on the ice and during the open water season and to say that he knows the lakes in the area, is an understatement as Cory is on the water a lot, maybe even more that at home, so he's in the know when it comes to that area, and has ice fishing shelters on the ice in numerous lakes in that area, you can contact him at (605) 929-3894.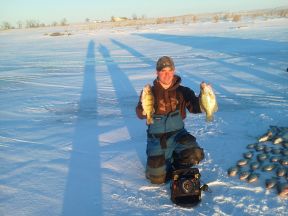 Doug at Sportsmen's Cove knows where the bite is and fishing and has the gear you need to be comfortable on the lakes in that area, you can give him a call at 605-345-2468.
These are but a few of the excellent ice fishing opportunities found in the Glacial Lakes of South Dakota and it seems that no matter what species you're after, you'll find them there in northeastern South Dakota's Great Lakes.
Gary Howey, Hartington, Neb. is a former tournament angler, fishing & hunting guide, an award- winning writer, producer, and broadcaster and inducted into the "National Freshwater Fishing Hall of Fame" in 2017. He developed and was the Producer- Host of the Outdoorsmen Adventures television series for 23 years and is the Host of the award-winning Outdoor Adventures radio show. If you're looking for more outdoor information, check out garyhoweysoutdoors.com, outdoorsmenadventures.com, with more information on these pages, Gary Howey's Facebook page, Outdoor Adventure radio and Team Outdoorsmen Productions Facebook page. The Outdoor Adventures television show is available on the MIDCO Sports Network, and other independent markets..