Reprinted from the Sioux City Journal
Could it be that monster blue catfish are returning to the Siouxland section of the Missouri River?
A lot of anglers think so, and recent catches seem to indicate that is the case.
Consider that on a July afternoon in 2012, Steven "Cork" Lemmon and his nephew Terry Matheny fishing in a hole on the Big Sioux River in the area of the Stone State Park entrance put a South Dakota State record in the boat.
Lemmon's fish weighed 99.4 pounds, erasing a record that had stood since 1967 when Bill Elliot of Vermillion, S.D., caught his 97-pound fish near the Clay County Boat Ramp on the Missouri. Lemmon's big blue was released at the Sioux City Boat Ramp.
That same hole on the Big Sioux yielded a 71-pound blue for Matheny, and Lemmon added a 35-pounder. The anglers surmised that low water in the Sioux may have stranded the big fish on their way back to the Missouri.
While it is probable that our section of the river has held big blues for years, it does appear they are now being caught more often.
Darrel Carter of Elk Point, S.D., boated the Iowa state record in 1995 while fishing the Big Sioux River. That blue weighed 62 pounds and shattered the Iowa record of 44 pounds which had stood for many years.
"I didn't think that it would ever be broken, but it only lasted five years," Darrell says.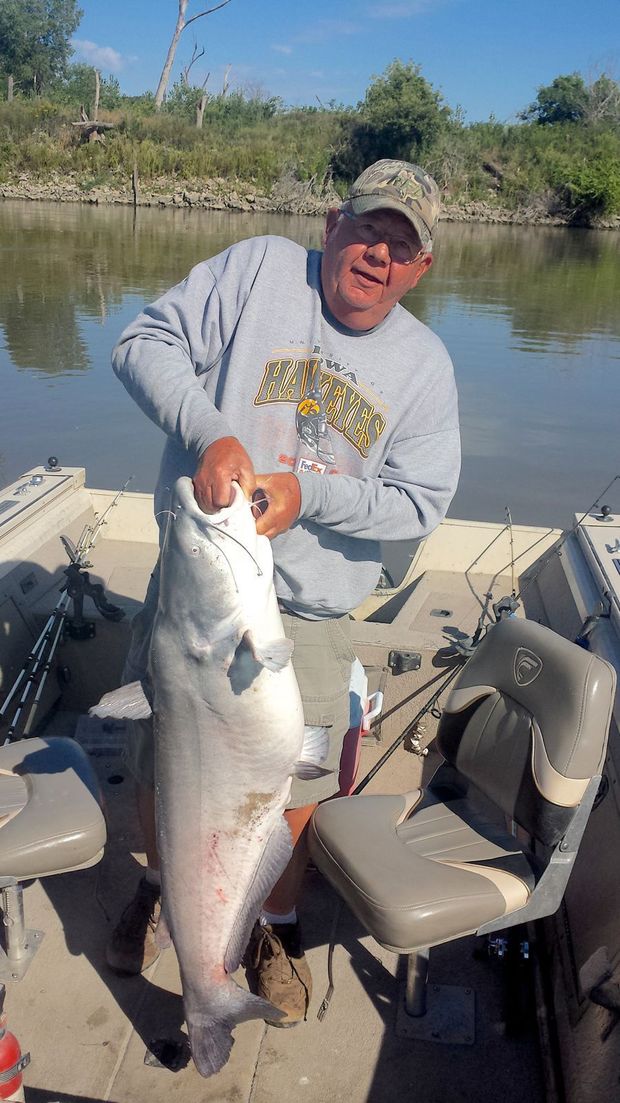 And that new record lasted only four years. That's when a trotline fisherman, Mike Rush of Bellevue, Neb., boated a 101-pound monster 53 inches long on the Iowa side of the river near Bellevue, Neb.
Among the big blues on record caught in the past few years here are a 56.60-pound blue which won the sixth-annual "First Class Cat Attack" tournament in 2009 on the Missouri River and Big Sioux here. That was the only blue cat caught in the tournament up to that time and no blues were recorded in 2010 or 2012. There was no tournament in 2011 because of the flood.
In 2014 the tournament was won by Cory and Dustin Estochen of Homer, Neb., whose catch included a 52.50- and a 17-pound blue. Four blues were weighed that year. In 2015 they came back to place second with two blues, biggest weighing 30.05 pounds.
This summer, we heard a report of an 80-pound blue caught off the Sioux City waterfront, but have been unable to verify that.
However, Lee Williams of Sioux City caught a 76.3-pound blue a few weeks ago off the tip of a wing dam just south of Sioux City.
About three weeks ago Dave Amick, Bronson, caught a 57-pound blue catfish while fishing with Pat Carter of Elk Point. Pat had put a 14-pounder in the boat on a trip before that, and I caught a 12-pound blue fishing with him about a week ago.
Last summer Pat and I caught a 20-pounder and one of about 15 pounds.
Commercial fishing for catfish was stopped on the Missouri back in the 1980s and blues and flatheads have been getting bigger and bigger ever since, fishermen say. Several flatheads in the 40- to 60-pound range are caught in the Sioux City area each year.
Another reason we may be seeing bigger fish is that anglers tend to release the big ones. That allows them to get even bigger.
Which brings us to this question: Just how big can blue catfish get in the Missouri River?
Well, let's look at the historical record.
Former steamboat captain William Heckman, author of "Steamboating Sixty Five Years on Missouri's Rivers" writes "Of interest to fishermen is the fact that the largest known fish ever caught in the Missouri River was taken just below Portland, Missouri. This fish, caught in 1866, was a 'blue channel cat' and weighed 315 pounds." He also reported that two anglers brought a blue channel cat into Hermann, Mo., in 1868 that weighed 242 pounds.
Mark Twain in his book "Life on the Mississippi" claimed to have seen one over 6 feet long and weighing 250 pounds.
And there are other historical mentions of fish over 200 pounds in the days before the dams were constructed and the river channelized.
Best proof of a really big fish is a shipping invoice from 1879 for a 150-pound blue catfish purchased in 1879 at a St. Louis fish market.
There's a photo in the Sioux City public museum of a blue catfish weighing 107 pounds which was caught in the Big Sioux in August of 1889.
The current International Game Fish Association world record blue catfish weighed 143 pounds and was caught in June of 2011 from Virginia's John Kerr Reservoir. The fish was 57 inches long and had a 45-inch girth.
Those 200-pounders, if they ever existed and I like to think they did, will probably never return.
And, it's doubtful that a world record blue will ever be caught on our section of the river. But, you never know. Best fishing for really big blues is on the lower Missouri River just before it empties into the Mississippi. Fish over one hundred pounds are caught there every year.
But, catfishing in our area is growing in popularity. More and more anglers are out there and they are releasing their big fish whenever possible. Some really respectable blues have been caught over the past few years.
So, if you are a catfisherman on the Missouri River here, check out your landing net. Would a 60-pound fish fit in it? One of these days you might have a chance to find out.
More outdoors information can be found at http://siouxcityjournal.com/sports/recreation/outdoors/