Reprinted from the Sioux City Journal
The wooded valley was quiet. Snow carpeted the ground and my eyes searched through the trees for any sign of movement.
I was perched, back against a tree, on a ridge overlooking this beautiful wooded scene.
The Loess Hills in winter is one of my favorite places, and calling coyotes is one of my favorite outdoor pastimes.
I raised the call to my lips and sent out another series of rabbit screams.
Nothing moved. Then I sensed, more than heard, a presence overhead and it landed on a branch not 10 feet away. A great horned owl sat there peering at me with its large, yellow eyes. The question now was, do I continue calling or would that draw this feathered killer to attack. I continued calling and the bird just sat there. After years of predator calling, I've learned that you never know what might come in.
Another time I was in South Dakota, sitting with my back against a big wooden fence post on our farm. The creek ran through a pasture that hadn't seen a cow in years. It was winter. Snow on the ground. The sun was just beginning to set. A perfect time to tempt a coyote.
I brought my call, a fawn call made more for deer hunting than coyote hunting, and began putting out squeals of distress. Then I waited, eyes focused on the brushy fence line on the other side. I called again and waited. Suddenly, to my right, a big doe and both of her fawns rushed in. Startled, I waved them off and ended the calling session as it was getting dark.
Fast foreword to last winter. I'm north of Verdigre, Nebraska, with Gary Howey and Bill Christensen, both of Hartington, Nebraska. We're in the rugged hills just south of the Missouri River. Gary and I are shoulder to shoulder against a big cedar, our rifles on bipods pointing down the valley. Bill is a few feet away against another cedar. There's a ridge to my right and another valley behind it.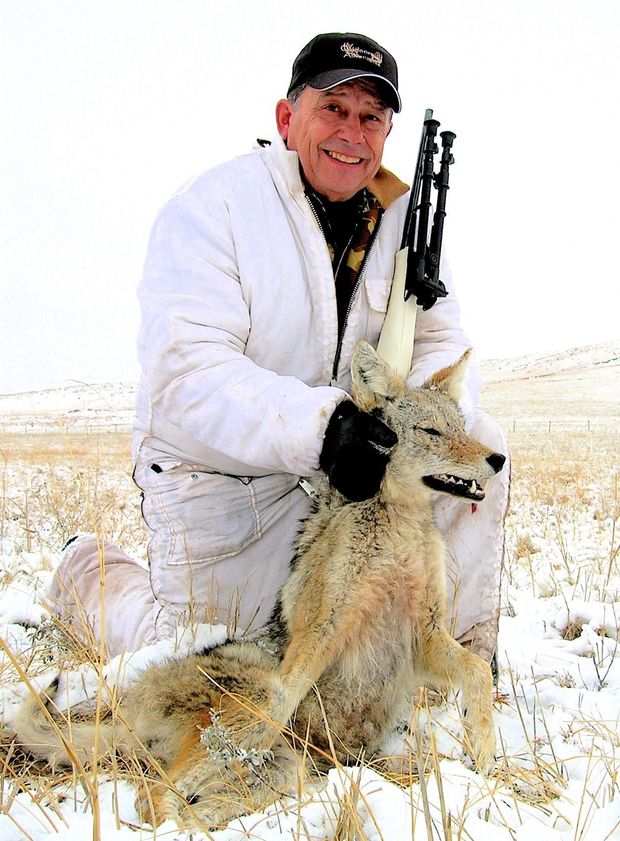 I raise the call to my lips and send out a series. There's a wooded ravine 300 yards in front of us and open ground out to it. Last year I called a coyote out of that ravine. We didn't get it. It was starting to look like a dead set. I'd made several series of calls, but if I'm in a good spot I'll sit it out a half hour or more. I had just finished a series and let the call drop on its lanyard to my chest, when something swept across my scope brushing the top of my cap. It was a great horned owl. It landed in a tree about 100 feet away and looked at us. "I think his wing hit my cap," I whispered. "It did," Gary answered. "I heard it." The bird had come from the ravine at the right, over the ridge and to the spot where the rabbit screams were coming from. If there had been a rabbit sitting on my scope he would have had it.
Another time Gary and I were on the Rosebud Indian Reservation in South Dakota calling coyotes. We were tucked in shoulder to shoulder in front of a big yucca when I felt Gary tense up. There, off to our right, sat a bobcat looking at us. We could have touched it with our rifle, it was that close. It sat there long enough for a photograph, then disappeared into the tall grass.
Sometimes you never see what comes in.
Gary, Bill and I were calling on a stand where the year before, I'd shot a coyote at about 50 yards.
We sat there a full half hour, but no luck. As we were walking back to the truck we found fresh bobcat tracks in the snow that had not been there when we walked in. We found where he stopped, turned around and slunk back in the direction from which he came. He likely saw us because we had a side wind. Truth be known, we've probably had a lot of bobcats come in that were never seen.
I was in the Loess Hills southeast of Sioux City sitting in front of a big yucca on a barren ridge sending my calls out into the valley below. It turned out to be another dead set. Or was it. As I turned to leave I saw coyote tracks in the snow and where he lurched to a stop, turned and ran off into the timber. Again it was a question of him seeing me not scenting me because of the way the wind was blowing. He had stopped barely eight feet away from me.
Sometimes you just run across something very unusual.
Gary and I were hunting coyotes on the Rosebud Indian Reservation with Ben Bearshield, a reservation conservation officer. We were driving across a large prairie dog town when Gary said, "Look at that big prairie dog lying alongside that burrow. No, I don't think it is a prairie dog." Ben stopped the truck and put the field glasses on it. "That's a bobcat," he said. We were only about 50 yards away and the cat just lay there looking at us. Very unusual behavior for one of these elusive cats. "I'm going to call my boss," Ben said. "That cat is sick. We should harvest it and test the blood." The reservation leaders were concerned about a bubonic plague outbreak. The plague had been identified in prairie dog towns in several places to the west and seemed to be moving toward them. Ben got permission so he shot the cat. Turns out it was one of the biggest bobcats we had ever seen, weighing over 40 pounds.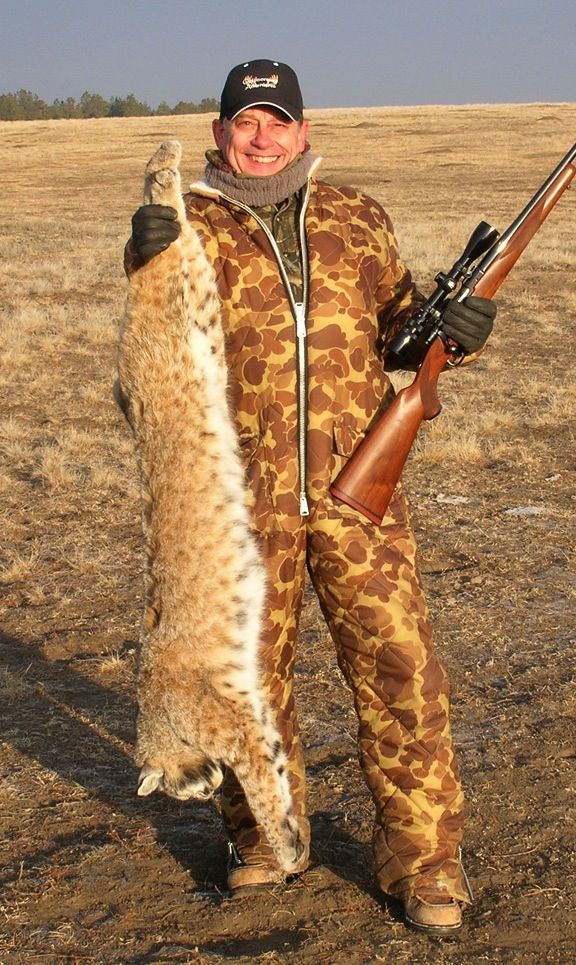 Later we learned that the cat had been injured in a fight with another bobcat and had a single fang mark in its chest just over its heart. It would have died a miserable death in a few days.
So you never know what might happen when you go afield making dying rabbit sounds. That's part of what makes predator calling so much fun.
More outdoor information is found at http://siouxcityjournal.com/sports/recreation/outdoors/