Reprinted from the Sioux City Journal
The pheasant hunting outlook in our three-state region looks very bright.
Iowa, Nebraska and South Dakota all report increased number of birds. Favorable weather during the winter and through the pheasant breeding season contributed most to increasing numbers. Habitat loss was reported by wildlife managers in both Iowa and Nebraska.
When Iowa's pheasant hunters take to the field on the Oct. 31 opener, they will find more birds again this year. Roadside counts showed the second straight year of increasing pheasant numbers. The statewide index of 24 birds per route represented a 37 percent increase over last year and a 260 percent increase over the all-time low set in 2013. The highest concentration of birds occurred in the northwest.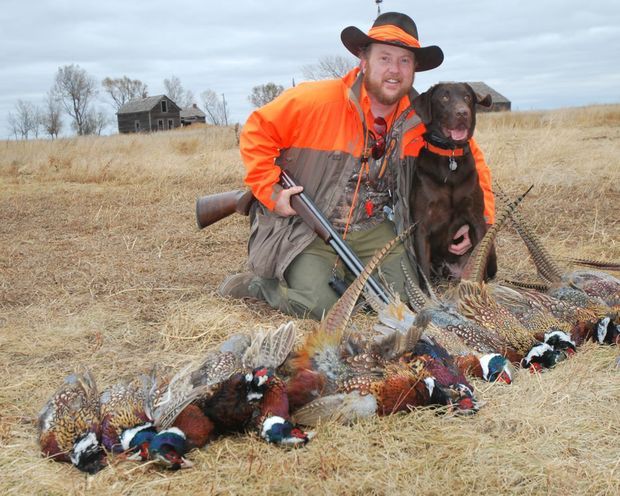 But while this year's roadside index is 52 percent above the 10-year average, it remains some 40 percent below the long-term average, reflecting changes in farming in much of the state's pheasant range.
"We continue to lose habitat, particularly CRP, like many other Midwest states, but with lower crop prices we are seeing strong interest among landowners for CRP on marginal lands," says Todd Bogenschutz, upland game biologist and farmland coordinator for the Iowa Department of Natural Resources. State Acres for Wildlife Enhancement (SAFE), a continuous CRP practice, has enrolled over 100,000 acres statewide.
Good weather was the key.
"Several favorable winters have helped us recover bird numbers statewide," says Bogenschutz. "The pheasant index in the northwest, central, and southeast regions is at or above the long-term average. So where pheasant habitat is available, hunting should be pretty good in these regions. Counts improved in most other regions, and hunting should be better than last year. But the number of birds will be less than the long-term average."
The statewide index is the highest it has been in eight years — before five consecutive winters with more than 30 inches of snow drove pheasants to the lowest numbers ever.
Iowa's season runs through Jan. 10. Hunters may harvest three birds per day with a possession limit of 12.
Nebraska's outlook is also good. A mild winter and timely, but not excessive, spring rains have created ideal conditions for pheasants. Results from the July rural mail carrier survey show that pheasant numbers are up significantly in all regions of the state compared to last year. Statewide pheasant numbers increased 55 percent, according to the survey.
When the season opens Oct. 31, hunters will find the most action in the southwest region, which showed an 83 percent improvement over last year. Top counties, based on the survey and staff observations, were Hitchcock, Perkins, Furnas, Hayes, and Frontier.
Also excellent will be the Panhandle, where pheasant numbers jumped by 132 percent. Best counties are Sheridan, Box Butte, Cheyenne, and Banner.
Despite hard rain and hailstorms, other regions of the state also show significant increases in pheasant numbers. The central region recorded a 52 percent increase, the northeast 23 percent, Sandhills 17 percent, and southeast 64 percent.
Nebraska's season runs through Jan. 31. Daily limit is 3 with a possession limit of 12.
South Dakota's pheasant population appears to be roaring back. Even though roadside survey results in all but two regions lag behind the state's 10-year average, the statewide average has jumped 42 percent over last year. According to South Dakota Game, Fish and Parks, the statewide index is similar to 2011 when hunters shot 1.56 million roosters.
Regions with the highest bird counts are perennial hotspots of Chamberlain, Winner, and Pierre. Yankton and Sioux Falls were the two regions that surpassed their 10-year averages. Regions lagging farthest behind the 10-year average are Watertown, Brookings, and Aberdeen.
The key to the strong recovery through most of the state was a mild winter that ensured a lot of birds entered the nesting season. Spring weather started dry but habitat perked up with moderate rains.
"Bird numbers are higher in parts of the state where quality habitat conditions still exist, primarily on grasslands including those enrolled in CRP, as well as fields of cereal crops such as winter wheat," says GFP Secretary Kelly Hepler.
South Dakota's season opened last Saturday and runs through Jan. 3. Daily bag limit is 3 with possession limit at 15.
To find more information about pheasant hunting in other states visit: www.pheasantsforever.org/Hunt/State-Forecasts.aspx
More outdoors, information can be found at http://siouxcityjournal.com/sports/recreation/outdoors/