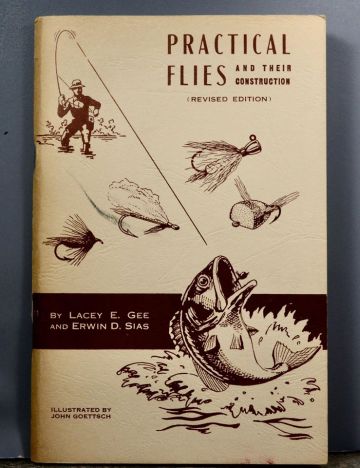 Of course I have no way of proving whether this is true or not, but I suspect the circulation of this little fly tying booklet probably exceeds any other ever printed. Lacey Gee and Erwin Sias published "Practical Flies and their Construction" in 1955. It continued to be sold for nearly 40 years. Page two of the first edition featured a photograph of Lacey at his fly tying bench. It was captioned, "The Old Professional Himself, Lacey E. Gee," but he sure didn't look very old to me. They wrote the book, only 64 pages, for a couple of reasons, I think. First, Lacey was in the business of selling fly tying materials. He originated and owned the Wapsi Fly Company headquartered at the time in Independence, Iowa. Sias was editor of the Sioux City Journal. While the book promotes fly tying, there is absolutely no mention of Wapsi or of Lacey's fly tying business. Self promotion in those days was considered inappropriate. Secondly, like all authors, there was the possibility of making a little money. I still remember Sias showing me one of the dividend checks he received on the book. It wasn't much but it was something. They revised the book in 1966. Most of the changes were simply to update the photos. The original had a final chapter on spinning which was relatively new at the time. The revision featured a final chapter on jig fishing, also pretty new to most freshwater fishermen in 1966. Later, they would publish a second book "How to Fish with Jigs" which was published in 1970. Ironically, it is one of only two books ever published devoted to jig fishing, Both of their books were illustrated by John Goettsch who was the head artist at the Journal. When he retired I traded him a map of all the farm ponds in Northwest Iowa for his Horrocks & Ibbotson "Tonka Queen" bamboo fly rod. It's a 7-foot, 9-inch rod of excellent quality. I have refinished it, but never fished it.
The fly tying book was eventually included in fly tying starter kits sold by Wapsi, Universal Vise, Janns Netcraft and others. I remember Netcraft selling the book well after both authors had passed on. While the book is long out of print, it is still offered in used format on some of the internet book sales sites.
The book includes several original patterns by Lacey, including the Gimp, which Si featured in a 1950 article in Outdoor Life and which I wrote about in a 1976 article in Fly Fisherman Magazine. It also contains a unique method of spinning deer hair which I still use to this day, although years ago I developed some kind of allergy to deer hair so I don't tie many bugs with it today.
Interestingly, Si and Lacey shared the same birthday and they both died in the same year, 1996. Lacey was 88 and Si was 81.
There were a few copies of Practical Flies offered in hardcover format. I have a couple of them and asked Si to autograph one of them for me in 1978 when he retired to northern Idaho. When Lacey decided to move to Florida sometime in the mid 1980s, I asked him to autograph the jig book for me. His hands were quite shaky at the time. Lacey's health forced him to give up fishing in the early 1990s but he continued to play golf (he was at one time a professional golfer) until he died, even though he had to drag around an oxygen tank.
So, the little fly book had a huge circulation over the years and undoubtedly influenced a lot of young fly fishermen. I was one of them.
Larry Myhre, Sioux City Ia. is the retired Editor and Outdoor Writer of the Sioux City Journal. Myhre and is an award winning writer and publisher. Larry was inducted into the National Fresh Water Hall of Fame in 2016, Co-Hosted of the Outdoorsmen Adventures television series with Gary Howey through 2018.