It may not seem like it right now, but its fall and soon the fall colors will appear with cold weather is right around the corner.
When the weather is like this, it makes late season fishing a joy, when you do not have to hit the water with three layers of heavy clothing.
Of course, if you fish in the early morning or late afternoon, it would be smart move to bring along an extra sweatshirt or jacket.
It is this time of the year when many anglers will have put their fishing gear away, pulled out their shotgun or bow and is pursuing waterfowl, grouse, archery deer and antelope.
If you are one of those, you may have made a big mistake, as this is the time of the year when you find the larger concentrations of walleye and sauger feeding heavily on the remaining baitfish and prey fish.
Generally, these larger concentrations move into the deeper water where the baitfish have stacked up to spend the winter.
It is during this time of the year when game fish want larger baits and when larger live baits really produce.
Finding the schools of walleye and sauger really is not very difficult this time of the year! You will need to look for them in some of the deepest water located on the lake or river.
Once you have located them, you should be able to come back year after year and find them in about these same areas. As long as the baitfish are in the general area and the structure does not change, the predator fish like the walleye and sauger won't be far behind.
Bait presentations during this time of the year will generally be a live bait rig depending on the depth of water that the fish are using.
If you find the fish in the 20-foot range, you can still take them on a live bait rig such as a Roach rig with a large minnow.
When fishing in the fall, you will want to use a heavier slip sinker to get your bait down to the fish quickly. The fall bite might last only a short period of time, so you will not want to waste any time getting to the depth the fish are using.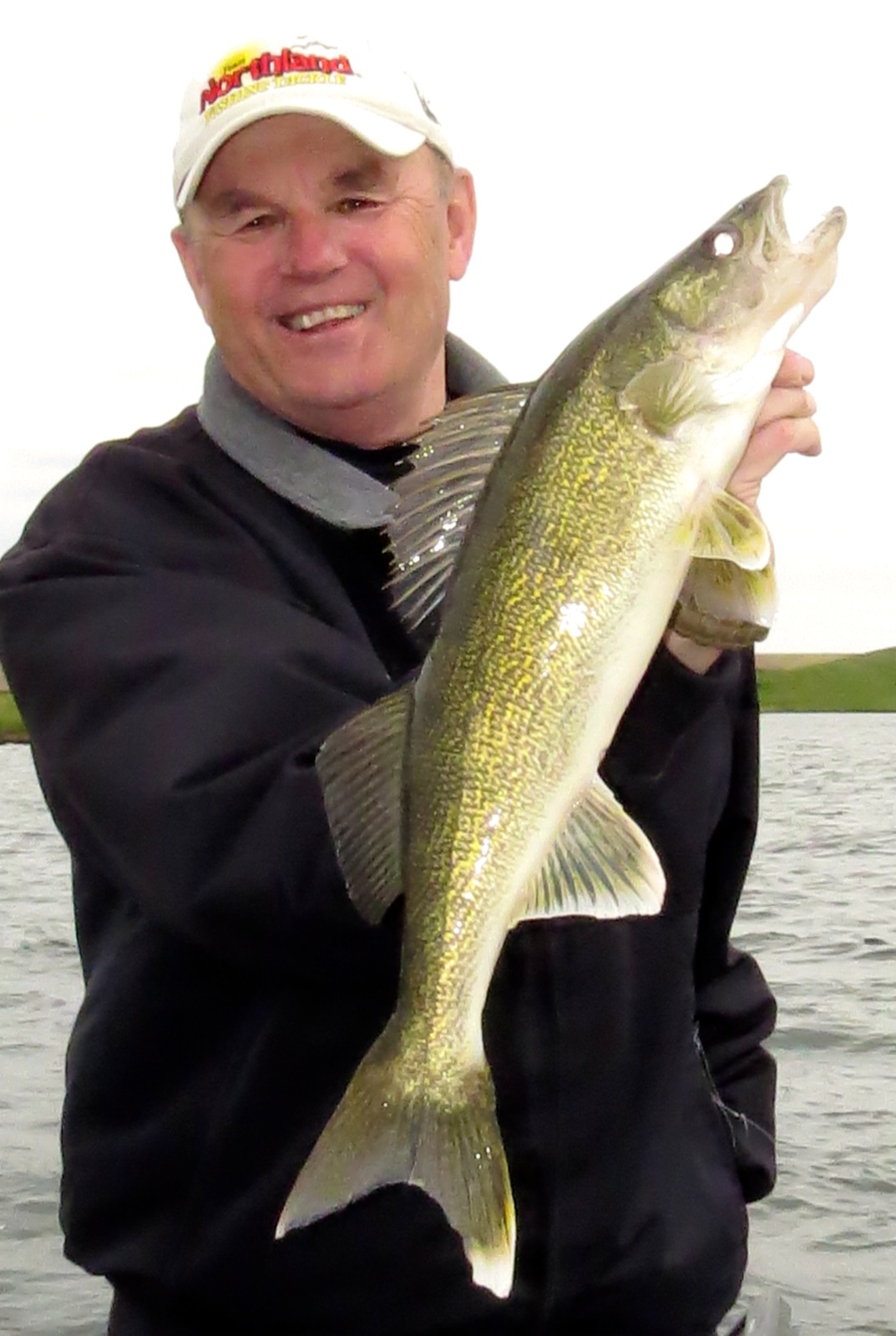 You will find most of the active walleye and sauger adjacent to or a short distance off the bottom.
If your walleye are located in deeper water, the 30 to 40 or 50 feet depth, you will probably want to use a heavy jig and minnow combination.
As I mentioned before, you will want to get down quickly, this is when a three eights ounce jig can be the ticket. If you are using lighter line and have fished a jig a lot, you can get by with a one-quarter ounce jig.
Color really does not make a whole lot of difference, especially in the deep water the fish will be using as once the jig goes below where the sunlight can penetrate, everything pretty much turns black.
I still go by the old rule of thumb that any florescent color is good because florescent colors do not fade out quickly as standard colors. As far as I am concerned, any florescent color is good, with chartreuse being my favorite!
There are times when it seems like color does make a difference, I like to tip the odds in my favor; I will use a jig with a body with several colors. I like jig heads with a combination of colors that are florescent chartreuse, orange and green and I prefer a chartreuse or multi colored grub body.
If color does make a difference, I am going to have a bunch of them down there because you never know what color might trip the fish's trigger on any given day.
Scent and vibration can be important when fishing deeper water; I like to use some sort of a scented body or a couple of minnows.
I have had excellent results using the Gulp minnow grub by Berkley. They are tough, staying on the hook longer and they release their scent so much faster than any other plastic bait, which means they really throw off a scent trail for the fish to follow in.
I have also used a couple of minnows in deep-water presentations. Hooking the first one on in the conventional way and then I will hook the second through the tail.
The minnow hooked conventionally will give off scent and the one hooked through the tail will jump all over the place giving off a vibration that draws attention to my bait.
This time of the year is when I use larger minnows because fish feeding now have eaten all of the smaller baitfish and looking for larger baits, trying to build up for the winter.
Since the water temperature this time of year has cooled down considerably, you will want to work your baits slowly, keeping them in contact with the bottom as much as possible.
When you do come off the bottom, keep your line tight, allowing you to detect those subtle bites, when a walleye is not gulping down your bait but is simply sucking it in.
If you are looking for big fish, this is the time of the year you will find them. If the weather stays, the way it is you will not have to fight the weather and will be able to concentrate on finding and fighting those larger late season fish.