Reprinted from the Sioux City Journal.
While last Saturday's 11th annual Cat Attack catfish tournament on the Missouri River attracted anglers from nine states, it was a pair of local anglers who came out on top.
Jerry Shackelford, Hornick, and Jason Hackney, Smithland, brought in a total of 57.65 pounds of catfish to top the field of 48 teams.
The catch earned them a check totaling $1,680.
They also weighed the big fish of the day which was a 35.5-pound flathead catfish. That earned them the Big Fish award of $500.
They weighed four fish, one channel cat and three flatheads. Their fish were taken from the Big Sioux River.
Second place was won by Dustin Estochen and Cory Estochen (last year's winners) and Ron Raynor, Dakota City, Neb.
They weighed 56.1 pounds of fish consisting of three channel cats and two blue cats.
They also took second place Big Fish honors with a 30.05-pound blue catfish, earning a check of $250.
Third place went to the Kansas team of Roger Whetstine Jr., and Cole Whetstine, both of Troy. They weighed in a five-fish limit of 47.15 pounds. They had one channel and four flatheads.
Hugh Payne, Bronson, Iowa, and Lee Williams and Keith Payne, both of Sioux City, took fourth place with two channel cat and three flatheads weighing 45.5 pounds.
Roger D. Whetstine and Jason Whetstine and Riley Whetstine, all of Troy, Kansas, weighed four channels and one flathead for a weight of 29.75 pounds. They won $275 for fifth place.
In sixth place was Keith Copenhaver, Sioux City and Chris Sharp, Merrill. They weighed one channel and four flatheads for 23.35 pounds, earning $200.
In seventh place was Travis Carter, Fargo, N.D., and Tyler Carter, Elk Point. They brought in five channels for a total of 20.25 pounds, earning $165.
In eighth place were James VanderHelm and Krista VanderHelm, both of Akron, Iowa, with two channels and one flathead for 19.40 pounds. Their check was $100.
Earning $100 for ninth place was Jason Flaten, Gillette, Wyo., and Brady Flaten, Glasgow, Mont.They caught five channel catfish for a weight of 18.15 pounds.
Pat Carter, Elk Point, tournament director, said a total of $5,340 was paid out to winning anglers.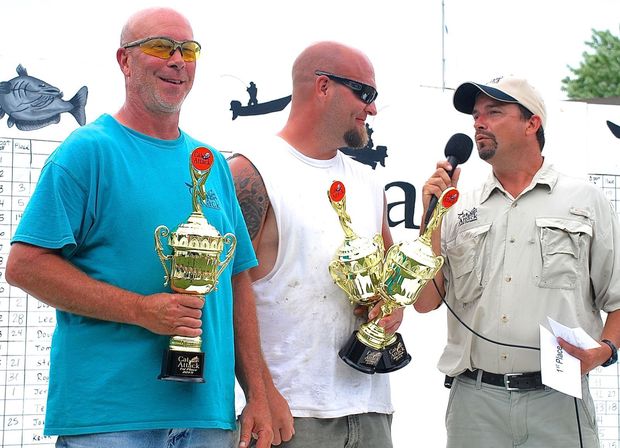 Two 20-inch bikes were given to the boy and girl who came closest to guessing the weight of the big fish. Hunter Estochen, 6, and Eliana Santiago, 5, won the bikes.
Junior Fishing Rod Winners were Hunter Copenhaver, 5, and Haley Copenhaver, 8.
Eight teams caught their limit of five fish.
Thirty teams weighed-in at least one fish.
A total of 62 channel catfish, 25 flatheads and two bluecats were weighed for a total of 89 fish. Total weight was 501.20 pounds.
No fish were brought in for the noon weigh-in so the $100 was given away by drawing.
Close to 200 people turned out for the weigh-in at the South Sioux City boat ramp. A free cook-out was provided for participants and their families.
For more information on this tournament and all previous Cat Attack tournaments, see their web site at: www.thecatattack.com.
More information on the outdoors can be found a siouxcityjournal.com/sports/recreation/outdoors/