Lady, Gary Kubicek's lab worked out in front of us as did some of Joel Vasek's dogs and by the way, they were acting, we had better be ready as they were on a bird.
The habitat we were hunting was perfect, with everything wildlife needed to survive throughout the year. Before us, stretched large tracts of native grasses, milo food plots, rows of Cedars, Maple, Plum and other bushes, sloughs and shelterbelts, perfect upland game bird habitat.
Gary Kubicek, Country Vet Dog Food had joined my cameraman and I on a late November pheasant hunt with good friend and Team Outdoorsmen Adventures member Joel Vasek, Missouri River Lodge and Missouri River Guide Service.
The lodge, where we had headquartered out of years ago was beautiful, and since has gone through a major expansion. It's an astonishing piece of property located in the small community of Geddes, South Dakota. A five star Lodge, which now sleeps forty-four people and with is second story that is in the process of being completed will only become more magnificent.
Joel, "The Walleye Tamer" known as one of the finest fishing guides on Lake Francis Case and other bodies of water is not just an angler as his guide service also offers pheasant, grouse, prairie chicken, turkey and deer hunting.
As we prepared to depart from the lodge, at 9:20 am, our group of five hunters, Matt and my cameraman climbed into one of the Lodges well equipped buses where Vasek gave a safety talk letting everyone know what type of habitat we would be hunting, how we would walk them and rules for a safe hunt.
Then we headed from the Lodge for the short drive to where we would begin our hunt at the ten o'clock opener.
In the bus were gun racks, comfortable seating, coolers with drinks and snacks as well as an on board DVD player. There was a carrier mounted on the front for the birds we would shoot and the dog's water jugs and mounted in the back are seven large aluminum dog kennels,
Because our group consisted of five hunters, Joel Vasek, Gary Kubicek, Maverick Hill, Dave Kotob and me, we were working several of the smaller fields with Switch Grass, Big Bluestem and Milo.
Vasek has well trained dogs with his kennel housing both pointers and flushers including German Shorthairs, Hungarian Vizsla, German Wirehaired, Labs and Raptors. There are also additional kennels there for hunters who bring along their own dogs.
Shortly after we arrived and started walking, one of Joel's dogs went on point, the hunters off to our left, Maverick and David moved up behind the dog and as the bird flushed, they yelled "Hen", as the first of numerous hens we would see on this hunt took flight.
Maverick, David, Joel and Matt McGinty one of the people who helped Joel on the hunts were pushing the middle and the outside edge of the grass, with several dogs working out in front, when it became obvious that one of the labs as its tail shook in wide circles indicating it was working a bird.
The other dogs closed in on the lab as the call of "Rooster" rang out across the field with Vasek's gun coming up as he made a long shot, dropping the bird in an adjacent strip of grass.
On this field, one dog, then another would get birdy or go on point as we flushed numerous hens, a good sign for the future of the wild birds in this area. On this walk, all but the one rooster evaded us, with others going out the end of the grass into a wet slough we would not be able to walk.
Gary would rotate his dogs, running his lab Lady in one field and then run Hannah, his German Shorthair in another, giving both dogs the opportunity to hunt.
Lady, which was in front of us looking birdy and had a bird cornered as Gary and I moved up, the bird exploded from the cover, another hen with Gary calling "No Bird" as Lady worked her way back to search out another bird.
In each field, the dogs worked well, pointing and flushing both hens and roosters, with very few roosters escaping, as all hunters in our group were excellent shots that spent many an hour in the field hunting pheasants.
My cameraman would walk the fields with us, doing his best to capture the dogs working in front of us, the birds as they burst from the cover, the hunters taking aim and the birds being hit and coming down. Filming wild birds is much different than filming other birds, as wild birds are runners, hard flyers that put as much distance between them and the hunter and dogs. When cornered and forced into the air, they erupt with authority, cackling, their wings grabbing air as they go high, heading in the opposite direction of the hunters.
In the second field, Gary and I were on the right flank as Hannah locked onto the bird, Gary and I moved up on the bird as it came up, our shotguns firing in unison with the bird dropping, with one of the dogs quickly retrieving the bird.
Shortly thereafter, another rooster made a fatal mistake coming up in front of David, Maverick and Joel and as it swung left, giving all three hunters the opportunity for a shot; it was hit hard, made one bounce in the grass with Vasek's Lab catching it before it could bounce again.
With each walk, we picked up a few birds, seeing good numbers of birds, as we worked our way closer to our fifteen-bird limit.
After shooting my three birds, the plan was to walk a long field, where I decided to grab my other camera and try to get some footage of the birds that always seem to come out the end of the field.
As the walkers entered, before we caught sight of them, a volley of shots rang out, shortly thereafter another volley with this continuing as they made their way towards us.
We could see dozens of birds getting up off to the right well ahead of the walkers and out of range for the one blocker and me.
As they approached the end of the field, several birds came up, both hens, with the large flush of birds at the end of the field I hoped for, never happened. As the hunters made their way to the bus, they indicated it was fortunate the last two birds were hens, as they thought they had to be close to our limits.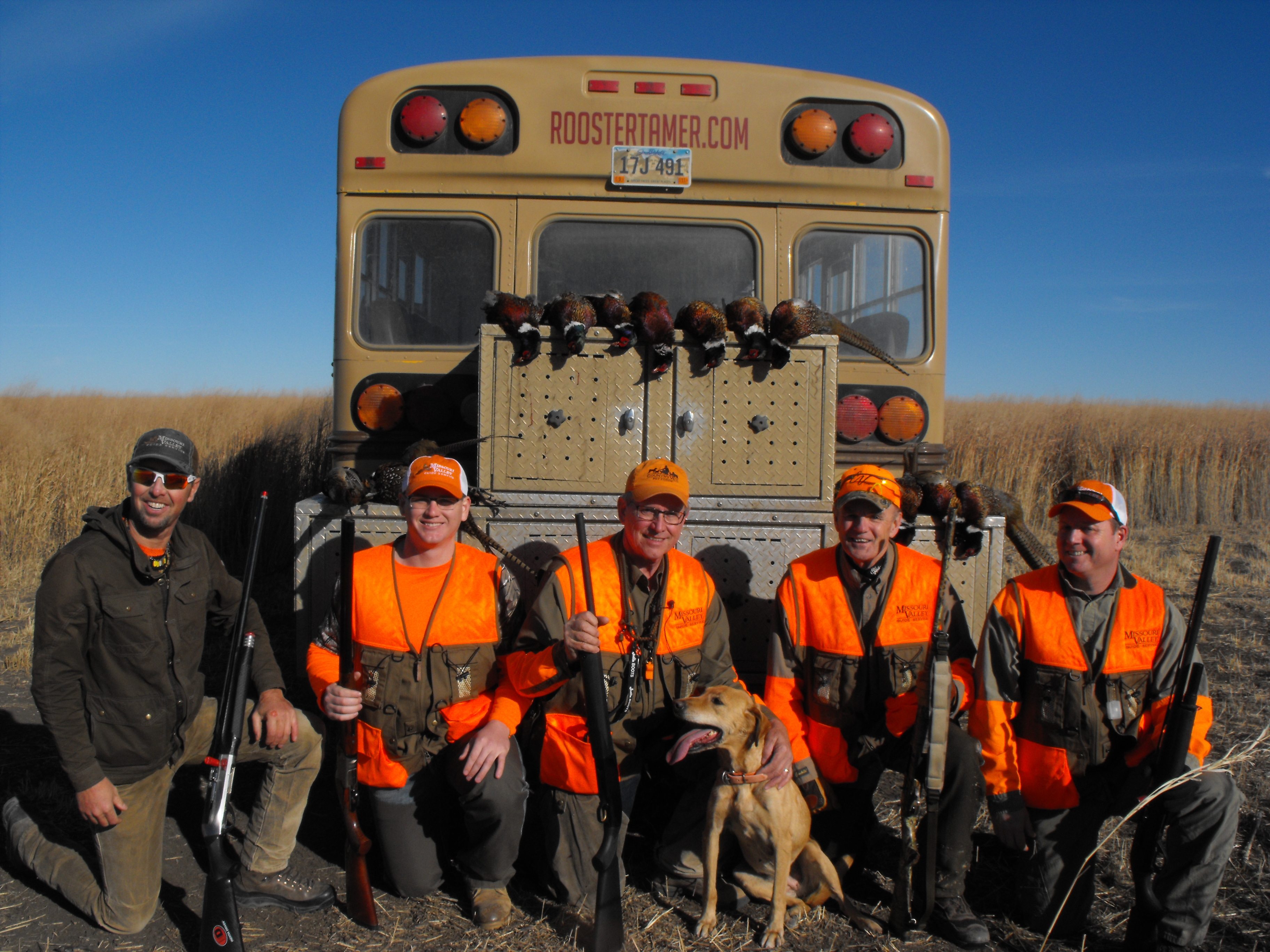 Each hunter who carried birds started counting; we had five roosters in the carrier on the bus as the count went to seven, then eleven up to thirteen and then fourteen, one bird short of out limits?
Not so, as the last hunter came in with our fifteenth bird, not bad for a short two-hour hunt where we made easy walks through waist high grass and Milo fields.
It was an excellent hunt, as we had an opportunity to meet a couple of new friends and spend time with several we had known for years.
The accommodations, food and hospitality were unbelievable and with the tremendous acres of perfect wildlife habitat, the hunt was one of the finest hunts I had the opportunity to be part of.
If you are looking for a great hunt from one of the finest lodges in the upper Midwest, contact Joel, at ROOSTERTAMER.com or WALLEYETAMER.com, as he will put you in the field for pheasants, grouse, prairie chicken, turkey and deer or on the water for walleye and smallmouth bass
After our return home, Gary and I talked about returning in the spring to do a walleye fishing show with Joel. It took me eight texts to set it up and in March, we will be on the water with Joel filming an ice out fishing show.
What I do is a dirty job, but someone has to do it, "It Doesn't get any better than this"!