Dedicated chapters, opening of regional headquarters highlight 2014 endeavors
Brookings, S.D. – March 17, 2015 – Pheasants Forever improved habitat for pheasants and other upland wildlife on more than 43,000 acres in South Dakota in 2014. This includes 1,319 wildlife habitat projects completed by the state's 34 chapters that improved 20,156 acres for wildlife, as well as 23,314 acres impacted by Pheasants Forever's Farm Bill biologist program.
"The success and longevity of Pheasants Forever in South Dakota can be attributed to the incredible work of our South Dakota volunteer chapters and their mission to conserve wildlife habitat," stated Mike Stephenson, Pheasants Forever's regional representative for South Dakota. "With the opening of our new regional headquarters, the dedicated chapters throughout the state and the addition of Farm Bill biologists, Pheasants Forever in South Dakota is set to do great things in 2015."
Complementing the efforts of South Dakota chapters and volunteers, 2014 marked a historic moment for "The Habitat Organization" with the opening of Pheasants Forever's first regional headquarters in Brookings. Dave Nomsen, Pheasants Forever's long-time Vice President of Government Affairs, permanently moved to South Dakota and was appointed as director for the new office. The move came amidst organizational efforts to address substantial habitat losses and land use changes in South Dakota, which have resulted in a dramatic decline in pheasant numbers.
Pheasants Forever in South Dakota 2014 Chapter Habitat Accomplishments
Type of Project
2014 Projects:
2014 Acres
Historical Project Totals
Total Acres Benefited
Food Plots
1,180
16,512
21,730
263,834
Land Acquisitions
2*
207*
62*
12,040*
Nesting Cover
73
2,784
2,113
77,172

Winter Cover
25
42
947
3,227
Wetland Restorations
24
58
168
7,618
Management
15
553
143
16,812
Totals
1,319
20,156
25,163
380,703
*Land acquisition project totals reflect more than one chapter's participation
Additionally, Pheasants Forever's 10 Farm Bill wildlife biologists in South Dakota worked in partnership with 1,441 South Dakota landowners and farmers to enroll more than 23,000 acres of habitat into federal and stateside habitat conservation programs (e.g. Conservation Reserve Program). These biologists also provided conservation technical assistance to impact over 38,000 additional acres not enrolled into federal or state programs.
Pheasants Forever in South Dakota 2014 Award Winners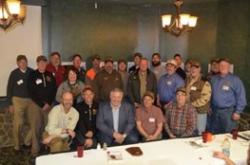 Chapter of the Year – Bon Homme County Chapter of Pheasants Forever
Youth Chapter of the Year – Coteau Prairie Chapter of Pheasants Forever
Acre Maker of the Year – Brookings County Chapter of Pheasants Forever
Conservationist of the Year – Eric Johannsen, Johannsen Farms
Work-A-Holic Award – Dave Allen, Pheasant Country Chapter of Pheasants Forever
Partner of the Year – Pepsi-Cola of Mitchell
Dedication Awards for Chapter Volunteers
Wayne Avery – Brookings County Chapter of Pheasants Forever
Mike Schatz – Minnehaha County Chapter of Pheasants Forever
Dan Kruse – Wessington Springs Chapter of Pheasants Forever
Chad Odens – Bon Homme County Chapter of Pheasants Forever
Andy Schmahl –Okoboji Creek Chapter of Pheasants Forever
Karl Castor – Black Hills Chapter of Pheasants Forever
For more information, please contact Mike Stephenson at (605) 651-2716 /mstephenson@pheasantsforever.org.
For all other inquiries, please contact Jared Wiklund, Pheasants Forever's public relations specialist at (651) 209-4953 /jwiklund@pheasantsforever.org.
Pheasants Forever in South Dakota
South Dakota's 34 Pheasants Forever chapters account for over 6,000 members statewide. Those chapters have spent nearly $5 million to complete 25,163 habitat projects since the first South Dakota chapter was formed. Those projects have improved over 380,000 acres for wildlife habitat conservation in the state.
About Pheasants Forever
Pheasants Forever, including its quail conservation division, Quail Forever, is the nation's largest nonprofit organization dedicated to upland habitat conservation. Pheasants Forever and Quail Forever have more than 140,000 members and 700 local chapters across the United States and Canada. Chapters are empowered to determine how 100 percent of their locally raised conservation funds are spent; the only national conservation organization that operates through this truly grassroots structure. Since creation in 1982, Pheasants Forever has spent $508 million on 475,000 habitat projects benefiting 10 million acres nationwide.
Photo Credit: Pheasants Forever – Pheasants Forever staff and members of South Dakota Pheasants Forever chapters gather for a photo during the State Habitat Meeting held in January.
Pheasants Forever is dedicated to the conservation of pheasants, quail and other wildlife through habitat improvements, public awareness, education and land management policies and programs.