When October rolls around, my thoughts turn to smallmouth bass.
So, I called my brother, Dean who lives at the family farm home near Worthing, S.D.
"The smallies should be in their winter pattern," I said. "That means deep and grouped up."
He was ready, and didn't even ask where we were going.
Enemy Swim Lake just 14 1/2 miles northeast of Webster, S.D., was my first choice, but just about every lake up there boasts good populations of big, brown bass.
"I'll reserve us a couple of rooms and pick you up about 9 a.m.," I said. "That will give us plenty of time to see if the bass will cooperate that afternoon."
There are lots of ways to fish for smallmouth grouped up in their winter habitats, but I prefer live bait.

It seems bass just can't resist a chub this time of year, specifically a creek chub. Creek chubs are hard to find. Most bait shops don't carry them. But it is well worth the effort to find them. Yes, I've caught plenty of fall smallies on sucker chubs and will use them if creekies aren't available.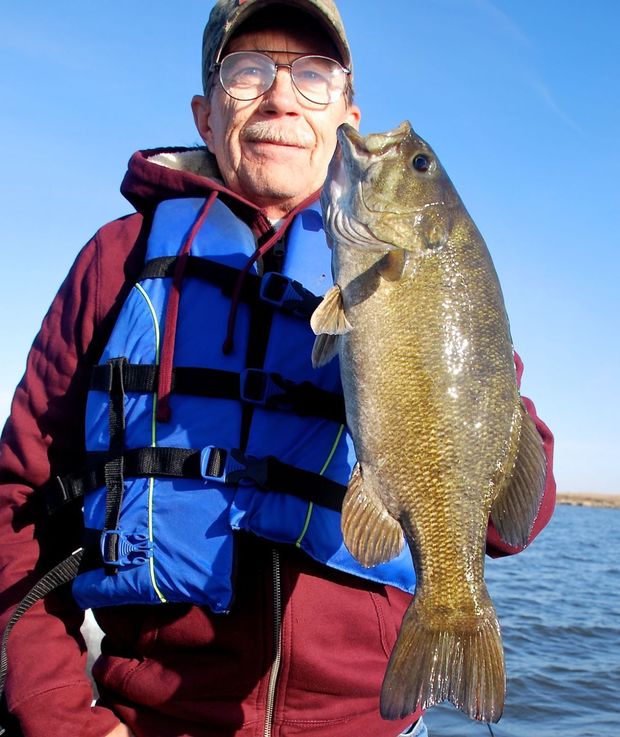 For a hook, I prefer an Eagle Claw number L042F in size 4. This is a fine wire, wide bend, kirbed hook with an extra wide gap. It has a Laser Sharp needle tip. It's actually designed to fish soft plastics, but its extra wide gap makes it a great hook for chubs. The wire is soft enough that I can bend the eye up and attach 10-pound test mono with a snell knot.
I slide a Lindy No-Snagg sinker up the main line and tie on a swivel. The snell on the hook is about 30 inches long and I tie that to the other end of the swivel. The bass are usually around 20 feet deep so I use a three-eighths ounce size.
We launched our boat at the ramp in Indian Bay and motored out past the first point. When we arrived at my spot, I slowed the boat and began looking at the graph. Funny thing. I wasn't marking any fish.
I wasn't too concerned about that so we baited up and sent the chubs down. Twenty minutes later neither of us had gotten a bite.
"There're not here," I said. "They must still be shallow."
The water temperature was in the low 50s, a lot warmer than I thought it would be.
I headed for some underwater humps that top out at about nine feet. I started at 20 feet (I'm a slow learner) and worked that contour and gradually began to fish shallower and shallower. Finally at 10 foot we caught our first fish, a nice smallie of about 3 pounds.
A few minutes later, we caught another slightly smaller, also at 10 feet. So, we had a pattern and began to work it. We caught several smallies, but nothing bigger than the first one.
I've fished Enemy Swim off an on for several years. It's probably overlooked as a bass lake, however. Up here nearly everybody wants to catch walleye. It has not been a very good walleye lake, but I'm told it is coming back. The lake is mostly known for its excellent bluegill fishing.
There is a slot limit on bass here. Only those under 14 inches and over 18 inches may be taken and only one over 18 can be kept. The bass limit in South Dakota is five.
This lake, which lies on the Lake Traverse Indian Reservation, is 2,146 acres with a maximum depth of 24 feet. There is about 38 miles of shoreline.
The next day our plan was to hit Reetz Lake. This small, 864-acre lake just south of Webster, is another of my favorites in this area. It, too, has a 14-18 inch slot limit on bass. And the limit on walleyes is one and that has to be over 28 inches.
I hadn't fished Reetz yet this year, but last year I did land a 28-inch walleye. The South Dakota fisheries department estimates there are more than 4,500 walleyes greater than 20 inches in the lake. It has been managed as a trophy walleye fishery since 2001. It's the lake I head to if I need photos of nice-sized walleyes.
But there are also excellent smallmouth here as well.
And it didn't take us long to get into them.
We put the chubs down in 10 feet of water and went to work. Dean hooked into a horse of a fish right way. It was an easy 4-pounder. We probably took about a dozen of these bass, all over 3 and a half pounds and Dean landed one the we estimated at 5 pounds.
But, I can never fish Reetz without making a try for walleyes. We eased down to my favorite spot in nine feet of water when Dean hooked up.
His rod bent hard and he started to crank, but the fish escaped. I regret not getting a look at that walleye. The chub was ripped to shreds, almost resembling a lace curtain. Teeth marks were easily a quarter of an inch deep.
Then, as luck would have it, my bow-mounted electric motor quit working. We made a couple of passes with the big motor, but you won't catch big walleyes in nine feet of water running over them with a big motor.
So, our trip was cut short. We hadn't landed the big numbers of smallmouth as I had hoped. But we had caught plenty of nice brown bass anyway.