Terry Redlin, one of the country's most widely collected painters of wildlife and Americana, died Sunday after a nine year struggle with dementia. He was 78 years old.
The only child of Alfred Redlin and Dora (Stein) Redlin, Terry Avon Redlin was born just north of Watertown, South Dakota on July 11, 1937. At the age of 15, Terry lost a leg in a motorcycle accident. It was at that time that the State of South Dakota offered him a scholarship through a program for students with disabilities. Terry graduated from Watertown High School in 1955. He married Helene (Langenfeld) Redlin in 1956.  The couple moved to St. Paul, Minnesota where Terry used his scholarship to attend the St. Paul School of Associated Arts. Upon graduation in 1958, Terry was hired by Brown & Bigelow in Minnesota as a playing card designer. His career as a commercial artist and illustrator culminated in the position of art director for Webb Publishing Company, also in Minnesota. It was there that Terry decided to venture into the world of wildlife art. In 1977, Terry published his first open edition print, "Apple River Mallards."  In 1979, he left his position with Webb Publishing to concentrate on painting wildlife.
His 30 year career as a wildlife and Americana artist included many artistic accomplishments and accolades. In 1990, he was voted "America's Most Popular Artist" in a nationwide poll of art dealers. He held that title for nine consecutive years. In 1992, he began releasing the first of eight images in his "America the Beautiful" series.  In 2004 he released seven paintings entitled "An American Portrait," a tribute to veterans and their families. Based on the death of his brother-in-law, Charles Langenfeld, who was killed in action in Vietnam, the series was nine years in the making.
Terry was humbled by the honor of having a Sioux Falls, South Dakota elementary school named after him in 1998.  He was inducted into the South Dakota Hall of Fame in 2001 and the Watertown Hall of Fame in 2014.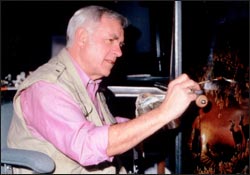 One of his most generous gifts to the public was the Redlin Art Center. The Center and its collection of original oil paintings were Terry's way of thanking his hometown and the state of South Dakota for the art scholarship awarded him after high school.
Terry is survived by his wife, Helene; his children Kimberly Redlin, Kelly (Steve) Koivula, and Charles Redlin; grandchildren Joey (Mary) Koppes, Jennifer (Mike) Wilson, and one great-granddaughter, Kaelyn Wilson.
A public viewing will be held at the Redlin Art Center on Friday, April 29th from 10 a.m. to 4 p.m. A private funeral and burial will be held at a later date. At the family's request, in lieu of flowers, please consider a donation in Terry's memory to the Salvation Army Food Bank, P.O. Box 136, Watertown, South Dakota.